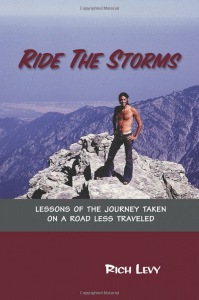 Within the span of four years Dr. Richard Levy was rejected from 99 medical school programs but he persisted, knowing in his heart that he could make a real difference in the medical field. Eventually, he was accepted by Boston University and went on to earn his PhD from UC Berkeley—where he was a star student and won the Einstein Fellowship Award. Now Dr. Levy has a message for young people: "Failure can often be guaranteed by not trying, but success is only possible with effort and perseverance." Dr. Levy's new book, Ride The Storms: Lessons of the Journey Taken on a Road Less Traveled details how he overcame adversity time and time again.
Ride The Storms follows Dr. Levy's young adulthood in the late 1960s and early 70s where his life was dominated by youthful indiscretions, 30,000 miles of hitchhiking, and a stint of commercial halibut fishing in the Gulf of Alaska. Despite all this free-spirited behavior, Levy went on to pioneer advancements in the treatment of potentially lethal brain lesions.
Dr. Levy had seemingly conquered all his demons and was a happily married family man when, in 2004, a big-rig truck hit his car head on, leaving him in a coma for 7 weeks. Against all odds, Levy survived only to be faced a few years later as the first responder with several suicide attempts by his wife of nearly 30 years.
"Giving up on my wife, Donna, was never an option" says Dr. Levy, "instead, I helped her to recover from major depression by implementing outside-the-box treatment methods. By remembering and embracing my vows to her, we were able to survive a time of great despair."
Ride The Storms is the fascinating account of one man's survival and success against all odds and the lessons he has learned from his experiences. The book also explores:
Levy's time working as a commercial halibut fisherman in Kodiak, Alaska
What it was like hitchhiking 30,000 miles across North America
How and why he persevered with applying to medical school after so many rejections
His backpacking adventures over the decades on six continents
The experience of being on the frontiers of medical science
The political dark side of university medical school and the national laboratory environment
So, what got Dr. Levy through the darkest times?
"Self-reliance," he explains, "it is a far better characteristic to have than blind obedience to authority figures. You must be different in order to be better and having faith in your creative imagination will help you to reach the highest levels of achievement."
Dr. Richard Levy received his MD from Boston University and his PhD in Biophysics from UC Berkeley. He is board certified in both Internal Medicine and Radiation Oncology. His academic titles have included appointments as a Medical Scientist at Lawrence Berkeley National Lab, Assistant Adjunct Professor of Diagnostic Radiology at UC-San Francisco; Associate Clinical Professor of Neurosurgery at Stanford University Medical Center; and Full Professor of Radiation Medicine (Oncology) at Loma Linda University Medical Center.
Ride The Storms is available at Amazon.com