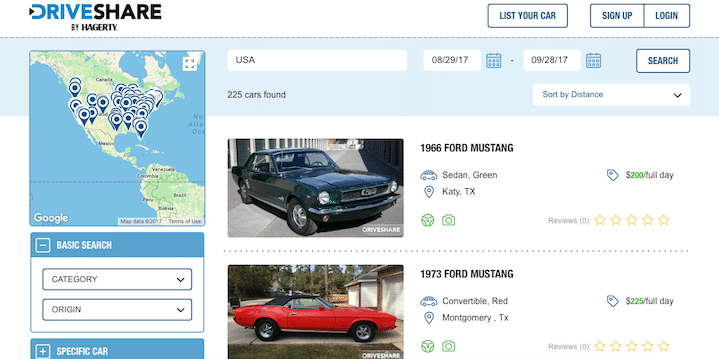 Have you ever found yourself wishing you could drive the first car you owned or take your spouse in a classic hot rod? If so, check out DriveShare. They help dreamers relive those days by getting you behind the wheel of a classic car for a day or a weekend rental. They also help owners make some extra cash.
As a renter, here's how it works (from the site):
"Find A Car: Easily search our vast collection of great automobiles (categories are: Classic Cars, Exotic, Muscle, Classic Truck, Hot Rod, Luxury, Antique, Kit Car).
Ask Questions: Review photos, details and reviews of each car. Ask any questions directly to the owner.
Book It & Enjoy: Sign up is quick and easy. Set up a convenient time and location and enjoy the ride!
Return The Car: When the rental period is over, simply return the vehicle and make sure to review your experience"
Every vehicle rented through DriveShare includes a commercial auto policy that provides liability coverage for both bodily injury and property damage for the rental period. Prices vary, but owners have full control of each rental. The advice to owners is to set the price, mileage and deposit. Review the renter's profile to see their rental history and rental certifications before you approve the rental.
In L.A. (where I live) you can rent anything from a 1964 Ford Mustang Convertible ($225 a day) to a 2016 Lamborghini Hurracan ($1,900 a day). My personal faves are from Hollywood, like the 1989 Knight Industries KITT Car (a KITT replica with working scanner light and functional dash, and it talks), which goes for $174 a day. Or the 1981 Delorean DMC-12 ($800 a day).