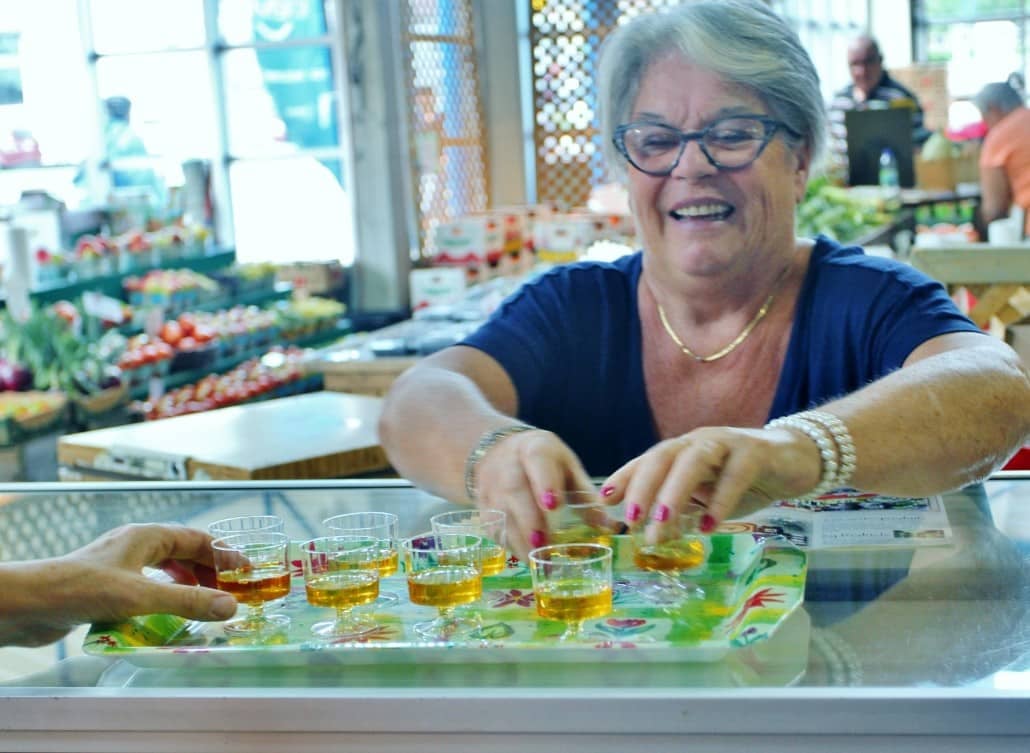 With roots that plunge deep into its French heritage, the city of Québec prides itself on its culinary prowess. The city boasts many French restaurants, some headed by Québec natives, others by émigrés from the mother country.
Québec also taps into its First Nations cuisine by offering native indigenous ingredients such as corn, game meats, fish, squash, wild mint, fir jelly, wild berries, and black spruce, used in original local dishes. With a food culture that dates back hundreds of years to the early European settlers, the city can boast of self-created culinary treats like cretons, a cold meat spread slathered on bread, Québec-style baked beans made with lard and maple syrup, meat pies, meatball stew, sugar pie, and the iconic poutine: French fries and cheese curds topped with hot gravy.
Québec's multicultural population also contributes to the city's culinary stew of ethnic cuisines that represent every corner of the globe. Local food products such as berry liqueurs, ice ciders, maple products, elegant cheeses, and the famous Ile d'Orleans strawberries and produce contribute to Québec's designation by the readers of Condé Nast Traveler as one of the World's Best Food Cities.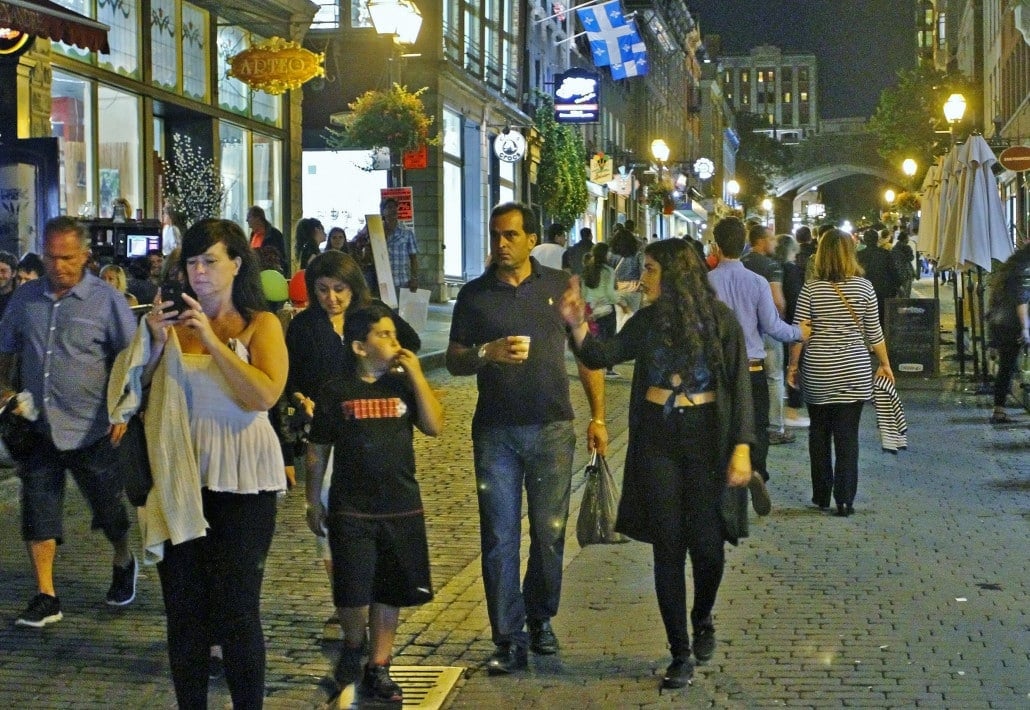 A food tour of Québec City
To get my gastric juices percolating, I signed on for a guided culinary tour with Tours Voir Québec that took me to places where the locals hang out in one of the picturesque sections of town. As we ambled along colorful rue Saint-Jean (packed with Old World ambiance) and elsewhere, we got to sample close to 15 products at seven different venues.
Our first stop—the grounds of the provincial Parliament building—introduced us to the beautiful gardens that embellish one of city's architectural treasures. Scattered in plots among the flowers and shrubs are more than 130 different herbs, put to good use by chefs in Le Parlementaire Restaurant (inside the Parliament Building)—as is the honey from the beehives located on the Parliament roof.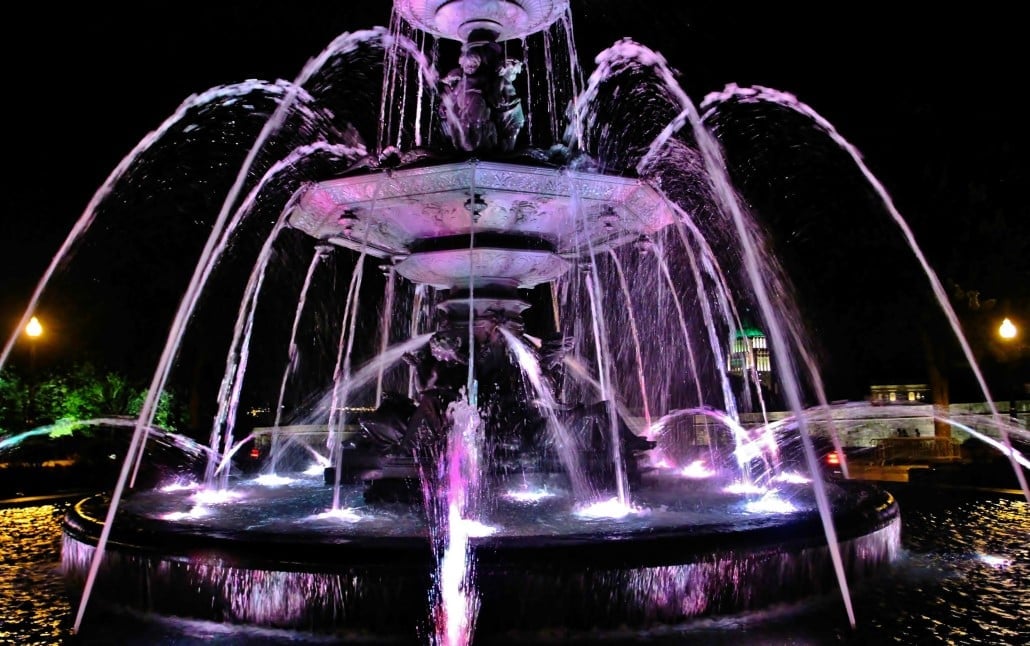 A distraction to the loveliness of the gardens, the magnificent Tourny Fountain nearby is a gift from Simons department stores in honor of the city's 400th anniversary in 2007. Nearly seven-meters tall and four-meters wide, the fountain boasts 43 water jets and becomes even more magnificent when lighted come evening.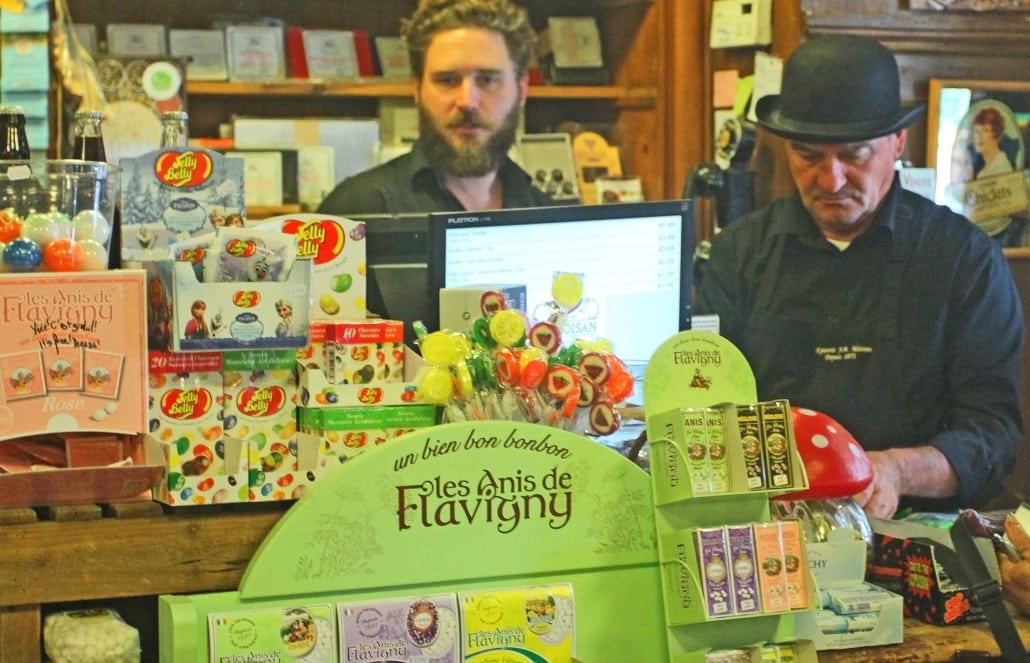 Almost as impressive is the J A Moisan gourmet store, located at 699 rue Saint-Jean. Named for the man who bought the building in 1885, the store is stocked with a myriad of interesting foods both locally sourced and from around the globe. As I wandered through the nooks and crannies made of aged wood and fitted with an occasional antique, I spotted entire sections devoted to beers from around the world; spices, cheeses and meats; organic foods; soaps of all shapes, colors and sizes; sweet teats; and artisanal oils and vinegars. What makes the store so special is that it stocks many unique items rarely found elsewhere. Not only is the store a visual adventure, but the aromas that waft through the air are also enough to stimulate anyone's taste buds.
At 1097 rue Saint-Jean, the Café-boulangerie Paillard is frequented by locals who come for its in-house baked breads and pastries, which use the cafe's own blends and varieties of flours and sea salt. In 2010, the Paillard croissant was voted the best in the city, but don't stop there. The pastries are also to die for.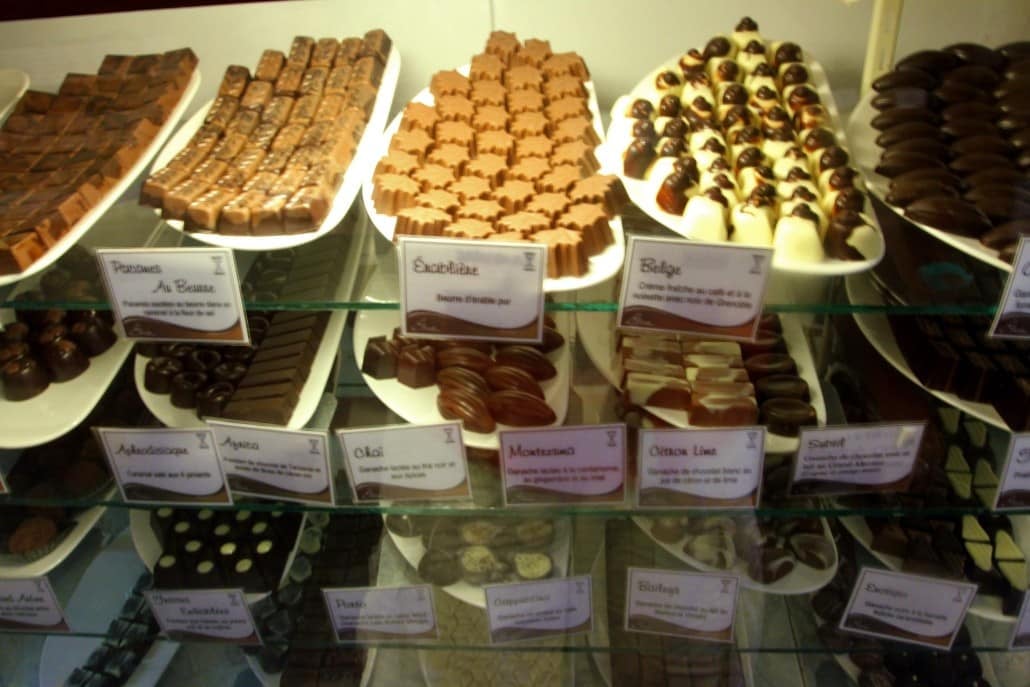 Erico chocolatier patisserie at 634 rue Saint-Jean doesn't just specialize in artfully created chocolates, hot chocolates, cookies, ice cream, and more—all made in house. It also boasts a small chocolate museum. While savoring a cup of hot chocolate, I learned about the history of chocolate from the days of the Maya by way of its display of more than 200 items, including several sculptures made entirely of chocolate.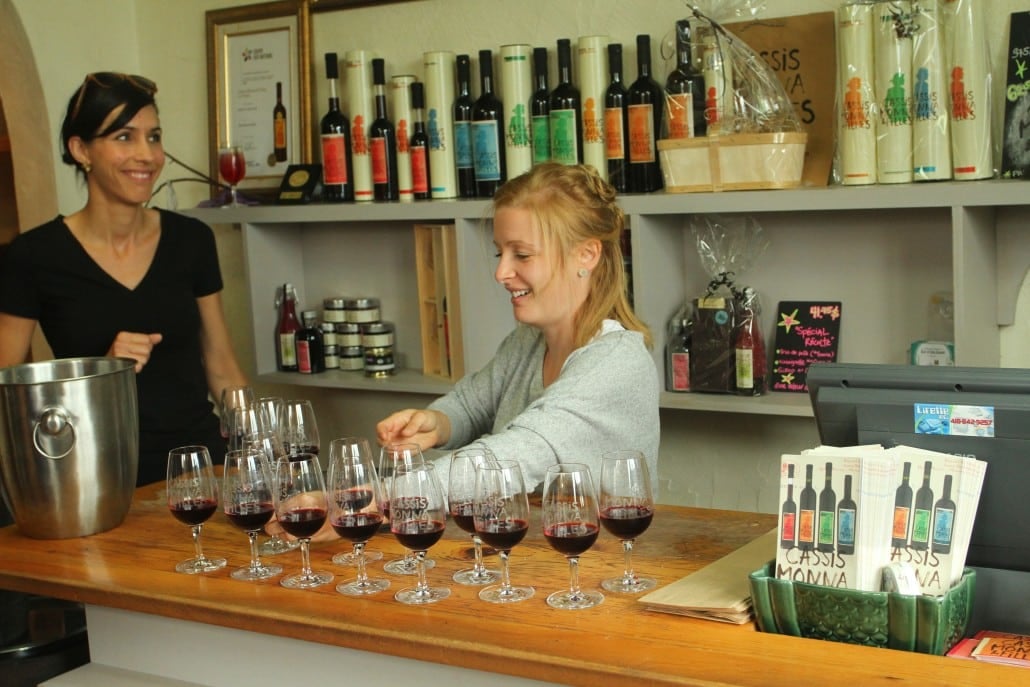 Blackcurrants, cheese and sprits on l'Ile d'Orléans
Just a 15-minute drive from Québec, l'Ile d'Orléans, an oblong island (20-miles long by five-miles wide) located in the middle of the St. Lawrence River, has supplied the city with fresh fruits and vegetables, maple products, and grains for centuries. The "Garden of Québec" is known for its produce, especially its strawberries, apples and potatoes, but a number of processed food enterprises have sprung up, as well.
Through the years, the island has also become a weekend retreat for city-dwellers who've built beautiful country homes with arresting architectural features, both along the river's edge and further inland. Still largely unspoiled, the entire island has been designated a historic district with more than 600 historic buildings and monuments—all having heritage merit. Eighteen of the island's approximately 3,600 buildings are designated historic monuments.
With 600,000 annual visitors, l'Ile d'Orléans has established tourism as a significant economic driver supporting the island's year-round population of 7,000. One of the residents, Bernard Monna, a native of southern France, decided the island was ideal for growing blackcurrants. A fourth-generation member in a line of wine- and spirit-producers, Monna began making both créme de cassis and blackcurrant wines a la his ancestors in his adopted home.
Currently, his two daughters Catherine and Anne run the business, which has expanded to include one of the islands best restaurants: La Monnaguette. Visitors to the winery get to sample free of charge their multiple gold-medal-winning creme de cassis and other high-end alcoholic beverages.
The winery gift shop is stocked with blackcurrant culinary creations made in collaboration with local gourmet artisans. These include blackcurrant ketchup, syrup, mustard, and onion confit; créme de cassis foie gras mousse; churned blackcurrant honey; and nougats, meringues and marshmallows.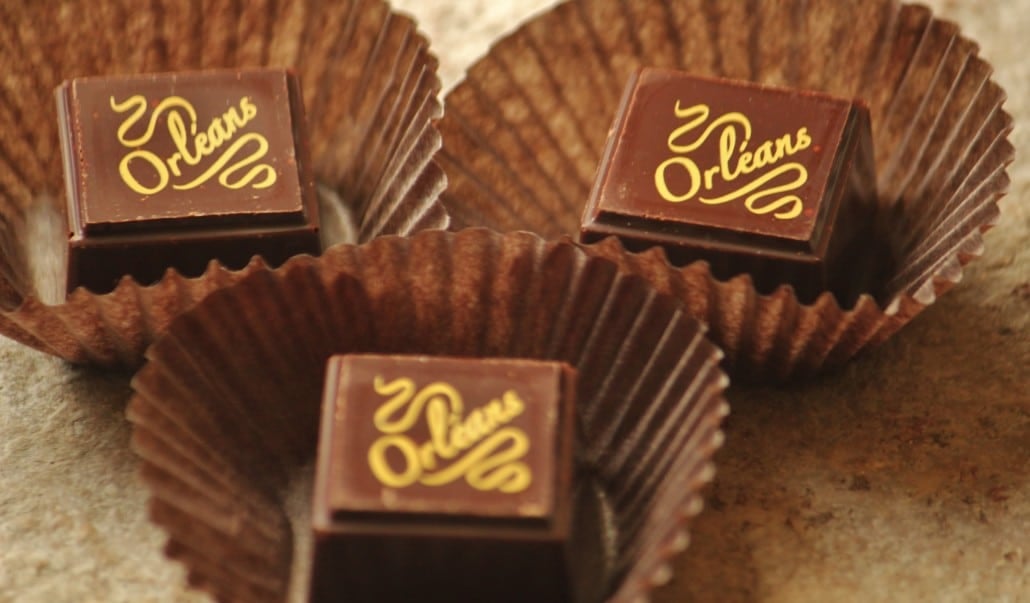 You shouldn't have a difficult time guessing what the Chocolaterie de l'ile d'Orleans specializes in. The owners of this quaint petite shop go beyond France—to Belgium—to source their quality raw materials and turn them into handmade, exquisitely fashioned chocolate treats. If you go, don't over look the ice cream, made in the European tradition with 35% cream, milk and puree of natural fruit. For an extra treat, have yours dipped in liquid chocolate—either dark, milk or white.
Les Fromages de l'isle d'Orléans is quite a mouthful to say but quite delicious on the tongue. Makers of the original, 1635-cheese recipe of the early French settlers, Les Fromages offers a single cheese done three ways: as fresh cheese, cheese dried for three or four days and aged cheese. Passed down through the generations, the recipe for this particular fromage disappeared from the market for 40 years until a master cheesemaker, Gerard Aubin, resuscitated the product in 2004. For a taste sensation, ask for samples of all three.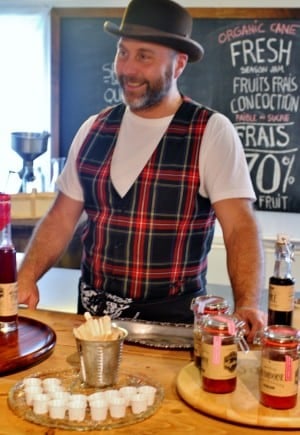 If jams and jellies are your thing, Confiturerie Tigidou is a homespun establishment that makes both from local berries and fruits—further flavored with hints of herbs like mint, basil and rosemary. The ambiance is strictly cozy-quaint garnished with old appliances and antique furniture. The tastings are free.
You may not think that wine grapes would do well in Québec's short growing season, but the growers of Vignoble Ste-Pétronille have planted several acres of viniferas, Canadian varieties and French hybrids on the island directly across the St. Lawrence from beautiful Montmorency Falls (which is 98-feet higher than Niagara). The winery produces 78% white and 22% red wines, all of which are available for tasting. Hungry? The on-site Panache Mobile restaurant offers surprisingly inventive food served in an attractive setting.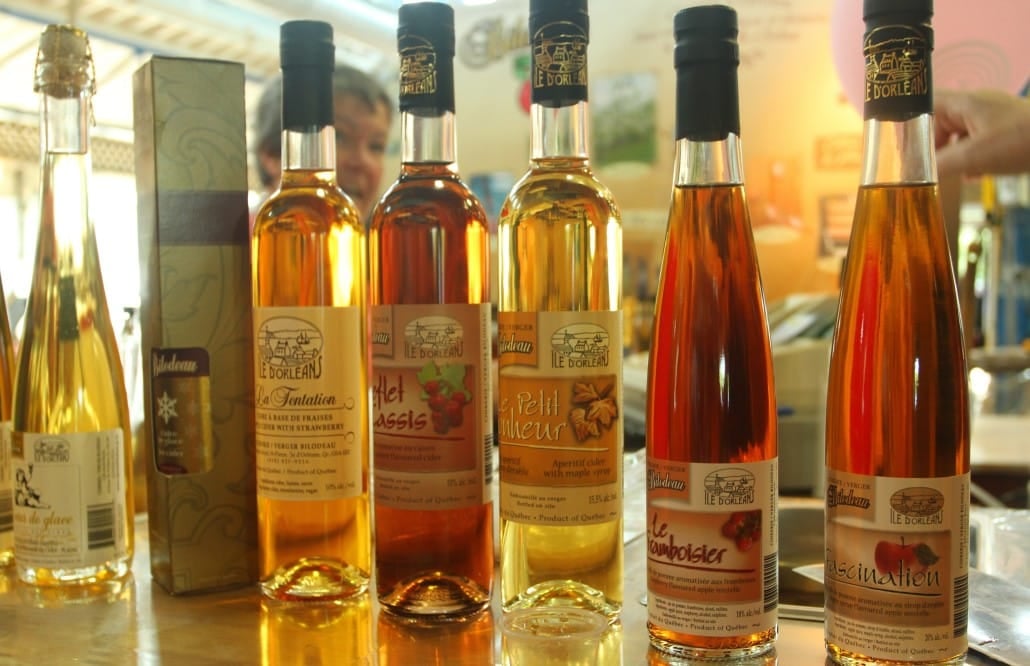 Finally, the island's apple bounty is featured at Cidrerie Verger Bilodeau, a family-run enterprise that markets eight different cider flavors with intriguing names like Fascination (with maple syrup), La Tentation (with strawberries), La Symphonie (a sparkling cider), and Nectar de Glace (an ice cider).
Like their cousins back in the mother country of France, the Québécois have nurtured a refined gastronomic palate that's helping make Québec City a great foodie destination.
For more information on Quebec and its surroundings, phone 1-877-783-1608 or visit website quebecregion.com.