By: Tom Calicchio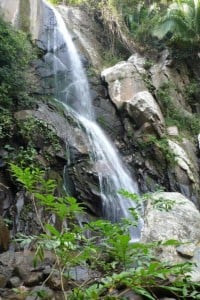 Puerto Vallarta evolved from a small fishing port to become one of the best coastal resorts in Mexico. It's grown much over the past 50 years, yet has managed to retain its traditional roots. At the same time, it has integrated many modern hotels and condominiums into its landscape. About half of the vacation homes here are owned by wealthy Mexicans and the other half are owned by Americans, South Americans and Europeans. There are many multi-million dollar luxury oceanfront condominiums, as well as less expensive inland developments. Puerto Vallarta is easily accessible with nonstop flights from 17 U.S. cities including Los Angeles, Dallas, Houston, Detroit and New York.
The weather in Puerto Vallarta is spectacularly warm and pleasant year round. Located on a deep indented semicircular stretch of Pacific coastline called Banderas Bay, the sea is calm and clear, making swimming, fishing and boating ideal. There are over 30 different beaches within a 20-minute drive from the center of town. I did some snorkeling off the beach and was amazed by the abundance and diversity of fish among the rock formations that punctuate the long stretches of sand. Water sports are abundant with kayaking, scuba and parasailing throughout the area and a few choice surfing spots well known for their consistent waves.

PRESIDENTE INTERCONTINENTAL HOTEL
I stayed a few nights at the Presidente Intercontinental Hotel located on the southern end of the coastal rim and it was perfect for me; it was large enough to offer up all the amenities a guest might need, but intimate enough that it was extremely relaxing. The Sierra Madre mountains end at the sea here and the hotel is built into the steep cliff; all of the rooms have great views of the Pacific Ocean, with terraces and large dressing areas with marble bathrooms. I appreciated the little touches like the colored glass rocks that were placed on my bed when it was made up. Each day, the rocks formed a different shape — a dolphin or palm tree, for example — and the gesture was a reflection of the staff's friendly efforts to make sure guests thoroughly enjoyed themselves.
Puerto Vallarta thrives on tourism and the local people are all very enthusiastic in accommodating every visitor's desire to enjoy themselves. There are many interesting things to do if you don't want to just hang out at the pool drinking tequila. Speaking of which … Tequila, by Mexican law, can only be produced from the blue agave plant. Just outside Puerto Vallarta is Hacienda El Divisadero, a beautiful and serene mountain restaurant, but also where raicilla, a drink very similar to tequila and made from their agave plants, is made. After a tour of the distillery that takes you through the entire production process, you can ride a horse around the vast agave farm, splashing through the many streams that are fed by natural springs. The hacienda also raises its own lamb for the excellent meals served in its open-air restaurant. There are a few beautiful bedrooms with ensuite bathrooms, should you wish to make an overnight stay.
HACIENDA SAN ANGEL
The town center is the oldest part of the city and makes an excellent wandering ground for experiencing the native architecture and heritage of centuries-old Puerto Vallarta. Malecon refers to the long walkway that runs along the beachfront and is very active with restaurants and night life. Be advised that as you proceed inland from the beachfront, there is a steep rise, but it is worth the hike because there are fabulous older hotels and restaurants up there with magnificent views of the city and ocean beneath. One place in particular that I highly recommend is the Hacienda San Angel. With only sixteen rooms, each one is unique with beautiful antique furnishings as well as modern amenities like DVD player and flat screen TV. You'll feel like you're staying at a lavish private home and it's among the most romantic places you'll ever experience. Past the unassuming front door is an oasis of verdant splendor with pools and fountains throughout the grand house that is filled with antiques, ancient brickwork and various intimate nooks for relaxation or reading.
BILLFISH TOURNAMENT
I don't know if any other place has fireworks going off every night throughout the year, but Puerto Vallarta's are fantastic displays that begin at 9pm. There are many special annual events; I had just missed the billfish tournament that's been running for 53 consecutive years and brings the world's top anglers and the finest fishing vessels into competition for $300,000 worth of cash prizes. The waters are abundant with billfish during the entire year and there are many charter boats available in the marina with your choice of everything from smaller boats to grand yachts and super sport fishers. From December to March, there are many whales entering Banderas Bay and boaters frequently spot them.
FESTIVAL GOURMET INTERNATIONAL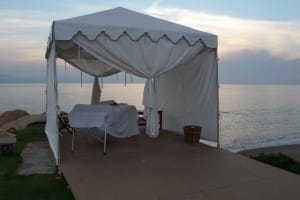 I was fortunate enough to be in town for the 14th annual Festival Gourmet International. It is a 10-day extravaganza featuring many internationally renowned chefs, who give demonstrations and collaborate with the best local chefs at the many excellent restaurant venues throughout Puerto Vallarta. What makes this event unique is that it is not a competition, so all of the chefs work with each other to prepare adventurous dishes and pair them with fine wines. My best night was the Tapas & Tequila Splash at the Vista Grill Restaurant, which is high above the beachfront and overlooks the entire town from four large terraces. They served every kind of margarita, including peach, chocolate, mango and guanaba, and there was wave after wave of the most delicious tapas, ceviches and miniature desserts. Everything was as delectable to the eye as to the taste buds and the bite-sized morsels allowed you to try at least one of everything presented. On top of all that was a 20-piece mariachi band that played amongst the partygoers and when the nightly fireworks went off, it was a truly unforgettable spectacle that rocked every one of your senses. To learn more about this year's festival, which runs from November 12th to 22nd, 2009, visit festivalgourmet.com.
VELAS VALLARTA
I stayed a few nights at one of the premiere hotels, Velas Vallarta, which is close to the marina and has a nearby sister property, Casa Vallarta, with a golf course. This hotel is quite large and has a magnificent pool and informal restaurant along the beach. It is very family-friendly with lots of supervised activities for kids, so Mom and Dad can relax or hit what has to be one of the greatest spas in the world. You can have a mud wrap, a grape wrap or a chocolate wrap to invigorate your skin, or indulge in a shiatsu, Swedish or aromatherapy massage. Whatever suits your desire, rest assured you'll be pampered by a highly professional and accommodating staff who will soothe and relax your body and spirit. There are even special private tents on a jetty at the beach where you can enjoy your massage while listening to the gentle surf washing onto the beach. There are several top-notch restaurants within the hotel and I had the excellent timbale of tuna with jicama, cucumber and wasabi foam.
I really loved Puerto Vallarta because it was large enough to have everything you could desire in a beachfront resort town, but had many places off the beaten path just waiting to be happened upon. Jungle waterfalls, artisan ice cream shops, handcrafted pottery shops, art galleries and intimate bars with live music are best discovered on a random walk through the town. The five-star modern hotels, restaurants and spas are intermingled with traditional old Mexico and you have the best of both worlds to enjoy a truly unique vacation destination.
WEB RESOURCES