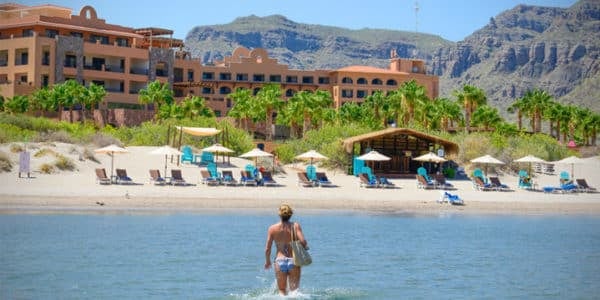 There was a noticeable trend this spring on my Facebook feed of moms taking their teenage daughters on mini getaways to warm climate spas and resorts. The pressures of academic performance, team sports, and social competitiveness sometimes call for emergency measures of relief. Couple that with the parental challenges in trying to connect with teens immersed in their phones and their Snapchat worlds, and, well, I get it. A few days in paradise, minus friends and younger siblings, was a re-bonding and de-stressing cure my daughter and I desperately needed!
Right on cue, in came the opportunity to take 17-year-old Lana with me on a five-day visit to Loreto, a city on Mexico's Baja California peninsula. Accommodations would be at the beautiful Villa del Palmar Beach Resort & Spa. Needless to say, I jumped on it. Our excursion began when I picked her up at school right after her last final. We raced down to Philly to catch a flight to LA, where we planned to stay one night near LAX so we could catch a morning flight to the tiny airport of Loreto. And with that, we were off.
Here's that getaway, in photos:
A note on getting an apostille: Since my daughter is a minor and doesn't share my last name, I decided to get a travel consent letter. Though the U.S. Embassy in Mexico website states that an apostille isn't necessary for bringing a child into Mexico with only one parent, other travel websites strongly suggested getting one. So why take a chance? I downloaded a consent form, had her dad sign it, and got it notarized. Other than her carry-on bag consistently getting flagged for having a big container of makeup wipes, our travels went smoothly!
Once we'd touched down at Loreto International Airport (LTO), we met the rest of our media group at the boarding gate. This was a press trip, which brought together about a dozen travel writers and bloggers. Busy introductions and overlapping conversations of travel tales and experiences made the 45-minute van ride from the airport to Villa del Palmar seem very brief. The terrain was dry, rocky, hot, and fairly undeveloped. We made one stop along the way, getting out and took in the spectacular view of the Sea of Cortez and the islands of Loreto, part of a UNESCO World Heritage Site. Villa del Palmar must be one of Mexico's more secluded oceanside resorts.
Upon arrival, we were warmly greeted by hotel staff. Carmen cleansed our hands with orange blossom water as tamarind margaritas were prepared.
While sipping our cocktails, we were given an overview of the resort beginning with an introduction to the bracelet key. This super sensible technology (if you ask me) allows guests to unlock their rooms by simply waving their wrist in front of the door sensor. No more searching through pockets or handbags. And because Villa del Palmar is an all-inclusive property, this means you really don't need to carry anything beyond a bathing suit.
Between where the hotel meets the beach and the water's edge are five tortoise-shaped pools and a grove of cooling palms. Surrounding the property is the TPC Danzante Bay golf club, an 18-hole, Rees Jones-designed course that offers breathtaking views of the ocean and cliffs.
Villa del Palmar is nestled in between the cool waters of the bay and the Sierra de la Giganta mountain range. Though there are vigorous plans to build a community of multi-million dollar homes, what stands there now is nothing but glorious, undeveloped space for as far as the eyes can see.
Before heading up to our suite we were served a refreshing outdoor lunch of ceviche with avocado in a tomato bisque, while sitting under a veranda and enjoying the cool ocean breeze. The perfect tonic for our travel-weary group.
The rest of the afternoon we were free to explore other parts of the resort before all meeting for a casual beach party at sunset, complete with an open bar, a barbecue buffet, and entertainment.
Getting Lana to rise from our suite before noon was pointless. No surprise there. But I let it go because there was another young person, a college junior accompanying her travel-writer mom, who also slept in.
So instead of waiting for her highness to rise, I went with Karen, our travel host, for an early morning hike up the mountains before it got deathly hot.
There are roughly six miles of rugged trails, starting at the beach and traversing up and along the surrounding mountains. We took the Mirador la Cueva trail, which brought us to the 17th hole at TPC Danzante Bay overlooking the ocean. A great way to view this incredible course.
I'm not a golfer but the Danzante Bay course took my breath away. All of the holes offer magnificent views but the showstopper is the 17th hole with its green jutting out over the water with the steep cliff's edge nearby. The course, which opened earlier this year, wraps around the natural mountain ridges and valleys.
If you're lucky enough to visit in the spring there's an excellent chance of spotting a grey whale and calf out in the adjacent waters, which are protected as breeding and birthing grounds for grey whales after their long southern migration from Alaska's Bering Sea.
Villa del Palmar's best feature is its remoteness. It's a peaceful, calm place with no outside city noise or light pollution. The night sky is star-filled and the days are as busy as you choose to make them.
On the property there's access to kayaking and paddleboarding (including after-dark LED paddling tours), mountain bikes and ATVs, a fully equipped gym, and of course those hiking trails and golf.
Energetic staff are never far if you want help getting the party going, but they're never pushy. (Though they did manage to incite a pretty raucous game of water volleyball, running around the pool pouring tequila shots into the mouths of eager players who flubbed their shots.)
And for next-level relaxation, there are the pampering body therapies offered at the in-house spa: Sabila Spa and Wellness Center, a sanctuary with deluxe wet areas, saunas, soaking spa tubs, and a cold-water plunge pool. Listed among Spa Finder's "Best Spas in Mexico" and VacationIdea's "35 Fascinating Spa Resorts Around the World," Sabila has a rich menu of specialty and therapeutic treatments.
Not to be missed is a resort-arranged snorkel and reef tour of the Bay of Loreto National Marine Park and UNESCO World Heritage Site. A three-hour adventure begins with beach pick-up on an inflatable partially covered boat and then continues as a relaxing cruise along the shores of the Loreto islands.
Our knowledgable captain pointed out nesting bird sites, fish, and unusual rock formations seen along our route while not missing a single opportunity to tell a joke.
Our ultimate destination was a little jewel of a cove with crystal-clear teal water and full of fish. We dropped anchor, put on our snorkel gear and jumped in. The adult price for this excursion runs about $40, which includes a tour guide, snorkel gear, fruit, and bottled water.
While it's nice to retreat to the corners of barefoot seclusion at Villa del Palmar, your visit would be incomplete if you didn't take advantage of the free shuttle to the historic city of Loreto, the first Spanish settlement on the Baja Peninsula.
Marking its center is the bell tower of the Mission of Our Lady of Loreto (Spanish: Mission de Nuestra Señora de Loreto), founded by Jesuits in 1697. Spanish oil paintings of saints adorn the walls leading up to a gilded alter. Its cool sanctuary offers space for prayer and reflection and relief from the hot afternoon sun.
We picked the hottest time of the day to go, which probably explained why there were few people around, but shopkeepers warmly greeted us without pressuring us to buy a thing. The town center was impeccably clean, colorful, friendly, and safe.
Back at the ranch after a long enjoyable day in town we changed back into our swimsuits and blissfully floated on paddleboards in the calm waters in front of the hotel. I talked to a young guest fishing for trigger fish near the beach. He explained that the fish are very tasty when served in ceviche and that the food staff would gladly clean and prepare them.
There are three restaurants at Villa del Palmar. Casa Mia—veranda-covered and fan-cooled, located near the pool area and overlooking the bay—offers tacos, wood-fired pizza and other light fare. The Market Restaurant is buffet-style, offering a large variety of choices with option to sit outside or inside air-conditioning. Danzante Fine Dining requires reservations and is more formal, serving up fine steaks and seafood.
Back home, as I reflect on what ended up a perfect mother-daughter getaway, I'm grateful that Villa del Palmar wasn't the typical amped-up, DJ-by-the-pool party scene commonly experienced in tourist-dense resort areas of coastal Mexico. The pampering from a tirelessly kind and friendly staff, the overall peacefulness, and the unobstructed views of the beautiful natural environment gave space for conversations that are sometimes impossible to find back home. Never has my daughter shared more with me, never have I seen her more relaxed than during these four days. This will be a memory that forever stays close to my heart.
For all the photos and this story and more, see the gallery below.
---
For more on the Villa del Palmar Beach Resort & Spa in Loreto, visit this page. Room rates begin at $191/night or $303/night all-inclusive.