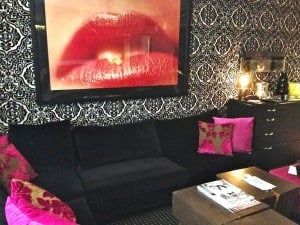 …is not enough! This city is made for tourists. You can shop, eat at a multitude of international cafés, go for a stroll, and depending on the weather, take an aquabus to the Capilano Suspension Bridge for high adventure in a natural setting.
My first night I stayed at the hip and pet-friendly (they don't charge for dogs) boutique Opus Hotel. The "DeDe" suite that I was in is decorated to make you feel like a rock star—and in fact, it was the home of REM vocalist Michael Stipe for a month. The first thing I said was, "I could stay here a month!"
Each of the 96 rooms and 11 suites are designed with one of five imaginary muses in mind, each with a different personality and color scheme. In "DeDe's" suite are city views from two sides and a skinny walking balcony looking out on Yaletown. A two-way fireplace splits the living room from the bedroom. Fuchsia pillows enhance the jet-black velvet sectional. Above the mantel on both sides are large LG flat screen TVs. A wall-mounted retro CD player loaded with the six CD's "DeDe" would listen to, an iPad  and a Samsung phone loaded with the city's opportunities are there for you to use. There is even a Jaguar to chauffeur you around if available.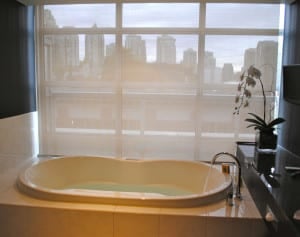 A Jacuzzi built for two is set in the all-white subway-tiled bathroom overlooking Davie Street. There is a choice of two powered window screens: mesh or blackout. The translucent screen allows the outdoor cityscape to be seen without the viewer being visible from the outside (I was told!). The adjacent rain shower was big enough for several and had wall-mounted bath products to help reduce the waste of small plastic bottles.
Caffé Artigiano, the source of legendary cappuccinos, is attached to the lobby and has the same furniture that Johnny Jet and I grew up with—Danish Modern—including Arne Jacobsen's egg chairs. BC in general has amazing coffee, maybe because, like in Seattle, good coffee helps cut through the brain fog when the weather is rainy. A lot of people complain about the rain, but they don't stay long enough to enjoy the brilliant sunshine. The climate is temperate, never getting too cold or too hot, and there seems to be a four-day-rain, four-day-sun pattern which is why some of the trees grow to be thousands of years old!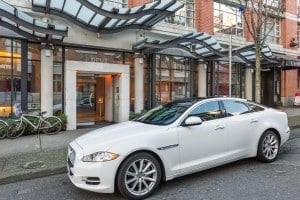 To visit beautiful gardens while in the city, go to UBC botanical garden. To take in world class art, head to the Vancouver Art Gallery or the Bill Reid Art Gallery of Northwest Coast Native Art. Here's a link to an article I wrote two years ago on some of the same experiences in the area.
The Italian family-style restaurant in the Opus, La Pentola della Quercia, puts a modern twist on Northern Italian cuisine by adding an abundance of Pacific Ocean seafood like halibut, salmon and BC oysters. Chef Lucais Syme's courses are fresh and innovative. I had the best homemade gluten-free cavatelli. Their special cocktails are unique versions of old time favorites like a Lavender Julep, which is made with homemade herb-infused syrup.
One of the great things about Vancouver is the Canada Line skytrain that allows for easy access to and from YVR airport. It only cost $9 one-way and got me there in 20 minutes—as opposed to a taxi that takes longer and can cost up to $40.
I was off to the sublime Vancouver Island for 5 nights in Tofino and Ucluelet and then had one more night in Vancouver before returning to the American east coast.
The last stop on the Canada Line train is the waterfront, and for my last night in BC, I would be staying two blocks away at The Fairmont Waterfront. The Fairmont Waterfront is also pet-friendly. There is a charge of $25 per night, a two-animal limit and no size restrictions. Two floors are not pet-friendly to accommodate allergic guests.
The cavernous marble lobby with the newly renovated Arc restaurant tells you that you're somewhere special as soon as you enter. The Fairmont Waterfront's Arc is popular with locals as well.
More traditional than Opus, the rooms are decorated in muted tans and browns. The Fairmont Waterfront also has a complimentary BMW and a driver for city drop-offs and pick-ups. I was so glad to have this service when we went to Chinatown's Bao Bei.
Inside this intimate Chinese brasserie, the waitress suggested 4-6 small courses for my friend and Vancouver expert Kasey Wilson and I to share. From the halibut in fresh cilantro pesto to the curried squid, all of it was amazing. It's hard to get a reservation at Bao Bei as the place is small and very popular. Their cocktails are also unique.
After dinner, we were picked up by the hotel's car and taken down the street past The Fairmont Waterfront to have coffee at The Fairmont Pacific Rim's bustling café, Café Giovane. Giovane is a great place to linger over coffee, wine or dinner.
Here, a rack of international magazines are there to peruse, and beautiful pastries are there to tempt. I had never had a Nanaimo bar before, and since I had just been on Vancouver Island, Kasey said it was mandatory. The bar is made from chocolate, coconut, nuts, layers of more chocolate, and icing. Need I say more? The recipe is below.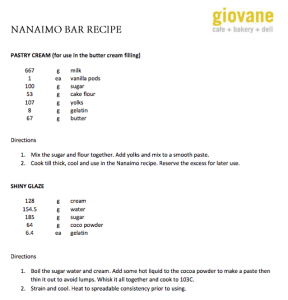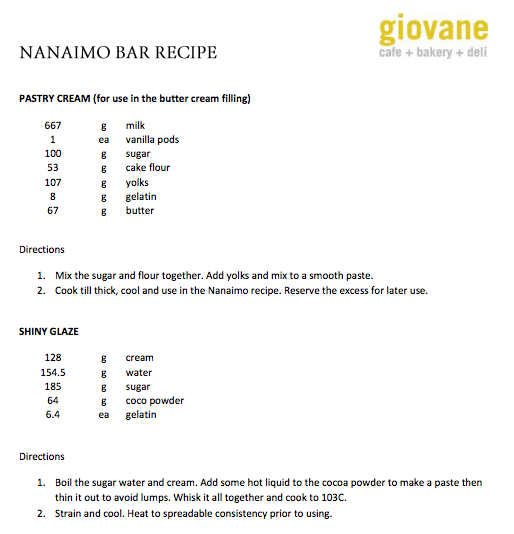 My room at The Fairmont Waterfront overlooked the industrial part of the harbor, and I enjoyed looking at the large shipping cranes and watching helicopters and sea-planes take off. From the 21st floor, the view was incredible.
The people are so nice who work there. Bellman Steve Candy printed up my pass, driver Chris drove me the two blocks to the Canada Line station and receptionist Jessica packed organic dog treats to take home for Baci, who loves to stay at pet-friendly Fairmonts!
Destination British Columbia is a great resource for helping you plan your Vancouver vacation.