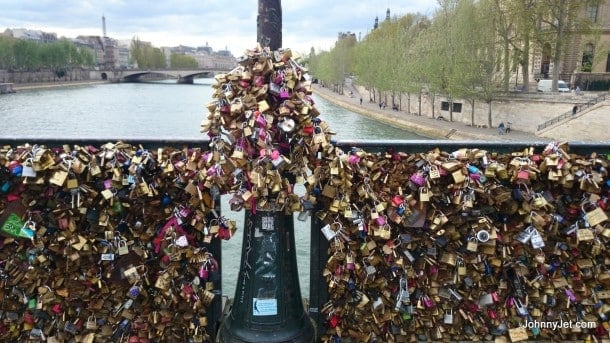 When my wife (@NatalieDiScala) and I visited Paris in April 2013, the first thing she said she wanted to do was to go over to the Pont des Arts, located near the Louvre. I knew she had something up her sleeve because who wants to visit a bridge unless you're in Sydney or San Francisco? But then I learned that this bridge has been designated by couples all over the world as a—maybe the— place to mark their undying love.
Couples flock to Paris' Pont des Arts to place a lock with their names written on it on one of the fences and then throw the key into the river. I liked the whole concept (except the fact that you have to throw your key into the river). Natalie and I did it and had no problem finding a place to put our love lock. It was sweet.
We went back exactly a year later and decided to see if we could find our lock. The previous year, we had counted just how many steps our lock was from the beginning of the bridge and we placed it at the very top so it should have been easy to spot. Yet when we returned, I was horrified to find that there were so many people and locks that there was no way to find it. In some places, locks were five rows deep. I saw not only couples but groups of friends putting locks on together.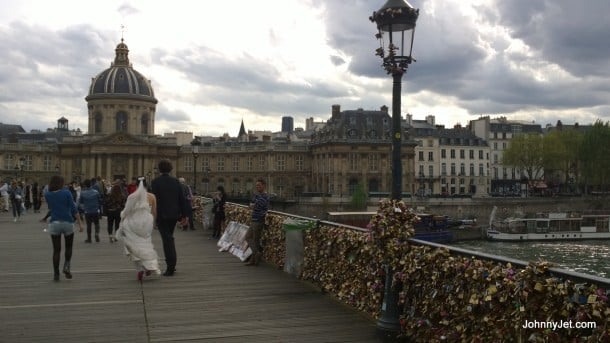 A couple even got engaged right before our very eyes on the bridge, and just a few steps away were models or newlyweds with no chemistry, getting photos taken. The locks are now growing like Gremlins and are seriously taking over the bridge. Lovers are now (still) desperately trying to find spots to latch their locks on to.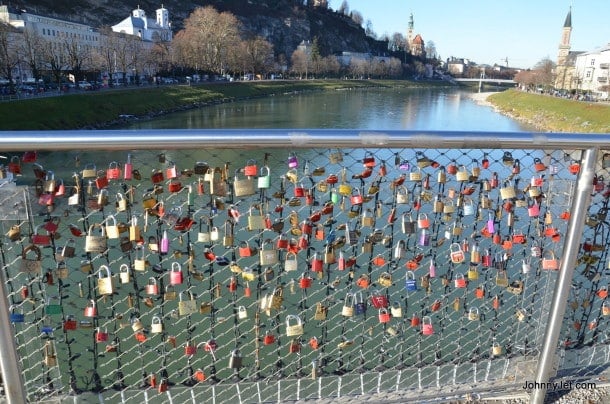 I can't imagine the Parisian authorities allowing this trend to continue because with all of the added weight, the bridge's structural integrity must now be in jeopardy. And this isn't just happening on the Pont des Arts bridge. You'll find the same situation on other bridges in Paris and throughout the world, like the Ponte Vecchio in Florence. And I just learned (if this ABC News article is correct) that this trend didn't start in Paris but rather in Serbia. In September, I saw love locks in Belfast, Northern Ireland and then again in December in Salzburg, Austria—and that's when I knew this romantic trend had gotten out of hand.
I think the trend either needs to end or at least be monitored more closely so that the bridge's safety isn't compromised. And throwing the keys into the river…I'm still uncomfortable with that. Is there such a thing as a biodegradable key?
What do you think about the love locks trend? Love it or hate it?
FYI: According to ABC News, the legend surrounding the bridge and the padlock tradition began "when a schoolmistress named Nada would meet her lover, a[n] army officer named Relja, on the bridge where they pledged their love in the days before World War I." The article goes on to explain the tradition like this: "The soldier went on to fight the Germans at the Thessaloniki front in Greece, where he found a new love and married her. Nada is said to have died of sadness and grief. Nada's tale of grief inspired young couples determined not to abandon one another to begin writing their names on padlocks and chaining them to the fence of the bridge where Nada and Relja swore their devotion. Serb couples then sealed their promises by tossing the keys into the clear spring-like Vrnjacka River below. It remained a local phenomenon until Desanka Maksimovic, a noted Serb poet who died in 1993, heard the story of the bridge's lore and wrote one of her most beautiful poems 'A Prayer for Love.' The poem has stoked the romance of the bridge."