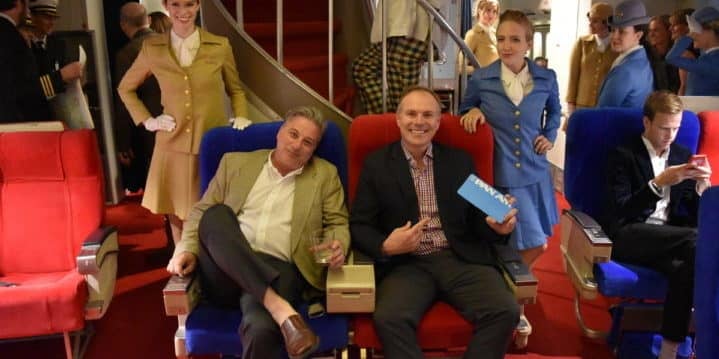 A few years ago, I read about how an aviation geek (I'm one too) named Anthony Toth had created a mock of a Pan Am 747 in his garage in Redondo Beach, California, and was inviting his friends over for dinner to see it. Toth said he became obsessed with Pan Am at the age of five when his parents took him on his first 747 flight to see his grandparents. He slowly started collecting Pan Am memorabilia, and in his forties he bought the lower deck of a retired 747-100 aircraft from an airplane graveyard in the Mojave Desert. He then pimped it out to recreate the golden age of flying.
It sounded really cool. And so I was excited to learn that since then, Anthony has turned his Pan Am passion into a business. He's joined forces with Talaat Captan, a television aviation prop master and the owner of Air Hollywood. Air Hollywood, which now houses Anthony's Pan Am mock, is a warehouse located in the San Fernando Valley (outside of Los Angeles) right off the 118 freeway. The huge space has allowed Toth to add his dream of an upper deck (it's a 747-200 aircraft) to his plane, and he has beautifully restored the interiors to match the mid-1970s Pan Am cabin décor (FYI: This décor was used by Pan Am Airlines until the late 1980s).
From the outside, you'd never imagine the magic that takes place inside Air Hollywood, where they've filmed countless movies, TV shows and commercials that involve airplanes in their variety of cabins. Remember the hilarious plane scene in Bridesmaids with Kristen Wiig, Maya Rudolph and Rose Byrne? That was filmed at Air Hollywood. So was the short-lived TV show Pan Am.
And coolest of all: Toth and Captan have hired actresses/models—some of whom are current or former "stewardesses"—and created a unique four-hour dinner experience "onboard" the Pan Am 747. It's called the Pan Am Experience, and it's open to the public every other Saturday night (they rent it for private functions including weddings on the other Saturday nights). Reservations are a must.
The plane holds 56 passengers and is broken up into three classes:
First Class Upper Deck (above): sold at $690 per pair
First Class Main Deck (above) seats are sold at $295 per person
Clipper Business Class (above) seats are sold at $490 per pair of dining table seats and $195 per person for Clipper Class middle seats
FYI: The service is the same for the First Class Upper Deck and First Class Main Deck cabins, but they price it differently solely due to supply and demand. There are four fewer seats in the upper deck and there is an excitement from customers to have the "dining room" experience. So even at the higher price point, the upper deck seats tend to sell a lot faster than the main deck seats.
The prices may sound steep, but if you think of the experience like going to the theater with really good food and an open bar, you'll realize it's priced accordingly. For most, it will probably a once in a lifetime experience, but if you or a loved one have a love of aviation or want to "relive the magic of flying onboard a luxurious Pan Am 747," then this is the perfect place to celebrate a special occasion. Multiple birthdays were taking place while we were there. My buddy Brett Snyder from Cranky Flier went and wrote that on his visit, John Travolta was there with his family celebrating his mom's birthday.
The doors open at 6:30pm, when guests walk a red carpet into the warehouse.
Inside is a room filled with all kinds of airplane memorabilia including Pan Am baggage tags, airplane seats and an old check-in counter where guests literally check in. Look closely and you'll see the is bar made from a jet engine.
After a fun check in—complete with a Pan Am boarding pass and ticket holder—guests enjoy a drink at the Clipper Club Lounge prior to boarding.
At 7pm an entourage of attractive stewardesses and three pilots (one of them is Anthony Toth) check in at the desk and then cheerfully strut through the lounge and onto the plane.
It was then that I knew we were in for a fun night. I wasn't disappointed.
Since I had only flown Pan Am once (in the 80s and domestically), I decided to ask my best friend from Connecticut to join me. He used to fly them every other summer to visit his relatives in Italy, and he told me that it was Pan Am that gave him his love for flying. For that reason, he made a special trip out to L.A. for the evening.
I take it that the exterior of the plane they purchased isn't pretty so they designed a wall-size screen of a Pan Am 747 to give it an attractive flair.
Once boarding was called for the "10.5-hour flight to London," guests began walking onto the plane.
Just like in the old days and on some wide-body foreign carriers today, two stewardesses stand at the door to check tickets and pose for photos for the in-house professional photographer who discreetly and indiscreetly snaps away throughout the night.
Passengers are encouraged to check out the different parts of the plane, so I immediately went up the classical spiral staircase to see the upper deck. It brought back great memories since I seldom fly on 747s anymore. I then went to the Clipper Class, which looked fun, too, but a bit cozier.
We then took our First Class seats (4C&D), which were in the middle of the front deck. I actually sat in these seats on an Air Pacific flight from Nadi, Fiji, to Sydney, Australia, in 2004 when they used to fly 747-400s.
Then the Pan Am Experience magic happened! Super-friendly stewardesses began their service after the funny safety briefing. Highlights of the night included:
Cocktail menus that featured Tom Collinses and martinis.
Packaged Pan Am smoked almonds.
A cart filled with vintage magazines from the 1970s. I was given a People magazine while my buddy Mike took a 1976 Time.
Toth passed out prop cigarettes that looked real and even had a fake odorless smoke. They were really fun to play with (and keep) as well as pose for pictures with. It's small details like this that really make a difference. They then joked about how crazy it is that passengers were allowed to smoke on planes.
The stewardesses pull out trays and set them with authentic China, linens, and stemware from Pan Am. They also hand out dinner menus.
Tip: If you want chicken, you'll need to preorder. Otherwise, you're eating beef or vegetarian.
The appetizer tray is a choice of shrimp or tomato and mozzarella.
For dinner, stewardesses carve Chateaubriand seatside and dish out tasty vegetables (carrots, asparagus and roasted potatoes).
Throughout the evening, the stewardesses put on a fashion show that covers all Pan Am original stewardess uniforms from the late 50s to the last flight attendant uniform in 1991.
The dessert cart had chocolate cake and a fruit tart.
There are also a lot of surprises including a couple fun Pan Am trivia games where winners receive a bag from the Duty Free cart. That's right: There's also a Duty Free cart, and they sell licensed Pan Am products and perfume and cologne from the 70s. Almost every passenger in my cabin purchased something.
Good to know:
They enforce a strict cocktail attire. They do not permit jeans, sneakers, shorts, T-shirts, or flip-flops onboard. In the email they send the night before, they make it clear that "This is a shared aesthetic experience, so please dress the part!"
The bathrooms on the plane don't work so passengers just push the cabin door open and walk back into the lounge to use the single co-ed toilet.
Old Pan Am commercials play from the overhead projection system.
After the "flight" concludes, guests can tour Air Hollywood's other filming sets and props used in hundreds of movies, television shows and commercials over the past forty years. I got to sit in the original cockpit of the movie Airplane.
Air Hollywood offers a "fear of flying" course and a course for families that have a child with autism.
I thought a four-hour "flight" to nowhere was going to be a bit long, but it was really an unforgettable evening. I've never seen my buddy Mike laugh or smile so much.
What's weird is that over dinner Mike and I were trying to figure out when Pan Am went out of business and we both agreed it was after the horrible bombing over the skies of Lockerbie, Scotland. On the way home we were listening to the 80s channel on Sirius XM and they were featuring songs and news clips from 1988. Randomly one of them was of a newscaster reading the tragic news about Pan Am flight 103.
Unlike the real Pan Am, the Pan Am Experience will be around for years to come thanks to Anthony Toth's and Talaat Captan's passion. There are even talks about expanding it to New York City or Las Vegas.
---
Check out more on the Pan Am Experience at panamexperience.com.
Save