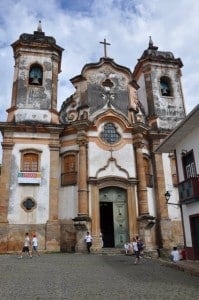 Bom dia (good morning) from Brazil! This week we're still coming to you from the state of Minas Gerais but we're no longer in its capital city of Belo Horizonte. This week we're in the much more beautiful locale of Ouro Preto. The town's full name is Vila Rica do Ouro Preto, which is Portuguese for "Rich Town of the Black Gold". This former colonial mining town located in the Serra do Espinhaço mountains is unbelievable! No wonder the whole city has been designated a World Heritage Site by UNESCO and is featured in the book 1,000 Places to See Before You Die. It was also featured in the 1988 Richard Dreyfuss movie Moon Over Parador, which I remember watching and thinking: How cool is that place!
REAL TIME
Before we get started I should catch you up with some of my real time travels. If you're following me on Twitter, then you know I'm back from Brazil and yesterday I flew from L.A. to Toronto. When I landed at YYZ, all passengers were handed an H1N1 (the human swine flu) pamphlet by the passport control officer and when exiting customs, the agent asked if I had a cough or the flu. It caught me a bit off guard and I was praying that the cough I'd had for the past couple weeks from an upper respiratory infection didn't start up again and get me detained.
OURO PRETO
The 100-kilometer (62-mile) drive from Belo Horizonte (which is where you'll want to fly into) to Ouro Preto takes about 90 minutes. To get to there from the center of the city you drive through Belo Horizonte's richest sections where you'll see all the houses are gated. According to the 2000 census, Ouro Preto'spopulation is just over 66,000. The city has twelve districts and the average elevation is 1,116 meters (3,661 feet).
TOURISM
Ouro Preto was founded at the end of the 17th century (the time of Brazil's gold rush) and the 18th century during Portugal's colonization (Brazil's golden age). The town's colonial architecture is so well preserved that it makes it a very popular tourist destination. But not, it seems, with Americans – I didn't see one. Tourism is its main source of income, followed by transformation industries of deposits (iron, bauxite, manganese, talcum, marble) and minerals (gold, hematite, dolomite, tourmaline, pyrite, muscovite, topaz and imperial topaz). The latter is a stone only found in Ouro Preto.
FIRST IMPRESSION
When our bus pulled up after the smooth ride over the lush green mountains I felt like we'd been plunged back in time. It looked like a medieval village from Europe except that we were in the tropics. The streets were all cobblestone, the roofs were made of red tile and the churches were of Baroque architecture. It was absolutely jaw-dropping in its unexpected beauty.
POUSADA CLASSICA

We didn't stay at Ouro Preto's nicest hotel; it was sold out. However Pousada Clássica worked out just fine. It's a standard hotel where the rooms are simple. Mine (number 6) was down the hall from the front desk and contained a pair of uncomfortabletwin beds (no mattress pad). The walls weren't soundproof but shutting the window (what a sunset!) and turning on the air conditioning eliminated the noise. Surprisingly, there was free and pretty fast high-speed Internet (Wi-Fi or ethernet cord). On weekends, you'll definitely need to crank the AC because the street out front is packed with high school or college kids partying in the street at the nearby bars. I was told that Ouro Preto's a safe town (you just have to worry about Brazil's big cities) and that it was safe to leave my computer, money, camera and passport in my room. I did and nothing happened. However, I did leave the bulky key at the front desk where the clerks are friendly but don't speak English. Breakfast was included in the daily rate (begins at 232R = $112USD) and it was served in theirrestaurant downstairs. The fruit juice was just okay as were theeggs. But the fresh fruit and coconut cake as well as the other pastries were awesome.
BTW: Here's a website that has typical Brazilian meals including breakfast and some recipes.
VILLA RICA
Unfortunately, I didn't get to check out any of the former mines as some of my readers and Twitter followers suggested. Mary from Duluth, Minnesota recommended Mina do Chico Rei, a mine worked by black slaves where visitors learn about Chico Rei, a local hero. However, I did see most of Ouro Preto's incredible churches and Vila Rica Opera House. It's the oldest working opera house in the Americas built for an audience of 300 in 1770.
CHURCH OF SAINT FRANCIS OF ASSISI
Even if Igreja de São Francisco de Assis (Church of Saint Francis of Assisi) wasn't one of Ouro Preto's biggest tourist attractions, I still would have gone in and paid the 6R ($2.91) since my dad was named after him. The church was built in 1766 and designed by the great Brazilian architect and sculptor Antônio Francisco Lisboa. Antônio later became known as "o Aleijadinho" which means "The Little Cripple" because he contracted a debilitating disease, probably leprosy, later in life. Inside the church are incredible carvings of statues, paintings and a wooden ceiling high above which displays a beautiful painting by Manuel da Costa Athayde. Out back in the yard is a small enclosed cemetery with three skull and bones carving on the fence. Must be spooky as can be at night!
BENE DE FLAUTA

Next door to the church in a beautiful colonial loft is supposedly the best restaurant in Our Preto and I believe it. The food, atmosphere and service were all outstanding. Bené de Flautaserves local dishes made of trout, salmon, cod, beef, chicken, pork … I sat across the table from Ouro Preto's mayor (Ângelo Oswaldo de Araújo Santos) and enjoyed a typical meal of chicken and okra. Their caipirinhas and desserts were equally delish! Sit near a window to stare out at the truly remarkableviews, especially from the second floor … including the bathroom! Afterwards, stroll a block or two into the main square and spend some reals on presents or keepsakes to take home at the outdoor market. Bené da Flauta, Restaurante e Café, Endereço, Rua São Francisco de Assis, 32, Centro, Ouro Preto, Minas Gerais, Brasil; Tel: 0xx31-3551-1036.
INGREJA DE NOSSA DO PILAR
There are a ton of churches to check out in Ouro Preto and I'll spare you the details because there's pretty much nothing more boring than reading about a church's history. These places of worship are special and more than reading about their history, you really need to see them with your own eyes to appreciate them. I'll just mention one more: Igreja de Nossa Senhora do Pilar (Church of Our Lady of Pilar). It's a good walk down a fairly steep and slippery (if it's raining) cobblestone street from the center of town. The original building was built of wood and mud in 1707 and they replaced it with the current one in 1731. This one is considered the pinnacle of dramatic quality and baroque opulence. Its simple facade is completely different from its lavish interior, which is decorated with 434 kg (956 lb) of gold and 400 kg (880 lb) of silver. One of Aleijadinho's mentors, Francisco Xavier de Brito, is believed to have designed the main altar. The lamb on a cross painted on the ceiling changes positions when you move from one side of the church to the other. Downstairs is the Museu de Arte Sacra (Museum of Sacred Art), in which you can see there was lot of trading with other Portuguese colonies like Macau and Goa because the statues look Asian and some paintings have elephants in them. Cost: 5R ($2.41) Open: Tues.-Sun. 9-10:45am and noon-4:45pm.
NOT MANY AMERICANS
Walking around the church we had two little 10-year-old Brazilian girls following us around. Finally our guide asked them why they were tagging along and they said because they heard our accents and haven't seen many Americans in their little town. Nice to see kids fascinated with America again.
ACASO 85 RESTAURANT
For dinner we went to Acaso 85 Restaurant, which was about a 10-minute bumpy drive over the cobblestones from thepousada. It's a multi-storey, high-ceilinged restaurant that is absolutely beautiful. You go down two floors so you're in thisstone wall masterpiece. Unfortunately, the food or service wasn't too good but the setting with fast burning candles is worth the visit for at least a drink and/or dessert. Actually, the chocolate condensed milk treat with vanilla ice cream is outrageous. Another dessert specialty is the Romeo and Juliet — sweet ice cream, with salty cheese and guava jam. For my meal I had the cassava soup with shredded beef, which was way too salty. And the chicken with mango chutney and raisins was dry. But the atmosphere makes up for these shortcomings!
INHOTIM MUSEUM
If you're one who loves contemporary museums then you'll want to hit one of Minas Gerais' major attractions. The Inhotim Museum has more than 500 art samples of 100 artists from around the world. There are paintings, sculptures, drawings, photos and videos that focus on art from the sixties to today. From Ouro Preto it's a two and a half hour drive to Brumadinho (1.5 hours from Belo Horizonte). The whole set up is beautifuland not only are the artists from around the world but so are thetrees and plants. There's lush green landscaping with vibrant colors mixed together and majestic blue butterflies flying around.
Ten galleries are open and my favorite exhibits were: a roomfilled with about 50 speakers set up with a recording of a choir. What made it unique is that each speaker was just one voice. They also had a room filled with broken glass where you could walk on the glass (don't wear open shoes) and inside were all kinds of barbed wire barriers and a huge cellophane ball and a fish tank with see-through fish. Outside were fun, colorful pieces from three Volkswagen Beetles to a bus filled with characters. Don't leave without having the lunch buffet at the Inhotim Restaurant. It was amazing and had all kinds of dishes: salads, pasta, minced meat, chicken, fresh fruit (mango, watermelon …), plantains, seafood and blue Curacao pears.Dessert was even better if you can imagine that. If it's a nice day, sit outside on the patio. Entrance fee 10R ($4.80).
VIDEO
Here's a four-minute Johnny Jet video of my trip to Ouro Preto. We also have all the Johnny Jet videos ever made on YouTube, including last week's video of Belo Horizonte.
NEXT WEEK
Next week we visit two neighboring countries including a stop at one of the world's largest waterfalls. You won't want to miss this!
Web Resources