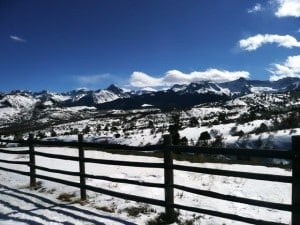 I left stunning Telluride and took the dramatic pass north to Ouray. Twisting and turning, the road fell away sharply to the sides often without a guardrail. Queasy and nervous, I arrived in the one horse town of Ouray an hour and a half later. Ouray is nestled in the majestic San Juan Mountains, and is known for its access to the great outdoors.
The accommodation was basic at the Ouray Chalet Motel, a bit of a throwback to a sixty's style motel. The owners were nice and brought me an extra blanket. Most of the rooms are renovated, but you need to ask for them. Ouray is an action town, and the motel is within walking distance to the town hot springs, restaurants, bars, breweries, and even the Ouray Ice Park, although that is a bit of an uphill hike. Across the street is the posh, newly appointed historic Beaumont Hotel, complete with custom sheets, lavish down comforters and in-house ghosts! After we got over not being in Telluride, we got into the groove of this outlaw town, with one of the trip's best dinner's at The Outlaw Restaurant. We walked in and there was an old-fashioned saloon style piano player and a long bar with John Wayne's hat hanging behind it. This was one of the Duke's favorite watering holes while filming True Grit. My filet mignon, garlic mashed Yukon gold potatoes and garden salad with homemade Ranch dressing was extraordinary. Young owner Paul Choate took over the restaurant from the family that owned it for nearly 50 years prior, and didn't change a thing. Smart man! After dinner, several people went to the Ouray Brewery or to the Ouray Ale house also known as Mr. Grumpy Pant's bar, for some micro brews. I went to bed early, quite worried about scaling the ice wall the next day!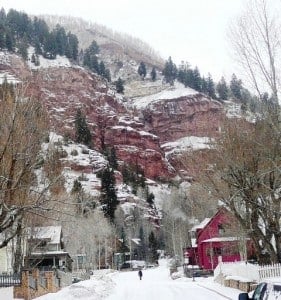 Breakfast was at the Backstreet Bistro on Main Street, conveniently located above the San Juan Mountain Guides. Owner – Clint Cook, is one of the few ice climbing guides in the world that has been internationally certified. We were fitted for crampons (claw-like attachments to our boots), hard ice climbing boots, harness, and helmet. Clint brought along picks. We drove the short distance to Ouray Ice Park (world's largest man-made ice park). I was amazed to see over 100 other ice climbing enthusiasts.
Slightly trembling or maybe over caffeinated, I geared up and got ready to ice climb. Under Clint's calm guidance, I followed him down the iron ladder that seemed to be 100 ft long. I think it was actually 40 ft, but with the crampons on my feet and my fear of heights, it was quite a challenge. Once I reached the last rung of the ladder, the crampons dug into the snow as I continued walking down a steep hill while holding onto a rope railing fitted with knots. Finally, at the bottom, we were in the ice park and we waited for the rest of our group. Clint and his assistant hooked up the rappelling rope. Clint then gave us all lessons on picking, grabbing with your feet, and climbing. Jimmy was first to go up and tackled the mountain like a cockroach climbing a refrigerator. He made it look easy. When he came back down, he couldn't talk except to say his arms were killing him. Next was Brad, then Tommy, Hillary, Jason, Carly and finally… me. My group cheered me on as I tried to back out. It was like a team building scene from "The Office"! Once "on the wall" I actually found it incredibly relaxing, because all of my focus was on where my foot and hand would go next. All of the extraneous chatter that is constantly going on in my head was quelled. I stared at the calm blue ice in front of me and listened for the guide's next instruction. Clint talked me through every step and finally, when I was about 25 ft high, I said "I would like to return to earth now!" The rappel ride down was fun and easy. My arms did hurt a bit, but I had conquered my fear and actually wanted to try it again! A two day basic course with state of the art equipment is $340. I would highly recommend this awe inspiring adventure!
Afterward, we all went for a much deserved soak in the Wiesbaden Hot Springs, a very funky B & B with natural thermal vapor cave and outdoor pools open to the public. I have to say……… I loved Ouray, or should I say Hurray!!!!!
Summer would be an amazing time to visit Ouray to go hiking, do off road jeep tours or visit one of many ghost towns in the area. Alta, Red Mountain, Animas Forks and Ironton were thriving mining towns that dried up around the turn of the century, and would be fun to explore.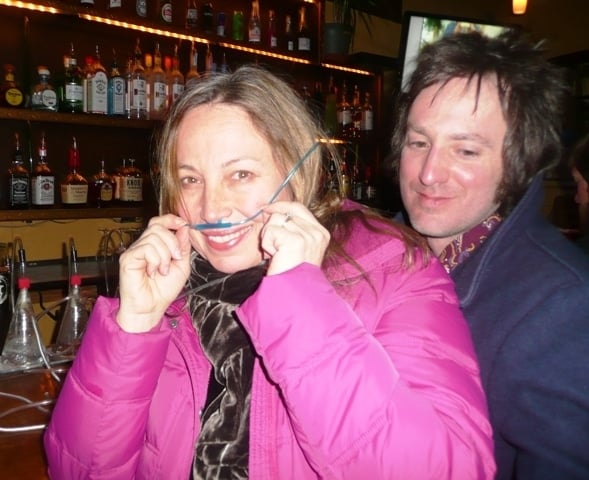 NOTE: This trip was sponsored in part by Ouray, CO.