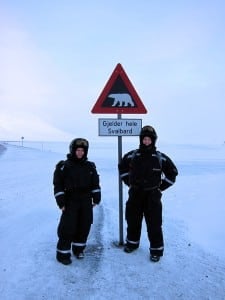 Gjelder hele Svalbard. This sign stands on the outskirts of Longyearbyen and indicates this is the farthest it's safe to go outside the settlement without a high-powered rifle for protection. In fact, the locals around town had been abuzz that polar bear paw prints had been spotted less than 1 kilometer from town.
We would be venturing far beyond this sign on our snow scooter trip; we would be traveling around 85 miles round trip. We've got a sled packed with sufficient gasoline, food supplies for ten people, an emergency shelter, satellite phone, and a complete change of clothes from boots to hat. The weather literally changes in an instant and you can never be too prepared, even when going on a day expedition in the Arctic.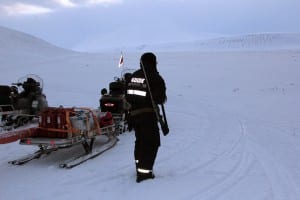 We set off slowly at first to give us time to get used to handling our Ski-Doo snowmobiles and stopped at the site of Svalbard's first airport in Adventdalen. The National Institute for Polar Research now has a research station located here and there are several closed mines on the south-side of the valley. We could also the see the radars for the EISCAT Northern Lights research station.
We continued across the 19-mile long Advent Valley, weaving across the frozen Adventdalselva river and passing close by herds of Svalbard reindeer digging for food beneath the icecaps.
Once we reached Brentskaret, the pass that divides the Adventdalen and Sassendalen valleys, we stopped to warm up with hot cocoa and take in the incredible views. We're surrounded by glaciers and high mountains, the reindeer the only contrast to the otherwise white world.
As we scooted along the valley, we suddenly spotted two frolicking Arctic fox. Unfortunately, they were too far away to capture on film but it was incredible to see them running uninhibited in their natural environment!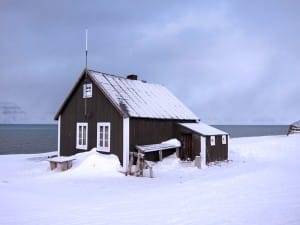 We arrived at Sassenfjorden and the unusual trapper's station Fredheim. Bolting ourselves in to Nødhytta (the emergency hut) in case a polar bear should arrive, we settled in to have lunch while our guide told us the story of Fredheim.
This is the most famous trapper's station in Svalbard and it is unique because children were born here. The station has four buildings and the main building was built by Hilmar Nøis in the 1924. He first married Ellen Dorthe Johansen Nøis. Ellen became pregnant and gave birth to their son alone when doctors could not reach her in time. She soon the solitary lifestyle too burdensome and returned to Tromsø with her son, never looking back.
In the summer of 1936 Hilmar met his next wife, Helfrid, on a coastal steamer and invited her to come live with him at his "villa" in Sassendalen. Helfrid returned to her job a servant in a villa in Oslo, but after several letters from Hilmar, decided to go to Svalbard after all. What she must of have thought when she arrived! But Helfrid made the trapper's station her home and spent a very happy life there with Hilmar for many years.
After lunch and armed with the rifle, we took a walk around the beach. Normally the water is frozen thick and we would have continued across the frozen Arctic Ocean to the Nooderlicht schooner frozen in and the Von Post glacier. Sadly, this winter had been so temperate that the sea ice never formed.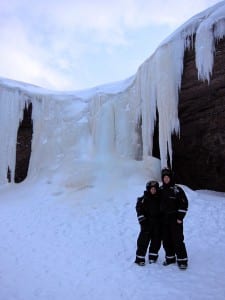 Heading back we visited Eskerfossen (the frozen waterfalls) and went behind these amazing walls of blue ice. The sub-glacial riverbed would be a geologists' dream, easily seeing the age and layers of exposed rock.
Our last stop was to see the Jernsenga (The Iron Beds). There are many tales of why the beds were left there, but the Svalbard Environmental Protection Act states that all traces of human activity dating from 1945 or earlier are protected elements of the cultural heritage.
A funny story goes that a tourist recently came across these beds,  took a picture lying down in them, and tweeted it. The Governor of Svalbard heard about the picture and fined the tourist for disturbing the vulnerable treasures.
While we didn't see the King of the Arctic as we had hoped we would, we had an incredible day on our expedition to Sassenfjorden. There are roads within the three settlements of Longyearbyen, Barentsburg and Ny-Ålesund but these roads do not connect with each other. Off-road motorized vehicles are prohibited in order to protect this great wilderness, so visiting the in-land areas we did is only possible in winter by snowmobile. Being in the untouched Arctic wilderness in truly something special!
Snow Scooter Safari with Svalbard Booking 2450 NOK per person; Driver license required; February – May.
About The Author
Jennifer Dombrowski is a training specialist and social media strategist in the field of higher education. Based in Italy with her husband, Tim, they have a passion for travel and love discovering the world. Follow her on twitter @jdomb or on Facebook.
NOTE: This trip was sponsored in part by Northern Norway and Visit Norway USA.