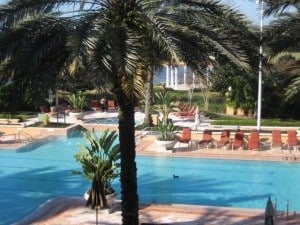 Greetings from Florida! Last week after leaving our nation's capital, I flew down to Florida to see my dad and sister for my seventh or eighth visit since mid-January. I've been using their places as a base camp for a bunch of trips. One of the trips I took was up to Orlando to speak. I didn't get to go to any theme parks but I did get to ride Amtrak and stay at a sweet hotel – even better than Disneyland!
SOCIAL NETWORKS
If you've been following me on Twitter or Facebook or are reading my blog, then you already know about the large amount of time I've been spending in South Florida. My dad is renting a place (on the beach!) for the winter and early spring and his second wife Nancy couldn't make the trek for the first few months he's been there by himself. Since it's not often we get to spend quality time alone together, I've been taking advantage of it. Pretty much every day, we'd go for a walk on the beach, have dinner at my sister's house and then play Scrabble at night. It's been really special.
PUBLIC SPEAKING TRIP
I was in Orlando to speak at two schools: UCF and Rosen School of Hospitality Management. I've been on countless panels before, spoken at many schools and was even the keynote speaker for Hawaii's Big Island Visitors Bureau conference. But this was the first time I got booked through my agent. The hour-long presentation went really well and because of all the positive feedback from the students, I'm pumped to continue to teach and inspire people to get out there and see the world. I now have two presentations available. One on how to travel the world on a budget but live like a rock star and another on how to woo a travel writer and tell if they are legitimate. If you would like me to speak at your conference, office or college, please contact Wolfman Productions.
DELRAY BEACH TO ORLANDO
I looked into pretty much all the options for traveling to Orlando from Delray Beach. It's only a 175 miles away so I thought about renting a car and driving or taking Greyhound ($48) but I didn't want to deal with the I-95 traffic. Flying such a short distance would have been a waste of both time and money. So I took Amtrak. My brother made the same trip a few weeks before and raved about it so I booked a reservation online. It was easy but they wouldn't take a credit card for a last-minute trip (bizarre) so I had to bring my confirmation number and pay cash ($32 each way) on the train.
AMTRAK TO ORLANDO
The train was on time and we made just a few stops. The total duration was three hours and 51 minutes (25 minutes quicker than Greyhound lists) and I worked on my laptop almost the whole way. Each row (it's configured 2×2) had two outlets so each passenger could plug-in to prevent their batteries from draining. There wasn't Wi-Fi unlike some European trains I've been on, but I did get online using my Sprint Wireless card, which I rent from RovAir.com (to avoid Sprint's two-year contract). The train was the perfect option. Not only was it the cheapest, but it was also the most comfortable. There was plenty of legroom. Actually the seats were better than most domestic first class sections. My coach seat was 19 inches wide and I had 24 inches of legroom (I measured it). There was even a leg rest and clean pillows. Actually, the whole train was clean (including the bathroom) and there was plenty of overhead space.
ALL ABOARD!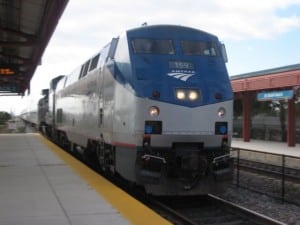 If I got hungry, there was a dining car with lots of options: salads, hamburgers, chicken – and you can pay with a credit card. Some people slept (sleeping cars were available), others worked or talked on their cell phones. That was the most annoying part of the trip and at times it got a little too bumpy to focus on a computer screen. That's when I would take a breather, stare out the window and watch orange plantation after orange plantation pass by. TIP: Although it's usually hot in Florida, be sure to bring a sweater because the air conditioning is cranked up on the train. Another bummer: The conductor didn't say, "All aboard."
CAR SERVICE
To get from the station to the hotel, the organizers arranged a car service through Mears Transportation. The drive was just 15 minutes and I had a cool Bosnian guy named Erol (Tel: 407-557-0477, email: Erol7575 AT Yahoo dot com). The drive refreshed my memory about how many chain restaurants Orlando has. They must have every single one ever created and then some. One of my local friends informed me that most of Orlando's best restaurants are in hotels so they aren't just filled with out-of-towners inside them.
GRAND LAKES
Florida is so flat I could see the 26-storey JW Marriott hotel from miles away. What's great about the hotel (besides the fact that it's in Grand Lakes) is that it's centrally located. It's just 10 miles from Walt Disney World, two miles from SeaWorld and 10 miles from the Orlando International Airport. The 1,000-room JW, with its modern Spanish decor, is part of the massive 500-acre Grand Lakes complex. Most of the area is protected wildlife so if you hit a ball out of bounds on their world-class Greg Norman-designed golf course, you aren't allowed to go fetch it. The other hotel on property, besides the JW, is the swanky 584-guest room, Italian-decorated Ritz; it's the largest Ritz in the world. A long corridor connects the hotels and conference centers are in between the two with over 150,000 square feet of meeting space. It's also separated by an incredible spa, which I will get to in a moment. When I walked through the Ritz, I spotted the players from the Indiana Pacers so I'm assuming that most pro-basketball teams who come to play the Orlando Magic stay at the Ritz. I know that's the case in L.A.
VINEYARD GRILL
It's a long walk to and from the Ritz but it's well worth it if you dine at the Vineyard Grill steakhouse. For my starter, I had the fresh mozzarella and vintage tomato salad ($12). Then I had the seven-ounce beef tenderloin ($38) and a side of creamed corn and spinach ($8). To top it all off, I feasted on the chocolate lovers dessert: milk chocolate popcorn, Oreo ice cream, white and dark chocolate mousse ($9). The service was outstanding and I could barely waddle back to my room.
CITRON
There are a total of nine restaurants between the two hotels and I dined at four of them. Citron, an American brasserie, serves comfort food. For lunch one day, I had a sloppy Joe with homemade potato chips ($15). I also ate at their extensive breakfast buffet ($23), which was quite tasty. Breakfast offered up lots of fresh fruit, the standard hot food choices, breads and pastries and then there was a made-to-order bar for eggs, pancakes, waffles and French toast. The disappointments: The orange juice wasn't fresh squeezed (shocker!) and the service wasn't really up to par.
THE OTHER HOTEL RESTAURANTS
I then had some clubhouse fare at the Fairways Pub, which overlooks the 18th hole and the resort. The service here was fantastic and the waiter sold me on their signature beef dip sandwich. The last place I dined was Cafe Bodega, which sells organic sandwiches, pizza, wraps and everything is to-go. I loved their selection of drinks, including honey mint iced tea and rose water.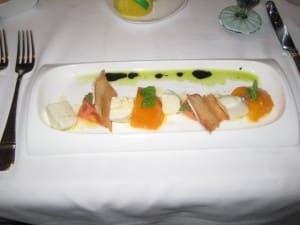 I also managed to try their homemade granola bar, which would have been the best thing ever if it didn't have raisins. Walking around the outside of the hotel I was surprised to come across an incredible organic garden, which I was later told is run by the chef of Primo, the JW's signature Italian restaurant. The Primo chef visits at least once a day to get some of his fresh produce and he also won't purchase anything beyond a 50-mile distance. Unfortunately, I didn't have time to eat there because I showed up too late (they stop serving at 10pm) but the hostess gave me a bag of the tastiest chili rosemary almonds ever as a nice consolation.
JW MARRIOTT ORLANDO
When I first walked into the JW and saw all the polished marbleand the main fountain, I had to shake my head to remember where I was. For a split second, it was as if I were in the Middle East or someplace far, far away. The rooms were nice and came furnished with a super-comfortable, king-sized bed. However, the bottom sheet must have been too small because it slipped off every time I jumped into bed. I rarely watch TV but since there was such a large flat screen and the bed made me feel lazy, I couldn't help but notice that the major networks in Orlando are on different channels than what I was used to from New York and Los Angeles. The shows and their times were also screwy. For example, one morning I woke up at 9am and flipped on NBC (channel 2) to watch The Today Show but there was a soap opera. I thought those were only on in the afternoon and I had to check the clock on my cell phone, just to make sure I hadn't fallen asleep like Rip Van Winkle. Also, my boy Regis (and Kelly) were on NBC not ABC. That tripped me out.
THE ROOM
But I know what you're thinking. I'm in Orlando — who cares about T.V. right? Right! Back to the room. It had a plush marble bathroom with a separate shower and bath. There was a working desk but the wireless Internet was $15 a day (that's a bit high don't you think, Mr. Marriott?). I did have a fantastic view of the golf course, the sparkling lakes and the amusement parks off in the distance. The only bummer, besides the too-small flat sheet on my bed and the high price for Internet, was that I could hear hallway traffic. Rates begin at $179 for the JW and $229 at theRitz. But I heard some folks were getting successful bids at the JW for $125 from Priceline (the hotel is not guaranteed). JW Marriott Orlando, 4040 Central Florida Parkway, Orlando, Florida; Tel: 407-206-2300.
RITZ CARLTON SPA
In case you didn't know, I love nothing more than lying naked, face down on a massage table and getting the knots in my back rubbed out. So I sure wasn't going to pass up a spa treatment at the Ritz-Carlton. I signed up for the East Indian Lime Scalp and Body Massage (80 minutes for $190). The spa is huge; three floors, 40 treatment rooms and I had one of the best masseuses I've ever had. Jennifer Park is an Orlando native and a 15-year massage veteran. She was strong, yet gentle and I'm sure I drooled like no other customer before. All I remember is that the sheets were so soft and I had different music channels to choose from. I changed mine from Hawaiian to easy listening. I also requested she turn off the in-room water fountain because it sounded like a leaky faucet, which simultaneously made me anxious and stirred a desire to use the loo. At the end of the session Jennifer asked how I felt. I felt like a baby who couldn't lift his head up. I just wanted to nap there with the heated pack that she'd placed on my back.
WAITING ROOM
In the waiting room before my massage, while watching T.V. and munching on fresh fruit, banana chips, Craisins and mixed nuts, I got to talking with a guy from Houston. I made the mistake of telling him what I did for a living. Afterwards, I saw him in the hot tub/cold plunge/steam/sauna room and he wanted to know the best places to take his family for their next vacation. I usually love talking travel with people and sharing my opinion but just not when I (or the dude I'm talking to) is naked. Trust me. It's weird having a conversation when you're buck-naked so I had to cut it short. Overall, the service in the spa was exceptional. They cleaned up immediately, there were no towels lying around and they addressed me by my name. I should also mention how awesome the shower was. It had two showerheads facing down and then four going up. It felt like I was being sprayed by a bunch of hoses with hot water.
DISNEY TIP
Although I didn't have the time (or the desire) to go to one of the theme parks, I hope you do know about Disney's incredible deal. Disney is offering FREE admission to their Florida and California parks if you go on your actual birth date for the whole of 2009. Note: You do need to pre-register, which you can do on this website.
NEXT WEEK
Next week we will continue with our domestic travels and visit a State I've never been to before but have always wanted to. Sweet Home …
Web Resources
Note: This trip was sponsored in part by Marriott.