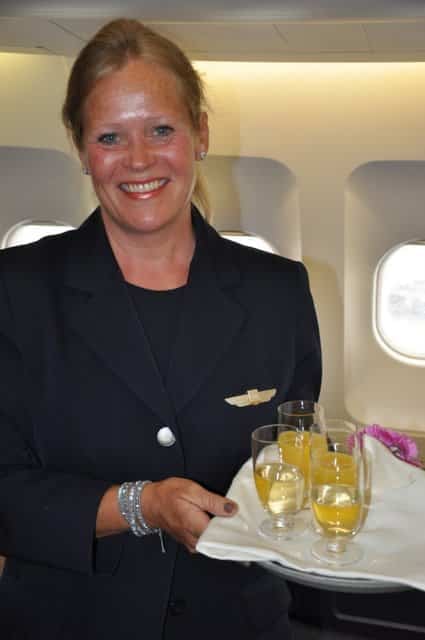 Check-in for Scandinavian Airlines (SAS) opens at 1:30pm at EWR (Terminal B). I should know because I was there nice and early since I was meeting Natalie. As expected there was no line and the agent who checked me in was a friendly part time college student employee who was quick. Along with my boarding card he handed me a Customer Notifcation Card that all US passengers have to fill out.
SAS Business Class Lounge
Security was nice and empty and the friendly TSA agent said it's not like this from 3pm on. Then it gets hectic. The gate area (60-68) isn't much so I was stoked we had access to SAS' business class lounge which they share with Lufthansa and Singapore airlines. The lounge is bright with full length windows that you can see the parked planes through the curtains. It's the same lounge I was in 3-4 years ago and the only thing that needs to be changed are the chairs. They are getting tired and need a good cleaning. We were the first in the lounge and it filled up to capacity within an hour. Everyone seemed to enjoy the top shelf alcohol, beer, wine, soda fountain, and snacks which consisted of cheese, crackers, bread, veggies, salad, and cookies.
SAS A330 Plane
SAS operates daily non-stop service from New York (Newark), Chicago, and Washington, D.C. to Copenhagen, and nonstop to Stockholm from New York (Newark) and Chicago.
Free Newspapers: Anyone can grab a free newspaper when boarding no matter what class of service they are in.
SAS Business Class: As soon as I stepped on the plane I thought to myself that these seats looked familiar. I'm pretty sure they are the same as Air France's.
View of SAS Business Class From The Front
 SAS Business Class Up Close: It doesn't matter where you sit in Business Class but passengers can't have anything on the floor in front – no newspapers, blankets … nothing on takeoff and landing.
Welcome Drinks: The flight attendants were awesome! I was seriously pleasantly surprised how they treated everyone. They were not only professional but attentive and they had a great sense of humor. I give them a 10/10.
SAS Captains: The same goes for the captain. I met him during boarding and he invited me to take a quick look in the cockpit before takeoff.
SAS Bathroom: The biggest surprise might have been how nice the bathroom was as it has two windows making it bright and airy. There's also lots of mirrors including full length, padded white and blue walls, and next to the sink was a basket of refresher towels, shaving/sewing kit, ear plugs, and cloth towels.
SAS Live Cameras: As expected Newark had a lot of congestion on the tarmacs when we pushed back at 5:40pm. But it wasn't too bad as we were airborne at 6:06pm Making for an on-time flight. Actually, we landed 30 minutes early and I later read that Scandinavian Airlines was just awarded Europe's most punctual airline this summer! Since I didn't have a window seat I watched takeoff on the plane's monitor which made me feel almost like I was flying it.
New York To Copenhagen: The distance from New York (Newark) to Copenhagen is 3,850 miles. Flight time was under 7 hours which is quick thanks to strong tail winds.
SAS Headsets: The seat belt sign went off within five minutes after takeoff (why can't U.S. airlines do the same?). Those by the windows had incredible views of NYC. A few minutes later the flight attendants came down the aisle with a cart passing out comfy but not noise cancelation headsets.
Amenity Kits: With the headsets came SAS' comfort amenity kits containing products from Rituals, a cosmetics company that only uses natural, renewable, and organic ingredients. Inside they have lip balm, face and hand moisturizers, tooth paste/brush, ear plugs, eye mask, socks, and a 100% recycled bag. The new kit is so special it just won a Mercury Award.
Do Not Disturb: What's also unique is that the flight attendants ask you if you want to be woken up for breakfast or not. Those who didn't received an orange Do Not Disturb sticker on the back of their chair.
Hot Towels: Hot towels are always a welcome. As was the flight attendants' serving uniform which they changed into after takeoff. They put on chefs coats and tie a black and white checkered scarf around their necks.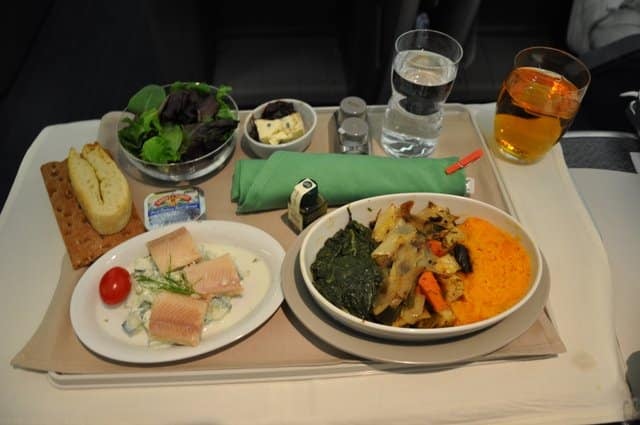 Drinks and a Snack are Served At 6:45pm the flight attendants came around with the drink cart. They had it stocked with fine Aussie and NZ wines. With the drink came a bag of almonds and a white, sweet, and red potato and black pepper crusted sausage on a skewer. Can you say YUM!
Dinner is Served 7:01 menus served with a bright smile. Followed by a green leaf salad and a choice of bread
First course: Smoked trout, cucumber, cherry tomato, horseradish cream
Main course: Seared halibut, filet of beef, and a vegetarian option of mashed sweet potatoes, roasted root vegetables, sautéed spinach, grilled leeks
Cheese: Cambozola cheese, onion marmalade
Dessert: Petits fours
The food is served pretty much all at once (except for dessert and coffee/tea). The whole meal service ended at 8:10pm and the only complaint is that they leave the packaging on which is a little weird, don't you think?
Dessert on SAS: Then came the dessert cart with a variety of offerings including coffee and tea.
Snack Bar: If you got hungry in mid flight passengers could stroll over to the buffet area any time where coffee, espresso or cappuccino, tea, soft drinks, fresh fruit, Danish sweets, and snacks were available.
Sleep Time: The seats recline all the way but they are on an angle making it difficult for me to sleep on because I would slide down. However, when I position it into a lazy boy I slept so much better. Next time I would choose a window seat because being on the aisle you can feel the vibrations of the flight crew going back and forth and they are constantly going by as they work their tails off.
Entertainment System: When I couldn't sleep I either worked, hung out with the flight attendants who told me that their favorite passengers are usually older Americans who are going on a cruise because they are really friendly and they like to joke with them or I was watching a movie. SAS entertainment system is just okay – they don't have a lot of choices of movies or music but at least they had them.
Breakfast: When we were over Ireland – 1:45am (NY time) they served a light breakfast. Fresh cut fruit, hard boiled egg, black forest ham, cheese, hot rolls, English muffins, and jam. I made a sandwich out of it and it hit the spot. They also had a selection of fruit juices, coffee or tea. What's nice for those who chose to sleep like Natalie they made them a grab to go breakfast which was either tea/coffee with a sandwich.
Welcome to Copenhagen: Wow! What a flight Natalie and I had. It seriously was one of my top 5 flying experiences thanks to SAS' product and their service.