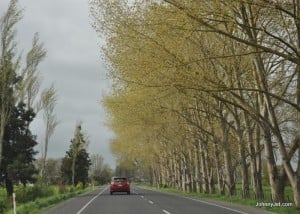 On the way to LAX last Friday evening, the sun started to peek through the rain-filled clouds and a double rainbow greeted Angelinos! It was the first time I'd ever seen one of these in L.A. and because of its auspicious timing, I found myself hoping it was a sign of what's to come. The 12-hour, 25-minute flight to Auckland was completely packed and I was in economy. The good news is that I was on one of Air New Zealand's brand new 777-300 planes (I actually picked up their first one at the Boeing factory in Seattle last December), which has a 10.6-inch individual screen in each seatback and offers an amazing entertainment selection. The bad news is that the airline has added an extra seat in each row, making the configuration 3-4-3 instead of 3-3-3 like their 777-200. That means narrower seats and when the person in front reclines, you can't work on your laptop or eat, though the flight attendants do ask passengers to sit up during the two meal services.
Random Flight Notes:
About an hour after takeoff at 10:30pm, dinner was served. Choices were beef lasagna, chicken or a cold dish of ham and sweet potato salad. All came with a mini chocolate Haagen Dazs for dessert.
Breakfast was served three hours before landing – too early if you ask me. Choice was a cheese omelet or fruit plate with yogurt. The omelet was delicious.
As always, the Air New Zealand flight attendants were amazing. Friendly, caring and personable.
During the flight they announced they had the scores of the Rugby World Cup matches, which are going on in New Zealand right now and explain why the flight was chock full. So they didn't spoil the results for those who had recorded it, you had to ask the flight concierge for the scores.
Yes, each North American and London flight has a concierge on board. They aren't flight attendants; they are just there to answer any questions from passengers in all classes about connections or the destination. The concierges even go into the Business Class lounge before the flight to greet premium guests.
A week before my flight, I called Air New Zealand's 800 number to ensure my United frequent flier number was in my record so I got credited; they are Star Alliance partners. I came away realizing they must have the friendliest and most knowledgeable reservation agents out of all the airlines. I love the fact that when I called, I wasn't redirected to a foreign outsource center, but instead to a local Kiwi.
To follow Air New Zealand on Twitter, their handle is @FlyAirNZ.
My seatmate, who is a successful producer and has flown Business Class possibly more times than me, said after the flight that "it was relatively painless" and we were in a non-bulkhead row and he was trapped in a middle seat. That's saying something.
Arrival
-There was no line at customs as there was an army of immigration officers, all of whom seemed quite friendly.
-New Zealand is so pumped about hosting the Rugby World Cup that the passport stamp even sports its logo.
-I was happy I wasn't doing an international transfer because there was a huge line for those passengers connecting to flights to the islands and Australia. According to one of Air New Zealand's employees, most are going to Australia. Apparently a lot of Aussies fly Air New Zealand from North America not because it's cheaper but because they like Air New Zealand's product and service better. Would you agree with that?
-Since we were starting filming immediately, I had to look relatively refreshed so I took a shower in one of the airport's shower stalls. They are near the international arrival exit. Just go to the information booth to get the key (you need to leave your ID as collateral) and there's no charge unless you want a towel and a bar of soap for $5 NZD ($3.85).
Auckland to Rotorua
In 2006, I was in New Zealand to check out the swanky Tree Tops Lodge, just outside of Rotorua. This time, I was headed to Rotorua too, but instead of waiting around the airport for a few hours, then taking a 40-minute flight on a small plane, we rented a car and drove. The drive is just under three hours but we took the back roads so we could see Middle Earth in Matamata, one of the locations used in the Lord of the Rings movies.
Spring in New Zealand
Since New Zealand is in the southern hemisphere, the seasons are opposite to those in North America. It was weird to leave North America where all the trees are starting to turn colors and lose their leaves and see that down here, they are just blossoming. Here are some photos. It was a bit chilly at night but pleasant during the day. Here's the 10-day forecast of the three cities I visited: Auckland, Rotorua and Queenstown.
Morrinsville for breakfast
We were fortunate to have an incredible local driver and tour guide provided by Tourism New Zealand, so we didn't have to deal with driving on the other side of the road – especially after a long flight. Though I did take the wheel to test my ability, it wasn't pretty. On the way to Matamata, we stopped in Morrinsville to use the loo and get some breakfast. We ate at a popular, cozy restaurant called Crazee Cow Café. It was a lazy Sunday morning and their fresh baked goods like Ladies Kisses and savory muffins (sweet corn, parmesan, and sweet chili), looked and smelled delicious. I went with the vanilla French toast ($15.50 NZD), which came with streaky bacon, grilled banana, a shot of maple syrup and either a side of yogurt or cream. It hit the spot and I loved the local, lazy, Sunday morning feel.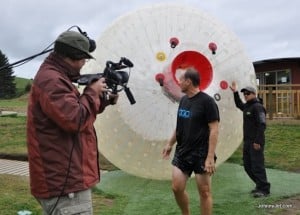 Zorbing or OGOing
Our first stop was at OGO Rotorua. I know these double-skinned spheres as 'zorbs' but apparently due to legal reasons, they are trying to change the name to 'ogo'. Either way, it's one of the most fun things you will ever do. Fees: 1 person, $45; 2 people, $40 each; 3 people, $35 each.
You're driven to the top of a hill, only to roll down in one of these spheres. When it's cold out, like it was when I was there, they fill the ball up with a few liters of warm water (cold water on hot days) and then you and your buddies jump in, they zip it up and you roll down the hill. Because they put a bit of water in it, you don't roll head over feet but instead slide on your tush the whole time. It only lasts about 45 seconds but it's a lot of fun. Tip: Bring your own bathing suit and towel or pay $5 to rent a T-shirt, shorts and towel. For more, see OGO.co.nz.
Regent of Rotorua
Our next stop was at our hotel for the night, the Regent of Rotorua. From the street, it looks like a typical motel but once inside you realize it's a luxury boutique hotel.
It's very well done with tastefully designed rooms that offer designer furniture, luxury linens, towels and Citta Design bathrobes, custom beds with down comforters and pillows, body and hair care products by Natural Earth, air-conditioning, complimentary WiFi, iPod docking stations, mini bar, plunger coffee, microwave, flat screen LCD televisions with satellite TV, in-room safes, tiled bathrooms and fabulous monsoon rain showers. I slept so well and the only thing I could find wrong with the place were the windows. They were the original and not thick, so can hear guests outside and feel a draft but with rates starting at $179 NZD a night – who's complaining? No wonder it's the number one rated hotel in Rotorua out of 106 on TripAdvisor.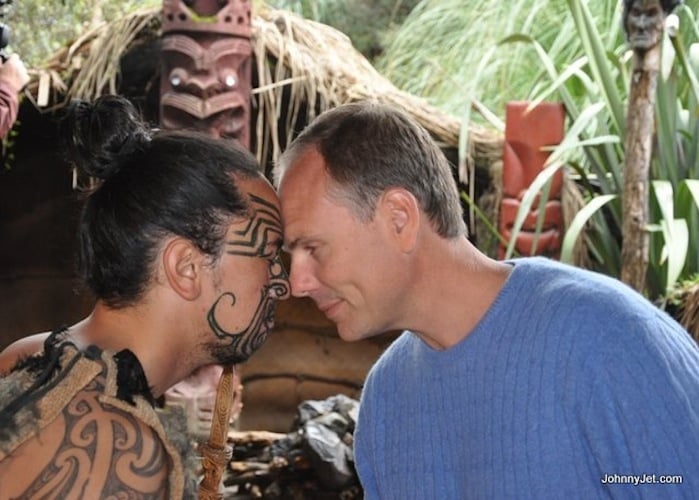 Mitai Maori Village
Before heading to the airport, we stopped by the Mitai Maori Village to get a quick tour. It's open at night so visitors can spend an evening at Mitai to get an authentic introduction to Maori culture. My new friend showed me hongi — a traditional Maori greeting.
Rotorua to Queenstown
Our next stop was Rotorua Airport, where we flew on Mount Cook Airlines (owned by Air New Zealand) to Christchurch, then on to Queenstown. Both our planes were on ATR-72 and the flights were smooth. The first leg took one hour and twenty-five minutes and the second was 50 minutes. There was no security at Rotorua airport, which was a nice change and onboard, the flight attendants passed out water and snacks. They also offer hot tea and coffee.
Queenstown
Landing in Queenstown, it felt and looked like Aspen. Beautiful snowcapped mountains surround the airport and this weekend marks the end of the winter ski season. The resort town is in the Otago region in the southwest of New Zealand's South Island. It's built around an inlet called Queenstown Bay on Lake Wakatipu and has spectacular views of nearby mountains.
Queenstown Hilton
We stayed at the brand new Hilton Queenstown Hotel. It's not in the center of Queenstown, rather it's near the airport in the new Kawarau Village. It's about a 5-minute drive from the airport and a 15-minute drive from the city (the latter cost me $44 NZD in a taxi). You can also take a 10-minute water taxi ride to and from but there's a limited schedule so I didn't have a chance. One thing I can tell you is that this is my new favorite Hilton. I wasn't expecting the hotel to be so incredible. The rooms are spacious, they feature a comfortable king-sized bed, an LCD TV, a stylish bathroom and gas fireplace. The rooms are built solid so you don't hear your neighbors and the views are spectacular. On the last day, my crazy travels (which included three helicopter rides, a jet boat tour, and a visit to the home of Bungee), caught up with me and I came down with a bug. I had a high fever so I had to skip out on riding the Skyline Queenstown Gondola up to the top and zip line down. You know you're not well when you deplete the room's mini bar of bottled water. Links: Southern Lakes Helicopters, Luxmore Jet, Bungy.co.nz.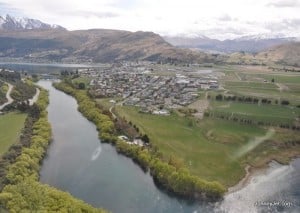 Queenstown Hilton Eforea Spa
I did make it to the hotel's spa Eforea, where I had their 90-minute signature Three-Part Recharging Massage. It's billed as the ultimate de-stress treatment and they describe it like this: "Warm bamboo releases tight muscles as it is rolled slowly and firmly over the back and legs. Followed by the most effective men's deep muscle massage technique, which removes tension held in the back, shoulders and neck, sending the body into the deepest sense of relaxation possible. Lastly, all stress disappears with the full-body relaxing massage, which includes a deep head and scalp massage, leaving you totally relaxed and rejuvenated." My therapist was from Northern Ireland and took good care of me.
Other Hotel Features
-One of the reasons I loved the hotel so much is their breakfast buffet. They have fresh baked pastries, made-to-order eggs and a self-serve juice bar. I was made an incredible concoction of fresh pineapple, watermelon and ginger. I was so bummed the second day I couldn't enjoy it because I was laid up in bed.
High speed Internet costs $14.50 NZD for 1 hour, $29 NZD for 24 hours, $120 NZD for a week.
Lots of Canadians work at the hotel.
The view from room looked like I was in Marin County California but with the snow-capped Colorado Rockies behind it.
Queenstown to Auckland to Los Angeles
Let me tell you, it's not a good feeling when you wake up with a fever, knowing that you have to take not one but two flights, including a long haul. If we didn't have special arrangements to film onboard I would have postponed it but thanks to Extra Strength Tylenol and Air New Zealand's hospitality, the flights from Queenstown to Auckland to Los Angeles went as smooth as could be. The first flight was one hour and 25 minutes and the second, 11 hours and 50 minutes. Fortunately, the flight going home was wide open and I got upgraded so I rested most of the way. I didn't even eat dinner so you know I was out. But I did manage breakfast, which was incredible, just like my long weekend journey to the other side of the world and back.