Nothing excites me more when traveling than finding an off-the-beaten path gem. When I can say a destination and get a response from others like, "where is that?!" I'm in…
Murphys, California proved to be that and more. The picturesque village in Calaveras County, 2.5 hours drive from San Francisco off Highway 4 East, offers splendid natural beauty, adventures through caverns and old mines, a charming Main Street with friendly merchants and unique shops, art galleries, and most notably spectacular wineries. In fact, I'd say this is the Napa Valley of 30 years ago – a throwback to family-owned and operated estates with small productions and huge passion.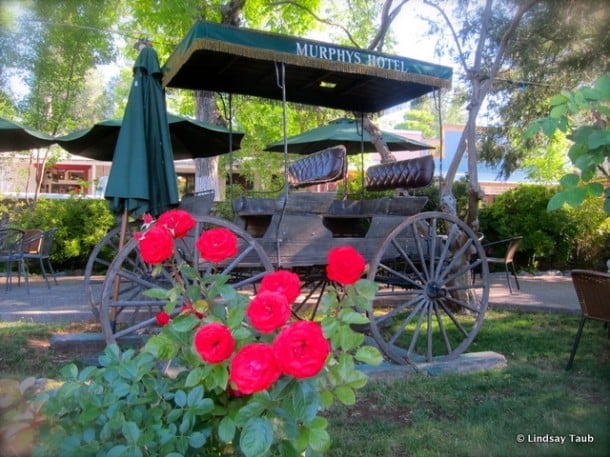 History
Daniel and John Murphy settled in the area in 1848. From a small tent, the Murphy brothers did some very shrewd trading and sold supplies at inflated prices, while using the local Indians for labor on their claims. Rumor has it that both brothers were millionaires before they turned 25, and Murphys earned a reputation for being one of the more "hidden" Gold Rush towns.
Fifteen miles up the mountain, A.T. Dowd put Calaveras on the map when he discovered the huge groves of Giant Sequoia Redwoods. Because their fame grew so quickly, by 1855 the Sperry & Perry Hotel – now Murphys Historic Hotel – had been built to accommodate the multitude of travelers. The old hotel register contains names such as Mark Twain, Horatio Alger, Ulysses S. Grant, and Charles Bolton, aka "Black Bart."
Wine
Murphys has a climate that closely imitates that of some superb wine regions in France. There are now several wineries that have staked their claim within a four mile radius of Main Street, many of which have unique tasting rooms. The best part is that unlike larger, more popular wine destinations like Napa, here in Murphys, the chances are that the one serving you the wine is actually the winemaker or the proprietor.
Tasting Tip: Most tasting rooms are open on weekends from 12 to 5 pm and on Saturdays only during the winter. Be sure to check the websites or call before visiting for hours. Winemakers are also typically more than happy to open the tasting rooms in Murphys on any day and time by appointment.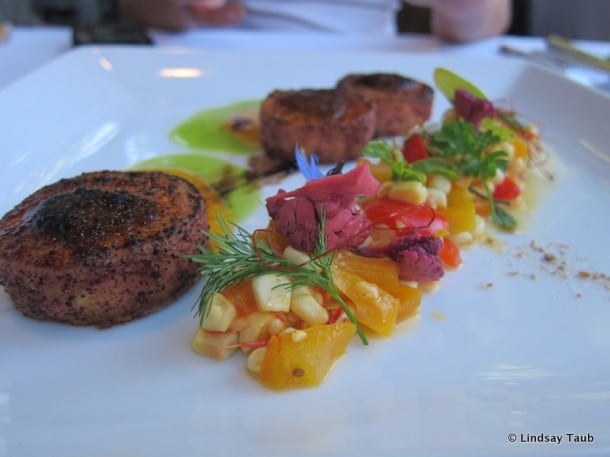 Food
You won't find a McDonald's or Starbucks in or anywhere near Murphys. And that's a good thing! There are no chains. No big box stores. Every shop and restaurant is locally-owned and operated, utilizing the freshest local and regional ingredients, and locally-produced goods. Talk to the waiter, chat with the bartender, have a drink with the owner… everyone in Murphy's has a story and you can count on it being a good one!
Insider tip: Feel like a burger or a pizza, but want a martini and a more elegant dining atmosphere? Or want to be casual, but drink a fancy cocktail? No problem. The locals know: since Klass owns both Grounds and Firewood and they're literally within doors of one another, they will send food and drinks from one place to the other anytime.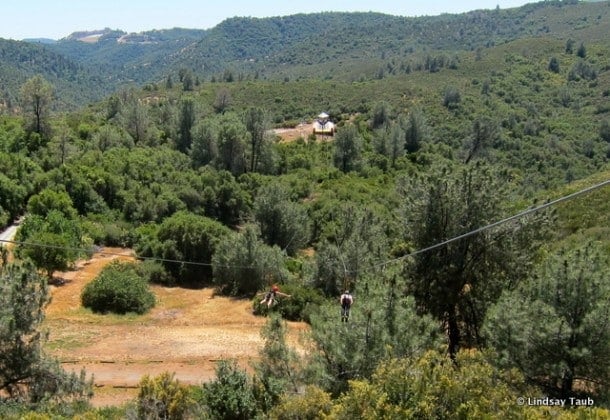 Adventure
Where to Stay
Villa Vallecito Vineyards (8330 Airola Road, www.villavallecitovineyards.com) This luxury hideaway offers the kind of off-the-beaten-path serenity that you never want to leave. Owner Ghee Hagedorn recommends guests stop at the grocery store before arriving so they don't have to leave at all! While not a full-service hotel, and more of a vacation rental, any need can be met by planning in advance, from catered dinners to spa treatments by the pool. The main house even has a private movie theater/screening room. As the wrought iron gates open, and you climb to the top of the hill toward your personal Casita (you have the choice of three different options – my favorite was "Mi Compania Dulce" – visit the website for more), you look to the west you are struck by the stunning cobalt blue of New Melones Lake 500 feet below. The property offers 360 degree views of water, hills and vineyards in a very private setting, with Mexican-inspired decor and furnishing.
Querencia (4383 Sheep Ranch Road, www.querencia.ws) "The Q" as it's known to locals is located in the middle of 40 acres on a remote ridge top in the heart of Calaveras, with views of mountains, vineyards, and countryside in all directions. The property has a fenced garden area, a small vineyard, vegetable, herb, and flower gardens, and a fish pond. It's a B&B type of experience, but it's much more than just breakfast — their customized gourmet dinners are extraordinary. The owners are absolutely delightful and the food is homemade and delicious. The resounding feeling you'll get is that they care, uniquely and deeply, for each guest and want you to feel at home from the moment you arrive to the moment you leave and return again the next season for another peaceful retreat.
Victoria Inn (402 Main Street, www.victoriainn-murphys.com) This is the most convenient and nicest place to stay right on Main Street, a good thing if you've been wine tasting all day to be able to walk home to your hotel. The rooms are very well-appointed and comfortable, but here's the insider tip — choose to stay at one of their vacation rentals instead of the Inn itself. Some are right on the property, some are scattered around town. All are charming and offer something special. It's like having your own little cottage right in the core of Murphys.
Murphys Historic Hotel (457 Main Street, www.murphyshotel.com) You stay here for one of two reasons. One, it's historic. And two, it's haunted. Yes, you can sleep in a room once frequented by Mark Twain or Ulysses S. Grant, but you can also take your chances on seeing the resident ghost. No joke! The paranormal activity television folks were recently there doing their scientific analysis and found evidence. I'm not going to lie; I had a hard time sleeping and was afraid to walk the hall by myself at night to use the restroom (it's historic – the toilets and showers are not located in the room, although the rooms have sinks), but sadly, we left with no paranormal activity of our own to report. Each room has a guest log for ghost sightings – some are truly ridiculous, but it's entertaining nonetheless. My advice? Visit the hotel's saloon for a taste of history, but if you choose to sleep here, only do so for a night if you want to get any rest.
To learn more about all that Calaveras County has to offer, visit gocalaveras.com.