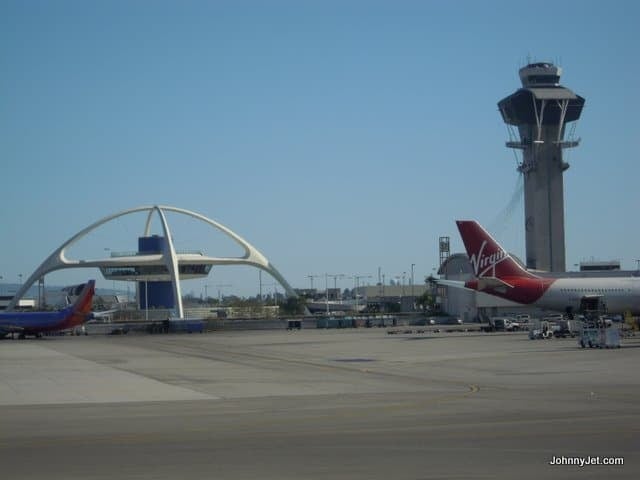 Greetings! If you are following me on Twitter and Facebook, then you know I've been to Europe and back this past week. I will tell you about my incredible three-country hop in the next couple of weeks. In the meantime, I thought I would share what it was like to fly post-Osama Bin Laden and on Air New Zealand's 777-300 service from Los Angeles to London. We also have a Colorado story from my sister Georgette and my brother's first family trip ever, which was to the new Club Med Sandpiper Bay in Florida.
LAX SECURITY
When I left for Europe, it was a beautiful summer-like day in Los Angeles, and the beach and airport were both peaceful. The only noticeable difference with security post-Osama Bin Laden (OBL) was the police had a checkpoint set up for vehicles heading into the arrivals area, and that's not all that unusual since it's something they implement periodically anyway.
CHECK-IN
There was no line at any of Air New Zealand's check-in counters two hours before the 4:30 p.m. departure. The agent said it was busy when they first opened check-in at 1:30 p.m., but half of the seats on the sold-out plane were already taken by transiting passengers. Most of them were coming from Auckland–talk about a long day, AKL-LAX-LHR. Knowing that made the 10-hour flight to London seem that much shorter. TERMINAL 2 TIP: If there's ever a long line to get your boarding pass and ID checked by TSA, just go up the elevator to where there are agents usually twiddling their thumbs. Two checkpoints were open, each with about 15 people in line, and it took just under 10 minutes to clear.

AIR NEW ZEALAND LOUNGE
The good folks over at Air New Zealand upgraded me to their Business Premier Class, which meant I had a pass to their exclusive Koru lounge. It's one of the nicest lounges at LAX, if not the best. Not only does it have all kinds of fine food, a wide selection of drinks, free Internet, and plenty of comfortable seats, but it also has showers and friendly staff. They even come around with hors d'oeuvres.
AIR NEW ZEALAND 777-300ER
I was so excited not only to be upgraded but to be flying on what is now my favorite plane in the world–the 777-300ER. It's a brand-new aircraft that the airline introduced in December, and I had been fortunate enough to attend the delivery ceremony at the Boeing plant in Seattle. Here's my story and slide show of what it was like to take the first passenger ride on this beautiful bird. I didn't take many pictures this trip (except of the food), because I took them all back in December, but here's a play by play:
DELAYED?
Although they announced that the flight would be delayed by 15 minutes because the crew was late to board, we still pushed back from the gate on time. I assume it was because everyone was quick in storing their luggage and finding their seats and not crowding the aisle.
PRE-DEPARTURE
When I took my seat a flight attendant offered a pre-departure drink. I kindly asked for still water, which is all I drink while flying. On my seat were the menus (I scanned the food menu but not the wine guide since it's 50 pages long!). On top of the menu was a small plate of smoked almonds and cashews, and on the seat was the amenity kit. In the seat-back pocket was a bottle of water and a headset. A few minutes before we pushed back, the flight attendants offered passengers a New Zealand Herald paper; I grabbed it to read their take on OBL and their interesting travel section.
UP IN THE AIR
We took off at 4:46 p.m. What always blows my mind is that it seems every international carrier turns off the seat-belt sign within minutes of takeoff, while American carriers make you wait up to an hour. The pilot turned the seat-belt sign off when we hit 10,000 feet, which was six minutes after takeoff–we hadn't even circled back over the U.S. mainland yet.

DINNER IS SERVED
A few minutes later the cabin attendant took food and drink orders and they slowly began bringing each course after that. You gotta love it! The starter was a salad of prosciutto, sheep's milk feta cheese, and watermelon. Then came a selection of breads–I chose garlic–why not, I figured, since my seat was an individual pod and I wouldn't be breathing down anyone's neck.
MAIN COURSES
For the mains they had a choice of citrus baked cod, seared New Zealand lamb loin, the chef's (Peter Gordo) selection plate, vegetarian soup (sweet corn with Thai green curry), wood-roasted chicken salad , or chunky vegetable and tofu coconut curry. I went with the one pictured.
Dessert was either a vanilla bean ice cream sundae with berry compote and crushed meringue or a small slice of both passion fruit cheesecake and coconut chocolate mousse. They also had fresh fruit and a cheese plate.
SNACKS
Mid-flight they had a snack bar set up in the galley with everything they offered on demand. That's right: just like Virgin America, you can order food and drinks from your seat (for free) and they will deliver it to you. It has the regular dinner menu that was on the seat in print on their system along with other snacks and drinks. I grabbed some grapes and a chocolate bar.
ENTERTAINMENT SYSTEM
Air New Zealand's entertainment system (IFE) on this plane is top of the line. Everything is on-demand so you can watch what you want when you want. For music they have 14 choices: Alternative, Easy/Chillout, New Zealand, Pop, Classical, Dance, Gold, Breaking Talent, Jazz, Hot Tips, Rock, Country, World Music, and Spotlight. Each category has multiple pages. Pop had 13 pages with 9 artists listed on each page, so do the math. You can also make your own playlist of albums, songs, and TV shows. It's really incredible.
TV
For TV they had 10 categories: Wine Channel, Comedy, Travel, Lifestyle, Drama, Sport, Documentary, Japanese, Family, and Shortland Street (a New Zealand show). The comedy section had 25 shows, all with multiple episodes, so I could've watched 22 episodes of Arrested Development or 25 episodes of Modern Family or 24 of The Simpsons… One thing is for sure: you will never get bored.
MOVIES
The movie section had Chinese, Classics, New Zealand, Festival, Japanese, New Releases, Action Thriller, Comedy, Drama, and Family. They had 14 new releases, none of which interested me–I thought this was the only hole in the entertainment system. Along with the audiobooks, since they just had five.
VIDEOS
They had Music videos and a YouTube Channel with the employees' favorite picks – I watched the first arrival of the 777-300 to Auckland which was so neat since I flew with most of the crew/passengers from Seattle to L.A. (I couldn't continue on to AKL since it was Christmas). There's also a game channel with my favorite Pac Man.
FOR KIDS
Kids have their own channel with games and shows. There's also a "kids' safe" so parents, with the push of a button, can prevent them from accessing any of the PG and above material (it goes up to R).
NEWS
The system has a variety of news channels, and it shows the last time it was updated. Ours was updated while the plane was in L.A., so the stories were only a couple hours old. There's even the weather in both Celsius and Fahrenheit, and lastly, what I always watch the most–the air show that shows exactly where the plane is, its speed, direction, altitude, wind speed, local times, temp outside, distances…
STAY CHARGED
For those who can't sleep there's an electrical outlet so you can keep your laptop and other electrical gadgets charged.
LIE-FLAT BED
In Business Premier Class there are 44 flat-bed seats in a herringbone pattern. The only thing I can find wrong with the seat is that if you want to sleep on its lie-flat surface, you have to stand up and flip the backend over to create the bed. The flight attendants do this for you (usually while you go use the bathroom), and they put down its soft mattress so it's really killer. Each passenger also has two pillows, so it's like being at home.
BREAKFAST
Two and a half hours from London they began the breakfast service–they came around with hot towels (mine was cool), then a tray of either strawberry smoothie, apple juice, or orange juice. To see the wide selection of choices from the Pantry and Bakery, see the menu. The mains were scrambled eggs with chicken sausage, poached eggs, waffles, or a hot bacon roll. The whole breakfast service takes about 90 minutes, so it kills a lot of time.
HIGHLIGHTS
Here are some of the flight's highlights:
-First of all, we arrived safely and the ride was smooth.
-The in-flight concierge got on the PA to welcome everyone on board. He told us his name and said that he knows London well and is available to answer any of our questions, from taking public transport to what to do. How awesome is that?
-Across the aisle from me was a couple who had two little kids. Each parent had one of the kids in their pod with them, and the parents took turns sitting on the ottoman of each seat so they could dine together. Other adults traveling together did this as well.
-The flight crew did not keep walking up and down the aisle with water and disturbing people since passengers had on-demand ordering.
– I originally wrote back in December that I was disappointed by the chandelier wallpaper in the bathroom, but now I'm really digging it.
-The amenity kits are great–here's what they come with.
LOWLIGHTS
And now some lowlights:
-There were three toddlers in my business-class cabin, and the family next to me were oblivious of everyone else. The mother left her overhead light on most of the time, and the kid was often screaming (earplugs didn't help). Maybe they were tired of being on the plane: I overheard her tell her seatmate that they came straight from Auckland–they didn't layover because it was too difficult with kids. Um, you think two 10-plus-hour back-to-back flights aren't too tough on kids? I don't have kids, so I have no idea, but that sounds like torture to me. They should require families to layover unless it's an emergency, which it wasn't. The more I fly, I really think an airline should create a family section in the back of the plane. They could have a variety of seats, so folks who could afford it could still enjoy the extra space and seats of business or first class, but let everyone else enjoy the peace and quiet. Do you agree?
-They reset the IFE systems mid-flight, so I had to go back and create another playlist (I know, what a big problem to have).
-Although the crew scrubbed the bathroom, they didn't pick up the garbage on the floor in the aisle. The kid across the way dropped all kinds of paper and plastic, and it was still there at the end of the flight.
-The cabin crew were not as friendly as the last five Air New Zealand flights I've flown. It's the first time I've flown to London with them and they were a London-based crew, so maybe that had something to do with it. Don't get me wrong, they were still way nicer than on most airlines, but they didn't have any stars on this flight like on my others.
-Thanks to Heathrow's congested traffic we had to circle for 25-minutes even on a beautiful clear day.
OVERALL
If it weren't for the screaming kids in the cabin, this flight would've been an absolute dream–Air New Zealand's product is way superior to the rest.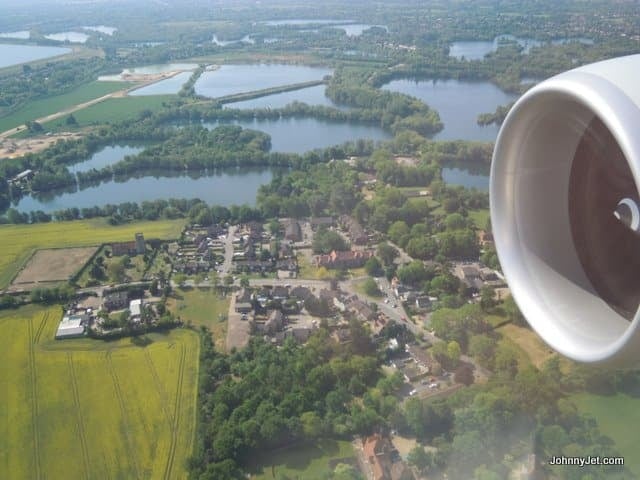 Note: This trip was sponsored in part by Renaissance Hotels and Air New Zealand.