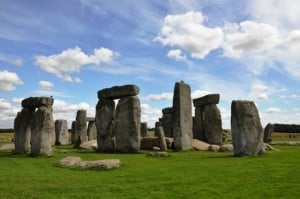 Cheerio from England! Last week we left off from Athens and instead of flying directly back to the States, I stopped off in jolly old England to not only make my trip shorter but to review two incredible hotels and check a destination off my Bucket List: Stonehenge. This week, we also have part two of Ramona Zacharias' European adventure. Join her as she tours us around Amsterdam.
TO THE ATHENS AIRPORT
We left off last week from the Athenaeum InterContinental hotel in Athens. A taxi from there to the airport took 35 minutes (at 6am; the sunset was beautiful) and cost 33 euro, even though the meter read 21 euro. I didn't question the rate because there was a toll and the concierge had told me that fares can range from 30 to 55 euro.
UPGRADED ON BA
Natalie and I checked in at British Airways' (BA) business class counter where there was a bit of a line but it took just five minutes. The good news is that we got upgraded at the last minute because economy was oversold and I hold elite status on American Airlines (a BA partner). TIP: Always make sure the agent knows you have status on a partner carrier and always be nice.
ATHENS TO LONDON
Every inter-Europe business class I've experienced has always been mediocre compared to the carrier's long haul routes. I guess I don't blame the airline executives; the flights are all so short, who needs seats with all the bells and whistles? It's the same case with BA. We were on a 767 and business class was configured 2-3-2. Actually, the middle seats are blocked so it's really 2-2-2.
BREAKFAST
Breakfast came out quickly and was a choice of mushroom frittata, cheese and deli meats or an English breakfast with lots of Canadian bacon, scrambled eggs, mushrooms and a cooked cherry tomato. I had the latter, which was pretty good and fattening.
UP THE COAST
Instead of watching the movie playing on the dated overhead monitors, I flipped through Natalie's girly magazines (you won't believe the stuff they talk about in those things!) and stared out the window as we flew along the coasts of several countries. It was so cool to see Dubrovnik, Venice and the city of London from the air. FYI: Flight time was a just three hours and 27 minutes. TIP: Bring a sweater or jacket on the plane as the A/C was on full blast.
HEATHROW EXPRESS
The best way to get to central London (Paddington Station) from the airport is via Heathrow Express. It takes only 15 minutes and the trains depart every 15 minutes so there's no need to rush. A one-way ticket cost £16.50 (it's £3 more on the train) and can book in advance at HeathrowExpress.com or at the station. All you need to do is give the conductor your confirmation number.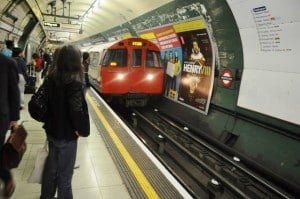 PUBLIC TRANSPORT
Without a doubt, the best way to get around London is on the tube and bus (besides walking, of course). To save money on your fare, get an Oyster Card like the locals (it has a £3 refundable deposit). It'll transform s £4-ride into a £1.60-ride (although it could be more for those traveling longer distances). If you plan on using public transportation multiple times each day, get a London Travelcard, which is valid for one, three or seven days and gives access to unlimited travel on the underground trains, buses or regular trains within London.
TUBE TO HOTEL
From Paddington, Natalie and I took the tube to our hotel. However, I made a big mistake by not looking on our hotel's website, or calling to find out the closest tube station. Instead, I asked the information guy at Paddington Station, who barely spoke English. He told us to get off at the wrong station so we had to back track, which we did by walking a good half a mile with our cumbersome luggage, through the crowded streets of London. It was actually kind of fun but next time, we'll get off at Green Park (three blocks from the hotel) or take the bus, which stops 50 yards away.
ATHENAEUM HOTEL
The Athenaeum Hotel is not only perfectly located in the swanky Mayfair district but it's a haven. It's opposite the Royal Parks and Buckingham Palace and down the road are a ton of museums, galleries, the chicest shops and West End theatres.
CHECKING-IN
The door man immediately grabbed all of our bags when we finally rolled up huffing and puffing and sweating profusely from the unexpected walk. We went through the small homey lobby to the front desk, which was manned by beautiful clerks. They offered us fresh squeezed lemonade and oversized Gummi bears that were rolled in powder so they aren't as chewy.
ATHENAEUM HISTORY
The Athenaeum has a long history but the Cliff's Notes version is that it was built in the Victorian era during 1849-50 and was noted by Charles Dickens for its extravagant interior. The 'Athenaeum' name was first used 15 years later (1864) when the house was bought by the Junior Athenaeum Club as the ideal spot for entertaining MPs, Lords and the great and good of London. Since the 1990s, The Athenaeum has been family-run and the key to its success is its Englishness: discreet, personal, friendly, interesting, lavish, quirky, down-to-earth and just plain brilliant. For the full history, click here.
STARS THAT HAVE STAYED HERE
With that description, no wonder so many of Hollywood's biggest stars have stayed here, at the Athenaeum apartments next door. Just to name a few: Harrison Ford, Marlon Brando and Michael Douglas. Steven Spielberg even installed an edit suite in the apartment adjacent to his own and edited ET, Close Encounters of the Third Kind and Indiana Jones there.
THE ROOMS
We weren't in one of those private apartments but rather in one of their 156 rooms. Room 603 had a floor-to-ceiling window that was pretty much sound proof, with an amazing view of Green Park. The room was really charming with a comfortable bed, lots of cool artwork (including one that changed into four paintings – the four seasons in the park across the street – depending on how you looked at it), a huge plasma screen TV (they range from 32 to 42 inches), a Bose docking station for your iPod or MP3 player and a universal controller by the bed for lights, A/C …
There were lots of small touches that made our stay special, too many to tell you about but one that made a real impression is that the door had a soft sounding alarm to let you know it hasn't been completely shut. Nice.
FREE STUFF
The best part about The Athenaeum, besides the incredible service, is that they don't nickel and dime customers. Not only are the gym, Jacuzzi, sauna and steam room free but so are Wi-Fi and the mini bar! That means you can finally enjoy those drinks and snacks! And, it's replenished daily.
THE NEGATIVE
The only thing I found wrong with this place is that the water in the shower gets really hot for a second if someone flushes the toilet in a neighboring room (it happened twice) and breakfast is crazy expensive (£54 for two). I loved the buffet, especially the dried cranberries, blueberries and fresh honeycomb … but my baked eggs Benedict and pancakes were cute but a little weird. The Athenaeum, 116 Piccadilly, Mayfair, London W1J 7BJ, Tel: 011-44-207-499-3464.
CELEBRITY EQUINOX
When we checked out of The Athenaeum, we headed back to Heathrow to catch a bus to South Hampton for our preview cruise of the new Celebrity Equinox. I wrote about that a few weeks ago but here's that story and video.
SALISBURY, ENGLAND
When we returned from the preview cruise, the good folks at Celebrity gave us a choice – go directly back to London or get a tour of Salisbury and Stonehenge. Of course we chose the latter. The drive from the port of South Hampton to Salisbury was 25 minutes, making this is a much better town to stay in than South Hampton. So, if you're cruising out of South Hampton, keep Salisbury in mind.
SALISBURY CATHEDRAL
The most popular attraction in Salisbury is the Salisbury Cathedral, which was built 750 years ago (here's its complete history). Pilgrims have been coming here for centuries to worship and marvel at (or climb) Britain's tallest spire. Visitors are awed by the beauty and scale of the cathedral's interior and to see one of the three original Magna Cartas. The other copies are held at The British Library and the Lincoln Castle (where The Da Vinci Code was filmed). The cathedral is not just an attraction but still a house of worship where mass is held every day. The times vary so here's a link for more information.
STONEHENGE HISTORY
Pretty much everyone who visits Salisbury Castle goes to Stonehenge as well. The prehistoric monument is just up the road (8.1 miles/13 kilometers) in Wiltshire. I've always wanted to come here since it's one of the most famous sites in the world . After seeing it in person, I still can't fathom how the heck people back in 2500 BC were able to transport and lift these monstrous stones. No one is exactly sure how it was created or why but archaeological evidence suggests that it served as a burial ground.
VISITING STONEHENGE
There was lots of traffic when we got close but there it was, sitting right on top of a small hill just a few hundred yards off the main road in the green English countryside. It's gotten commercial as of late (so I hear) as they now have a fence around the area and charge an admission fee of £7 for adults, £3 for children and £17 for a family (two adults, three children). Stonehenge itself is owned by the Crown but managed by English Heritage while the surrounding land is owned by the National Trust. One thing is for sure: it's amazing to see it once but I don't think I need to go back. Check their website for hours.
BLUEHENGE
Stonehenge is fascinating, but it's not exactly news. What is new is the recent discovery of what is being called Bluehenge. Unearthed just this past summer, Bluehenge is another site of prehistoric stones arranged similarly to those at Stonehenge. With 27 stones, compared to Stonehenge's 56, the new site is being called one of the most important prehistoric finds in decades. The site is believed to have been used in conjunction with Stonehenge. Its name comes from the fact that it was constructed using blue Welsh stones. Read more here.
RED CARNATION
Instead of going straight to the airport and back to North America, Natalie and I extended our trip so we could spend the weekend in London. We checked into The Montague on the Gardens Hotel. It's run by the South African-owned Red Carnation Group, which owns and manages luxury boutique hotels around the world many of which I've been fortunate enough to stay at, like Hotel 41, The Milestone Hotel and Egerton House.
THE MONTAGUE
The Montague on the Gardens Hotel has 100 guest rooms and suites all in a beautiful Georgian townhouse in the heart of Bloomsbury, the traditional haunt of London's literary set. The rooms are small but cozy and what sets this hotel apart, other than being a good value, is their incredible personal service. When we needed a taxi, the bellman ran down the deserted street to hail us one and if it was raining, they would lend us an umbrella.
THE ROOMS
Each room is individually decorated and furnished with hand-crafted furniture, including original bedposts and mirrors. Our room had a high ceiling and an unexpected decor. The walls were upholstered with black and white stripes, there was a 26-inch flat screen TV, three phones, U.K./Europe/U.S.A. electrical outlets, free Wi-Fi, a drawer filled with useful office supplies (scissors, stapler, elastic band, highlighter, ruler …) and a marble bathroom with deluxe toiletries and a rain showerhead.
IMPROVEMENTS
I'm not a fan of the chic, half-glass shower doors since they usually cause water to flow all over the place but that didn't happen here. Though, I did keep thinking the glass was going to break and cut me but that didn't happen either. Also, the toilets are old-fashioned and needed to be hand pumped to flush once in a while, which was kind of tricky but gave the room character. The bed and bedding are beautiful but ours could have used a new mattress and they need to get rid of the old-style comforters since they probably aren't cleaned often … but who knows?
DINING
We didn't dine al fresco at the hotel's restaurant, The Terrace and Wood Deck or have traditional afternoon tea in the drawing room but we did have breakfast each morning since it was included in our daily rate. Breakfast was very English and we loved it. The friendly staff brings not only tea or coffee to the table, but toast (brown or white) with lovely jams to spread. Guests go to the buffet and fill their plates with fruit, eggs, bacon, sausage, beans, hash browns, etc.
OVERALL
Overall, we were huge fans of The Montague and so were the guests we met (most were from France). The location is perfect, adjacent to the British Museum, a short walk to the narrow streets of Soho, Trafalgar Square, Covent Garden and the West End theatres. I look forward to going back. FYI: Russell Square is the closest tube stop. The Montague on the Gardens, 15 Montague Street, London WC1B 5BJ, United Kingdom; Tel: +44 (0) 20 7637 1001.
BRITISH MUSEUM
With the British Museum situated just across the street, we had no excuse for not visiting. On top of that, like most London museums, admission is free! The museum has over seven million objects representing the rich history of human cultures so visitors can clearly see the history of what it is to be human. The highlight for me was the Rosetta Stone, an ancient Egyptian artifact, which was the key to unlocking Egyptian hieroglyphics. We could have spent hours in there and since it was so close (and free!) we did make a couple of appearances. For more on Rosetta Stone, click here. The British Museum is open every day from 10am to 5:30pm (and open later on Thursdays and Fridays). They have lots of exhibitions and when we were there, we saw an Odissi dance. To find out what's on when you visit, click here.
NEXT WEEK
Next week – New York City and …?
WEB RESOURCES: