In a city with a history as rich as its food, first-time visitors will experience why some call New Orleans "The City that Care Forgot." When I arrived at Louis Armstrong New Orleans International Airport after an easy flight from Baltimore, I was whisked away to the newly renovated Sheraton Hotel, whose prime location on Canal Street, overlooking The French Quarter, acted as my home base over the course of a dreamy long weekend. The next five days were filled with life's finer offerings: food, music, cocktails, history, and aimless wanderings around the most European city I have experienced stateside.
Sights
My first stop after unpacking lay just a short walk from my hotel – The Mississippi River. Although not frequently lauded for its beauty, the river is the fourth longest in the world, so is worth checking out. It is also a fantastic point of reference for getting around New Orleans, as locals will throw around terms like "lakeside" and "riverside" when giving directions, often in place of the more widely used cardinal points.
For a guided walk around New Orleans, I highly recommend "Haunted History Tours." On the cemetery tour, our guide, Ernie, was exceptional. His enthusiasm was contagious, and his deep knowledge of both the city's roots and its present state were made clear each time he spoke. "Saint Louis Cemetery Number One" is not only cool because of its age and layout – some of its occupants were both famous and infamous in the city's history. Take, for example, Marie Laveau, "Voodoo Queen," whose supposed burial place is a Greek Revival tomb located toward the front of the cemetery. You won't miss it – it's covered in mementos and drawn-on trios of the letter x. The superstition here is that if one draws three x's on her tomb, he or she can make a wish. If the wish is granted, the lucky recipient of a Super Bowl victory or whatever it may be must return to the tomb and circle their x's. Additionally, visitors to this cemetery can see actor Nicholas Cage's tomb. He is alive and well, but took it upon himself to purchase a pyramid-shaped structure inside the cemetery for when he eventually needs it.
In the heart of The French Quarter lies Jackson Square. Named in honor of Andrew Jackson's heroism in The Battle of New Orleans, this beautiful area contains a park offering shady respite from the heat on warm days, local artisans' wares for sale, and a central location that one exploring the city will likely happen upon.
If you've never been to New Orleans before, a night out on Bourbon Street is a must. Although completely wild (all year long, by most accounts) it is difficult to have a bad time there. Bars line both sides of the street, neon lights and music emanate from what seems to be every single building, and tourists covered in Mardi Gras beads, drinks in hand, stumble about for as far as the eye can see. As fate would have it, my dear friend Kristina happened to be in New Orleans for a night during my stay before she was to depart on a cruise the next day. We were both first-timers, and ventured into the French Quarter together for an unforgettable evening. We started at Hotel Monteleone's famed Carousel Bar and Lounge, which is the city's only revolving bar (hence its name). We then headed over to Bourbon Street, walked its entire length, and made new friends all along the way. Then, we headed to Frenchmen Street, which is calmer, more music-driven, and less touristy. All of this was walkable; the ease of getting around being just another of New Orleans' charms.
Sounds
Much of New Orleans' most talked-about history revolves around music. From Cajun to Gypsy Jazz to Zydeco, it's all here, and luckily for music lovers, a simple walk around town or a meal in a restaurant could pave the way to an impromptu concert!
For the festival-goers of the world, this place is a veritable mecca. And not just during Mardi Gras. New Orleans is home to quite a few world-renowned festivals, among them Jazz Fest, the first weekend of which I was fortunate enough to experience during my stay. While jazz aficionados should absolutely make the trip, there is something here for lovers of genres aplenty. The lineup is varied and wonderful – among this year's artists were John Mayer, Billy Joel, Maroon 5, Fleetwood Mac, Juan Luis Guerra, and Jimmy Cliff. Ticketholders are intent on having a good time, even during inclement weather… Earth, Wind & Fire's set (my favorite!) took place amid a downpour of epic proportions, yet it was impossible to get anywhere near the stage. Thousands of bare feet danced in the mud, and mascara-smeared eyes appeared above smiles, even from those without umbrellas. The festival has seven stages and five music tents, along with food vendors, a crafts marketplace, and some of the best people-watching I have ever experienced. If planning a trip to New Orleans with no agenda regarding time of year, try to go during Jazz Fest.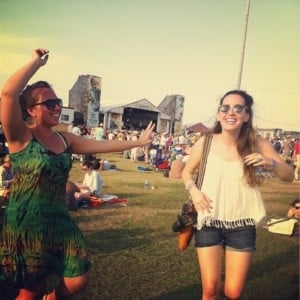 Stay
The Sheraton New Orleans Hotel was the perfect place to rest my head during my time in The Big Easy. The beds are extremely comfortable: roomy, white, and very much like clouds after a day of walking. I somehow justified a catnap nearly every day I was there – the beds were that enticing! The hotel is celebrating its 30th anniversary with a fantastic new renovation, which gave it a brand-new feel. The location is fabulous (I didn't need to take a single cab) and the rooms are well-appointed, attractive, and comfortable, many with river views. Additionally, The Sheraton has a unique history with Jazz Fest. It's the festival's longest-running sponsor, and along with its own stage, The Fais Do Do stage, the hotel offers a super convenient shuttle service to and from the festival.
Sweet & Savory
New Orleans is a foodie's paradise. Along with its signature items (beignets, muffulettas, po-boys, and oysters Rockefeller, to name a few) the food in general is quite interesting, due in part to the merging of cultures that has  historically taken place there. The melting pot of European, African, and Caribbean influences makes for some flavorful cuisine – I didn't try a single thing that wasn't delicious! At Felix's Restaurant and Oyster Bar, my table sampled what seemed like the entire menu. Raw oysters abounded, along with jambalaya and po-boys. I had the best fried pickles I have ever experienced, and fried pickles are one of my all-time favorite foods. Everything was exceptional (especially when washed down with hurricanes). At The Sheraton, I enjoyed both the brunch and the room service. One evening I ate delicious local Pontchatoula strawberries dipped in chocolate in my glorious bed: It was one of my favorite dining experiences of the entire trip! However, looking back, my dinner at Arnaud's takes the cake. Arnaud's is a French Quarter staple – it's been around since 1918 – and the ambience alone makes it a must-try. The décor is lovely, the wait staff knowledgeable and polished, and the food extremely good. Vegetarians take note: There is no actual meatless entrée listed on the menu, but inform your waiter of your diet and the chef will make you something! I had a yummy roasted eggplant dish with asparagus and matchstick zucchini topped in a sweet, Creole-inspired sauce (with a little kick). Our waiter selected some great wine pairings for both my meal and those of my fellow diners. Dessert was the real winner of the meal at Arnaud's, though. Bananas Foster, a local creation, was prepared tableside, complete with flaming pan. I tried the praline crepes, which consisted of delicate, perfectly done crepes with a praline-infused cream cheese filling, roasted pecans, and caramel sauce. They were too good, and complemented perfectly by a cappuccino.
While speaking with a man born and raised in The Big Easy, I was made aware of an important "rule." He told me, "One comes to New Orleans three times – twice to visit, and then to move here forever." After a mere five days of exposure to the sensory overload of a lifetime, I'm sure he is right.