Greetings! I hope you had a great holiday weekend. For those of you following me on Twitter, you know I've been all over the place including Tahiti, which I'm going to begin telling you about in full detail today and next week. We'll start with Papeete and its nearby attractions. Also this week: We sent Jerome Shaw on the Aranui 3 for a multi-week cruise on a cargo ship that makes stops to French Polynesia's remote islands.
ARRIVAL IN PAPEETE
We arrived into Faa'a International Airport at 6:40 p.m.–about 30 minutes late–so we just missed the sunset. The sun sets early in French Polynesia all year round–I think it fluctuates between 6 p.m. and 7 p.m. They don't have jetways, so everyone has to walk down the airplane stairs and then walk a hundred yards or so to customs. One advantage of going down the open-air stairs is that you get a feel for the destination immediately. And who doesn't love feeling that warm, thick humid air?
WELCOME TO TAHITI
The French Polynesian government really knows the importance of tourism, as they give passengers a warm welcome, unlike some other countries (ahem, the United States). Here it begins the moment you step into the arrivals area, where a local band is playing Tahitian music, followed by a couple of beautiful young Tahitian women handing each passenger a Tiare Tahiti gardenia (it goes behind the left ear if you're married, and behind the right ear for singles) as they get in line for passport control. Both passport control and customs weren't a chore, and I cleared within five minutes of stepping off the plane.
FINDING YOUR GUIDE
I didn't check bags, so I felt like a rock star walking through the exit as I was one of the first to do so. The arrivals area was packed with excited family members, lovers, and tour operators, all hoping the next person out was coming to see them. Every tour operator has a board with last names written down. Our group was listed with Marama Tours, and after getting lei'd I hit the ATM while waiting for the others.
TIP: Always print your itinerary and keep your documents handy just in case your tour operator isn't there–it happened to me last trip!
CURRENCY
I grabbed some Central Pacific Francs (XPF) from the ATM. Currently, the conversion is US$1 = 92.5 XPF. If you want to take out the equivalent of US$100, then 9,254 XPF would be your magic number. The ATM spits out large Flintstone-like paper notes.
T-MOBILE IN PARADISE
While waiting I also realized that my BlackBerry's T-Mobile international data plan didn't work. I could text and make phone calls, but I saved that type of communication until I got to my computer because emailing and Skype are much cheaper. FYI: My friend had an AT&T BlackBerry and her data plan worked–so be sure to get the right plan[How do you know what the right plan is?].
GEOGRAPHY
Tahiti is located in French Polynesia, which is almost exactly halfway between Australia and California. It is made up of 118 islands in five archipelagoes (island groups), each with its own character. Those five archipelagoes consist of the Society Islands, Tuamotu, Gambier, Australs, and the Marquesas. Most visitors go to the Society Islands, which are home to the popular destinations of Tahiti, Moorea, and Bora Bora.
DID YOU KNOW: French Polynesia covers an area of 2,000,000 square miles, which is about the same as Europe, except here it's mostly water, not land mass? The actual land area is only 1,370 square miles.
The government is described as an overseas territory of the Republic of France, so naturally most people speak French, but the first language here is Tahitian, which is a dialect of French.
Here are some translations to help you get by:
  ia orana (heeyah orah-na) hello
  nana (nah-nah) good-bye
  parahin (pah-rah-hee) farewell
  ia orana ite matahiti api (ya orah-na itay mah-tahiti api) happy birthday/happy new year
  fare (fah-ray) house
  fare-moni (fah-ray-monee) bank
  fare pure (fah-ray pu-ray) church
  fare toa (fah-ray toah) supermarket
  fare rata (fah-ray rah-tah) post office
  fare ma'i (fah-ray mahi) hospital
  tane = man
  vahin = woman
Don't worry about any language barriers, because most locals also speak English, which makes sense because Americans are their number one visitors followed by the Japanese, Australians, and French. Tahiti relies on two major industries. As you probably guessed, the first is tourism, but did you know that pearling was the other?
PAPEETE

Most people who come to French Polynesia use Papeete as a jumping-off point. When they stay here it's usually for one night either because their plane arrived too late or they come in a day before setting off on a cruise. I really didn't know what the island of Tahiti was like because both of the previous times I've been here it was just for a few hours. But this time I spent more than 36 hours total on the main island. The whole population of French Polynesia is 259,596 inhabitants (2007 census), and 150,000 of those people live on the island of Tahiti.
FACTS AND FIGURES
OK, put on your seat belt–I'm about to give you a lot of information: According to the last ethnic census, French Polynesia is made up of 66.5% unmixed Polynesians, 7.1% Polynesians with light European and/or East Asian mixing, 11.9% Europeans (mostly French), 9.3% Demis (mixed European and Polynesian descent), and 4.7% East Asians (mostly Chinese).
RELIGION
The religion is broken down as follows: 54% are Protestant, 30% Catholic, 6% Mormon, 2% Seventh-Day Adventist, and 2% Buddhist and Confucians.
HISTORY
Here's a good link to the History of French Polynesia.
WHAT TO BRING
The average temperature in FP (French Polynesia) is 80º Fahrenheit or 27º Celsius, and the water temp is just about the same at 80º F / 26º C! No matter what time of year you visit, you should bring summer clothes, beachwear, and sportswear and boating clothes, all preferably in cotton. Some evenings might get cool, so bring something warm. We did not need to wear any of our light sweaters, but if you are on the lagoon side or on a boat, or maybe in the mountains, then you might need it. Most people wear sandals, sneakers, boat shoes, or no shoes at all. Bring lots of bathing suits, sunglasses, a hat, water shoes, sun block, and mosquito repellent (those suckers can get evil after the sun goes down). BTW: The restaurants are casual.
MORE HELPFUL INFO
The tap water is supposedly safe to drink only in Papeete and Bora Bora, but not in other places. We didn't take a chance–we drank bottled water everywhere. If you are planning on plugging in electronic devices, then bring an adapter for French-style plugs and pay attention to what voltage your device can handle–electricity is either 110 or 220 volts depending on the island and type of accommodation. Connecting to the Internet is not a problem at any of the hotels, but it can be expensive.
LOCALS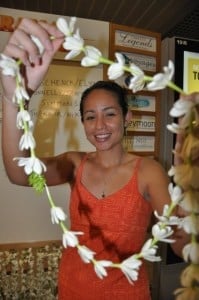 Everyone wants to know how friendly the locals were, especially the French. The Tahitians are friendly, laid-back, and peaceful people. The French transplants I met were mostly hotel managers or chefs and they too were friendly, they just weren't as laid-back as the Tahitians. We did encounter a few French tourists. Some were very friendly and some weren't. I am sure it's the same impression the French get when they come to the U.S., and I think it's just people in general, nothing to do with race or nationality. Some people are cool, some aren't.
MANAVA SUITE RESORT
My first stop was the Manava Suite Resort Tahiti. It's a 15-minute ride from the airport without traffic. Yes, it's sad but true: Tahiti has rush-hour traffic too. (But it's nothing like L.A.'s.) The hotel is four stars and has a Tahitian-chic feel. You definitely won't want to spend more than a night here if you are on vacation, but if you're in Papeete for work it would be quite nice long-term. They have 121 guest rooms on three floors.
INSIDE MY ROOM
The rooms are so modern that you don't even need to stick your card key into the door–just wave it in front of the keypad and presto. That kind of bummed me out, because that's the opposite of how I imagine Tahiti to be. But the room interiors are designed by Tahitian architect/designer Bruno Hervochon, and they have authentic Polynesian decor as well as contemporary amenities like a flat-screen TV, kitchenette, air-conditioning, and Internet (it's free and they provide the Ethernet cord since it's not Wi-Fi). I enjoyed the balcony and the bathroom but didn't care for the uncomfortably high toilet, which is in its own private closet-like room. I'm six feet tall and my feet were practically dangling, that's how high it is. Other resort features include two bars (get their signature nonalcoholic drink–banana, pear, and caramel), a restaurant, a fitness center, spa, two free computers, and the island's largest infinity swimming pool–it faces the lagoon and nearby island of Moorea.
HALF-DAY TOUR
After having a decent breakfast at the hotel (be sure to try their awesome Tahitian coffee), I was off to explore the island of Tahiti for the first time. Tahiti is called "The Gathering Place," as it is the gateway island to all of French Polynesia.
ROADSIDE STANDS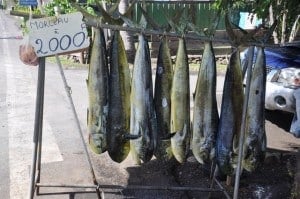 Our group was picked up by Angel from Marama Tours for a half-day island sightseeing excursion. On the way to our first stop–Mara'a Cave—I passed one of the many roadside stands with fresh Mahi Mahi that I would see throughout the trip. I stopped only to take a photo, but at other pit stops we got not just photos but also homemade donuts (they were OK), fresh Noni fruit, and other fruits and vegetables.
BREAD BOXES
Also on the drive we passed a ton of churches, black-sand beaches, and bread boxes–they are equivalent to a mailbox, but instead of letters the only things that gets delivered to these long, narrow boxes are fresh baguettes.
TEAHUPOO
We drove all the way around the island of Tahiti, which consists of two ancient eroded volcanic cones. One is Tahiti Nui, where Papeete is, and the other is Tahiti Iti, which is where the Taiarapu Peninsula is. They are connected by the narrow Isthmus of Taravao. The total distance around the island (one road) is 70 miles. The highlight was supposed to be Teahupoo–a popular surfing spot with a black-sand beach and the location of The Ultimate Wave Tahiti IMAX film and the Billabong Pro Tahiti competition. It was going on while I was there, but the waves were too small so there wasn't a contest that day.
MAUI BEACH
The highlight in Teahupoo turned out to be lunch at Le Plage De Maui Snack Bar (tel. 74–71–74), which is run by a French man and his Tahitian wife. The location is ideal, the food (including the bread) is very good, and their dogs are difficult to say no to. Scan of his business card.
POINTE VENUS LIGHTHOUSE
From there we stopped off at a grocery store to buy water shoes to wear while feeding stingrays in Moorea and Bora Bora (next week). I dropped 2,000 XFP ($21) on the shoes and then we headed to the Arahoho blowhole and the Pointe Venus Lighthouse. At the lighthouse there's a monument commemorating the arrival of the HMS Bounty on October 27, 1788. There's also a plaque stating that Robert Louis Stevenson spent two months here with his mother in 1888. He was working on The Master of Ballantrae, a novel set in Scotland, not in Tahiti.
LE MARCHE
I missed a couple of the popular museums, but I did make it to the daily market place, which is full of souvenirs, fruits, vegetables, and color. The market is known locally as Le Marche and is in the heart of the city (right near the ferries to Moorea). There are two floors of vendors and it's open daily from 5 a.m. to 5 p.m.
LES ROULOTTES
I came back to the port area at night for dinner. Les Roulottes de Vaiete is supposedly the best bargain on the island with its more than 30 food carts (or roulottes). They sell almost everything, including fresh crepes, Chinese stir-fry, burgers, and pizza (nasty). It's only open at night, and diners sit at picnic tables alongside the cart where they bought their food. We went to Chez Mamy, which was highly recommended, but the chicken and beef chow mein (1,000 XFP) had lots of fat. Next time I will just get it without meat. Of course, we finished up with a banana and Nutella crepe at one of the crepe places. Yum!
Note: This trip was sponsored in part by Manava Suite Resort Tahiti