I rarely sleep in Los Angeles hotels because I live there, but this past week I spent back-to-back nights in two different ones. What was crazy is that it was the first time I had ever checked in to a hotel with just a briefcase and no change of clothes. It's a good thing I spent 12 hours or less in each.
The first night I was at the Doubletree in Santa Monica so I could do my radio interviews. The interviews started at 5 a.m. since most of the stations were on the East Coast, and I needed a reliable phone because I use Vonage for my phone service in my house and it often cuts out. The PR company chose Doubletree since it's one of Hilton's 10 hotel brands and I could have an affordable suite there. The best part about my stay, besides having a huge room and a separate bedroom, is that they give each guest a warm cookie on check-in.
Belamar Hotel Manhattan Beach
The second night I checked into the Belamar Hotel, which was the old Barneby's Hotel and is not far from where I live. It's also just a few miles from LAX, which is ideal for transiting passengers. It has 127 rooms and they did a great job renovating by giving it a retro feel in the common areas. It's run by the Larkspur Group, which has 22 hotels mostly in Northern California and the Pacific Northwest. What I love about them is they put a lot of personality into them, and The Belamar is no different.
The first thing you will notice at the front desk is a neat pile of Ding Dongs. And no, I'm not talking about the workers, silly, but the treats that my generation grew up with. And if you arrive on a Monday evening (5-7 p.m.) you will no doubt learn they offer free manicures and martinis in the lobby. How awesome and creative is that?
The hallways are decorated with oversize framed pictures of porcelain dolls. Most people in my group thought they were kind of creepy–like Chucky–but I didn't get that feel. But we all agreed the rooms were just lovely. For starters they are a really good size and are fairly modern except for the bulky old TVs (which will be replaced with flat screens come January). Other little touches that make a difference are: L'Occitane toiletries in the bathrooms, including bath bombs and a toothbrush kit (I appreciated that since I forgot mine). The showers have an oversized head, a waffle-fabric curtain, and a curved rod so the lining doesn't touch you. There's also free Wi-Fi, a refrigerator, a coffeemaker, and a complimentary shoe shine.
Other notables: -Every other room has a balcony and the hotel is very pet friendly–they have designated rooms for guests with dogs or cats. Note: If you are allergic, just be sure you are not in one of them.
-There's a small modern gym in a former guest room.
-There's an indoor pool.
-The beds have soft sheets, but I didn't love the pillows.
-The restaurant, Second Story Restaurant, has a '70s feel, and they show reruns of the original Charlie's Angel's show. The restaurant serves really good food created by a Brazilian female chef.
-I love the font they use for the menu–it reminds me of the Brady Bunch.
-Rack rates begin at $139.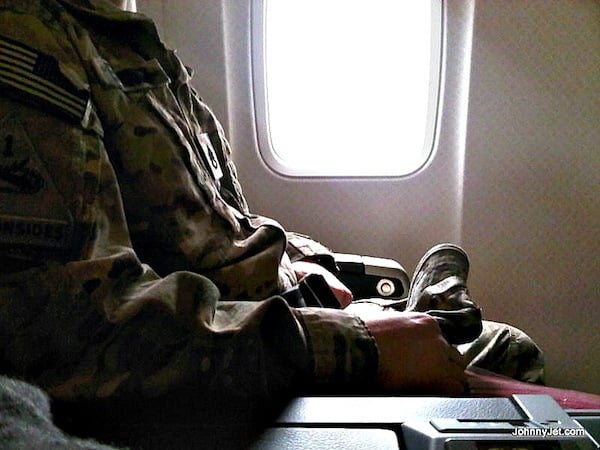 Upgrade A Soldier: Part 2
Every time I fly through Dallas, Houston or Atlanta there's always a uniformed soldier on my flight – usually headed to or returning from war. In the past when I get upgraded, I almost always give up my phat seat to the soldier. It's the right thing to do and I feel guilty if I don't. But this time I asked the gate agent working my Los Angeles to Dallas flight if I could upgrade the lone soldier in the waiting area and asked her to do it without him knowing it was me. She said it was possible but that she needed to determine if I had enough status for him to jump the already jammed upgrade waitlist. She asked him his name and after entering it into the system, she smiled and said it worked. I felt relieved especially since I was starving and didn't want to give up my seat … or breakfast!
It turned out that the soldier got seated next to me in 1A. He was polite, respectful and sat down after putting his heavy camouflage duffle bag in the closet. He quickly fell asleep but jumped when the flight attendant slammed a food cart door to prepare for takeoff. No one else even blinked an eye. I just shook my head in disbelief, trying to comprehend what these guys endure day in and day out to keep us safe.
When he woke, he only drank water and passed on the breakfast tray – no wonder these guys are so fit. I guess Andy Rooney was right when he wrote in his book that soldiers don't eat out of boredom. (I wish I could do the same.) He was a cool guy and we chatted for a bit on our descent. He told me that he was returning to Afghanistan after a two-week leave, which he said went by too fast. I thanked him more than once for his service and he was happy to be in first class. He said the extra space is a treat. I smiled, knowing that he had no idea that the upgrade was from me. It was only a small gesture of my great thanks – but it was something I was able to do for someone who sacrifices his life for my wellbeing.
FYI: I tweeted (@JohnnyJet) about my good deed and received an incredible response. I did it not to gain kudos but to draw attention to the fact that many of us can do this, which is why I'm writing about it now. I don't think frequent fliers who have plenty of points realize they can upgrade soldiers. I wish more people would because we need to take care of those who take care of us and give us the ability to live the rich lives that we do in America. It's not that difficult.
Fine Print: While cruising down the runway on takeoff, the sleeping soldier made the sign of the cross without opening his eyes. I followed suit but my prayer wasn't for a safe flight. It was for him and all the other brave men and women who serve our country to return home safely.
Sitting in the Bulkhead
Sitting in the bulkhead seat in first class, you see and hear everything. Here are some of my observations from my LAX–DFW flight on my way to Florida:
-During pre-boarding an older woman got on the plane and asked the flight attendant (FA) in Spanish where her seat was. The Spanish-speaking FA told her, and she was off. A few minutes later a passenger came up stating that someone was in his seat. Turns out it was the Spanish-speaking lady, and get this: she was on the wrong flight! The other flight attendant asked, How did this happen? Good question, eh?
-I kept hearing the FAs ask the gate agent if "El Capitan" was going to make it. I couldn't figure out what they were talking about until I saw him rush on at 7:30 a.m., which was our scheduled departure time. What's cool is that after takeoff the pilot confessed on the P.A. that he set his alarm wrong and he was late, and he thanked the whole crew for getting us out basically on time. We pushed back 10 minutes late but arrived 20 minutes early.
-We took off in the opposite direction. Due to Southern California's inclement weather, takeoff was over land, not the ocean like it is 99 percent of the time at LAX.
-There were two FAs working first class. One of them was really friendly and a hard worker. The other was OK, but I was shocked to see her playing video games on her smartphone shortly after takeoff.
-The 757 plane had American's new seats. To get it to recline you have to slide your butt forward, not just press the button and push your back back. It took me a few seconds to figure that out. There were also oversized monitors on the bulkhead wall, which was a nice change from the tiny ones.
-Across the aisle from me was a Los Angeles Clippers basketball player. When we landed I asked if they are going to play ball this season and he said "I think so."
-After takeoff the first-class bathroom was occupied so I went back to coach to use theirs. Since there was a line for them too I went back up to first class, and on the way I spotted a uniformed soldier in coach. When I'm in first or business class I like to offer my seat to a soldier when I have the chance, so I asked the FA if I could switch seats with him and they said they would ask him. She came back and said he was sleeping with an eye mask on so it was best not to disturb him. I agreed, but said, If he wakes up, please ask if he wants a bigger seat. They never came back to get me.
Delray Beach, Florida
I was in Delray Beach to spend some time with my sister and her family before my next trip; it was a good halfway point. Highlights were walking on the beach each day, playing tennis, and eating at Delray's incredible restaurants. Their newest one is 50 Ocean at Boston's on the Beach (Tel. 561-278-3364). They closed for renovations on August 1 and reopened on October 27. It's run by Ocean Properties, which did a fine job with the renovations. Depending on your mood and budget you can choose between two completely different dining experiences. Downstairs is a sports bar with a ton of flat-screen TVs including small ones at each booth, which gives their retro look a futuristic feel. The second floor has a sophisticated yet chic atmosphere that serves Key West-style food. I had the chicken soup to start ($6) and the surf and turf ($48) for my main. They were both great, but the presentation of the dessert stole my heart. For more information, visit BostonsOnTheBeach.com.