Los Angeles International Airport finally has a respectable terminal that it can be proud of when welcoming travelers from across the globe. Beautiful shops, eateries, and numerous club lounges (mostly grouped by alliance) are part of the new offering.
We recently took a tour of the beautiful Star Alliance lounge and were impressed with the clever style, ample food and beverage offering, and contemporary furnishings. Let's take a tour of this airy, new lounge.
The entrance is manned by two reception pods where tickets can be scanned to permit access. When they are not manned, passengers can proceed inside to be assisted at the reception desk.
The reception desk has three stations to swiftly move crowds through, although with flights spaced out throughout the day, things are rarely busy except for during the mid-afternoon (when most Europe-bound flights depart).
At the reception desk, there is a beautiful Airbus A380 aircraft model painted in the alliance's catching livery.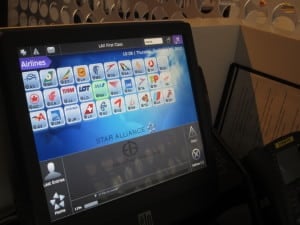 I snuck a peek at the system agents use to check in customers to the lounge. It looks like they simply tap on the airline of travel and enter the appropriate information (although it is likely to be transmitted by a simple scan of the boarding pass).
Plentiful storage space is available for luggage although most passengers seemed to keep their carry-on bags with them in the lounge.
The stunning entrance hallway makes a fantastic first impression, and translucent curtains gently separate the large lounge into smaller seating areas.
Off to the side are smaller sitting areas in quiet nooks that are much more private (and popular as they fill up fast).
The lounge has a number of types of lounge areas from sofas and armchairs to small conversation areas. Artwork—such as the unique angle of the famous Hollywood sign showing it from behind—throughout spurs conversation.
Sheer curtains create the sense of smaller seating areas while the lounge is really just one large space.
A dim TV room has cushioned chairs and is a great place to curl up with a book or to watch the news, a movie, or the big game.
This quieter side room showcases some of the lounge's beautiful artwork and photographs.
The lounge has numerous areas to find libations including this manned bar, where cocktails are shaken and stirred. A variety of beers are also available on tap.
The main buffet and beverage areas are backed by an enormous decorative wall of wine.
During my morning visit, the breakfast spread was still being offered.
The selection included several hot items like oatmeal and these tasty egg sandwiches.
At the end of the buffet, the cereal dispensers had several choices.
The coffee machine prepares fancy concoctions including cappucino and espresso. Soft drinks and juice are also available.
Wine, beer, juice, and sparkling wine are restocked regularly offering ample choice for thirsty flyers.
Bottoms up! The staff were watchful of empty bottles and quickly whisked them away while replenishing with more.
An Asian noodle or soup station appears to offer a variety of rotating selections. During my visit, the Vietnamese beef pho was absolutely delicious and extremely popular. It was tough to snag a photo of it!
The most unique feature of the Star Alliance lounge at LAX is its al fresco terrace, offering shaded seating areas, relaxing water features and exceptional views of the tarmac and international aircraft parked below. Only Delta's two Sky Clubs at JFK and Atlanta offer something similar, making this lounge very special.
The glass table has an attractive fire feature housed inside, which would look especially catching in the evening hours.
Additional terrace seating is clustered in small groups or at one long communal table. Here, convenient power ports are available for those using their electronics.
More lounge seating, and plentiful tables, are available for those partaking in drinks or snacks from inside.
Notice the clever quotations found on the walls located throughout various corners of the lounge.
Departure screens display updated information on international flights from the terminal.
Another unique terrace overlooks the terminal atrium, although it is a bit noisier than inside. However, many prefer it for people watching.
Of course, there is another bar for those sitting on the interior terrace.
A half dozen showers are available for those that want to refresh before or between flights.
A separate, smaller lounge is available for First Class travelers, and it would not be uncommon to spot a celebrity or two here. The bar selection is better with more premium labels, and a few extra food platters are available here.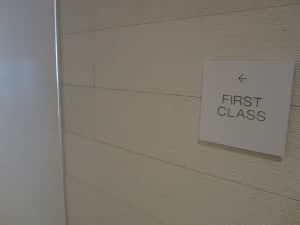 A private entrance is available from the outside, but also from within the main lounge since first class passengers can access the food and drink buffets of the business class section (but not vice versa).
A nice selection of magazines is available in the first class section, which is similar to those found in the business class area.
This residential living room setting is in the entranceway of the first class lounge. Off to the side is a private room that celebrities or VIPs can choose to use while awaiting their flights.
Throughout the lounge, seats have convenient power ports that are perfect for the modern-day traveler.
Star Alliance and LAX have a real winner in this stunning new lounge that will make awaiting a flight a more pleasant experience. Come hungry, you won't be disappointed!