Natalie and I have only been on our Micato Safaris trip for 36 hours but we've already seen so much, it's mind-blowing. It's surreal to wake up in the bush of the Masai Mara in East Africa. My trip began when I met my wife in London's Heathrow Airport; I had been in Southampton for the naming ceremony of Royal Princess. We flew together on British Airways for just under eight hours to Nairobi. Just as advertised, a Micato guide was waiting for us the moment we stepped off the plane and like all of their clients, we didn't have to wait in the passport line.

We drove 45 minutes to Hemingways Nairobi Hotel (more on that later) for just a few hours of sleep before getting up early and flying 40 minutes out of their domestic airport to the Mara. I was relieved that the flight was smooth and all of my fears (malaria, small planes, having an asthma attack in the middle of nowhere, getting attacked by wild animals…) disappeared the moment we landed.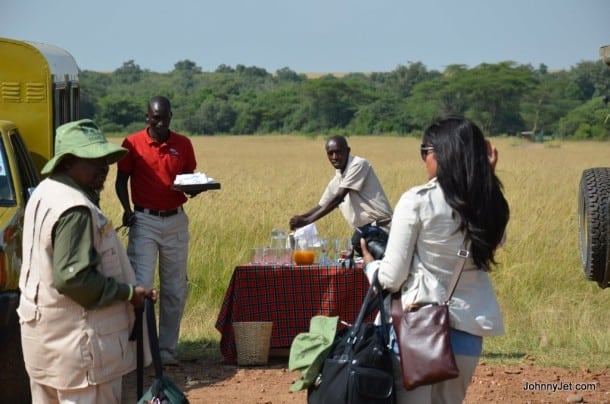 We were greeted by the staff of the Olare Mara Kempinski Masai Mara with champagne and orange juice, cold towels and warm smiles. They had a number of vehicles for our large group (we are on a press trip) and they took our bags directly to the lodge, which has 12 luxury tents on the banks of the Ntiakitiak River. We all piled into the safari vehicles for our first game drive. We didn't have to go far to see the first of the Big Five (which are elephants, African buffalos, rhinos, leopards and lions) as an old elephant was grazing in the field near the Olkiombo Airstrip.
The drive to the lodge usually takes 45 minutes but it took us two hours as we kept stopping to see the wild game. The highlight was seeing two cheetahs taking shade under a bush. The drivers are forbidden to interfere with their daily life but they are allowed to drive up fairly close to observe and take some pictures for a few minutes. FYI: The Masai Mara National Reserve is a large game reserve with an area of 1,510 square kilometers. Inside is the Olare Orak a 33,000-acre conservancy. There are five lodges with a total of 94 beds (the maximum capacity allowed in the conservancy). Our guide says there are about 40 leopards, 400 lions, 70 cheetahs and over 2,000 elephants within the reserve. And those are just some of the incredible animals visitors can expect to see.
When we arrived at the lodge, we were greeted by a Masai dance, more cold towels and a very tasty tree tomato drink. The lodge has free Wi-Fi in the main tent. When you go on a Micato Safari (and pretty much every other company), everything is included – all meals and drinks (except usually the real high-end, premium drinks). Our bags were already in our tent, which has electricity, the biggest bed I've ever seen, hot water and a ceiling fan. It's hot during the day but cool at night; they put hot water bottles under your covers to keep you warm.
The camp is not fenced in so everyone needs an escort to and from their tents at night. The biggest predator is the hippo, which kills more people than any other animal, though of course, as long as you do as you're told, you needn't worry.
After lunch, we went on the afternoon game drive and spotted a leopard! It was amazing. On the morning drive, we saw the granddaddy, the lion and eight of his cubs. I've included a selection of my photos so far. Hope you like them!
Good to Know: Interested in going on a safari? We have partnered with Cruise Planners which is a top rated travel agency to help plan your perfect trip. Contact Mike Gelman (1-800-724-5868) and tell him Johnny Jet sent you.