As has been written on this site, United Airlines is now operating direct flights from Newark (EWR) to Newcastle, England (NCL)—and will continue them through September 7, at least. Initially, the new route did not strike me as big news, but then I was offered the chance to experience it for myself. And so I did, and the UNESCO-crested, bucolic bounty of England's north soared beyond expectations. "The best part of England," Bruce Northam (most recent story here) called the sprawls of the English northwest, and while it's not easy for me to betray my London affections, he may just be right.
The English Lake District, in particular, is sensational. The wet and splintered rock, the healthy greens—they roll far and mightily as though exaggerated for a Monty Python sketch—without, but often with, the weight of foggy, film-noir-style intrigue. Nearby, Hadrian's Wall, one-time frontier of the Roman Empire, stands against the weight of time. Newcastle is quirky, and up-and-coming with some surprisingly brilliant beers and food, and its region greater is one worth discovering via direct flight. Like this one:
The flight over: UA 160 (EWR-NCL) on June 22, 2015
Getting to Newark Liberty (EWR) from Manhattan
As you may have heard, United will be ceasing operations at JFK this fall, pushing many of its New York-area flights southwest to Newark Liberty International Airport. I'm based in Brooklyn, west of JFK and south of LaGuardia. Flying out of Newark, I'd always felt, was a goddamned nightmare. But service to Newcastle departs from Newark, and so to Newark I journeyed, and the trip by train was honestly considerably easier than I'd expected. Here's the trip to Newark from Brooklyn, via the C train into Manhattan (with map for bearings):
Go to New York Penn Station (A, C, E, 1, 2, 3 subway trains)
Take a Northeast Corridor or North Jersey Coast Line train ($12.50; New Jersey Transit) to Newark Liberty International Airport Station (make sure it's not an express train; it should say EWR or have an airplane icon)
Take the AirTrain (built into the price you already paid above, as long as you selected the airport as your destination) from Newark Liberty International Airport Station to the airport and get off at your terminal (Terminal C for EWR-NCL)
It's also not the only option. From 33rd Street (60 min) or World Trade Center (40 min), you can take the PATH train ($2.75) to Newark Penn Station, and from there, per reader Joshua A., continue on by either:
Taking a Northeast Corridor or North Jersey Coast Line train (New Jersey Transit; $8.25, with AirTrain included), and the AirTrain in from there OR
Taking a local bus (including 62, 67) for $1.50 directly to Terminal A (15 min), B or C
More directly, there's the Newark Airport Express bus ($16 one-way, $28 roundtrip), which leaves every 15 minutes from outside Grand Central Station (41st Street between Park and Lexington Aves), Bryant Park (42nd Street and 5th Avenue) and the Port Authority Bus Station (41st Street between 8th and 9th Aves) and skips step 3, dropping off directly at the airport.
Then there's cab/Uber (probably $45 from Midtown), though I once almost missed a flight to Hong Kong due to stand-still traffic in the Lincoln Tunnel. On a related note, I despise cabs. Let's finish this off by noting that the 111 bus from the Port Authority Bus Station drops off at the IKEA next to the airport. How you get to the airport from IKEA, I'm not clear on, but if you miss your flight for this reason, you at least can flip your melancholy into cheap furniture.
Takeaway: Look, the trip to the airport isn't why you travel. And the trip to Newark, in something of a light revelation, doesn't have to be that bad. From Penn Station, it took all of 30 minutes, if not less. Just don't get on an express train from New York Penn Station if you take New Jersey Transit, and pay before boarding the train to avoid paying a $5 surcharge onboard.
Arriving at Newark Liberty (EWR)
The EWR-NCL flight departs from Newark Liberty's Terminal C, and unless otherwise scheduled, from Gate 81. The AirTrain drops off by some check-in machines, and without a bag to check, I headed right for security. Here, I made a mistake. Security checkpoint C-2 (there's also C-1 and C-3), the closest option, was a short, short walk, and the line I found there was juggling maybe 15-20 people. But there was no PreCheck line, so I continued on for checkpoint C-2, where my PreCheck status was to be accepted currency. However, the PreCheck line awaiting me at C-2 was the longest I've ever seen, and by the time I'd cleared I estimated that the normal, somewhat-hidden C-1 checkpoint, even without PreCheck expedition, would have been faster.
Takeaway: Pretty easy, but probably go to C-1.
The lounge(s)
Flying business class, and with time to spare before departure, I headed for one of the two United Clubs in Terminal C ("across from Gate 74" and "toward Gate 120"). It's a massive lounge, almost too big, and the food spread is light, with scattered items like cheese and crackers, Skittles, trail mix, brownie crisps, soup, hummus, and red peppers (the brownie crips were actually really good). But there's Wi-Fi, a huge bar and limitless seating. The United Club across from Gate 74 is approximately an eight-minute walk from Gate 81.
Takeaway: A lounge is a lounge, but this one is nothing spectacular.
The gate
There's Boingo Wi-Fi available for log-in or purchase or whatever at Gate 81.
Takeaway: Great.
Boarding and departure from Newark
The flight was scheduled to depart Newark at 7:20 pm ET, and the first call for boarding came at 7:14 pm ET. Cabin doors closed at 7:35 pm ET and we left the gate maybe ten minutes later. At 8:05 pm, we took off for Newcastle.
Takeaway: Late, but we still arrived early—so how much does it matter?
Amazing quote
Walking down the jet bridge, as allowed by my Group 1 designation, I was alone—except for the two vested airport staff hanging by the plane door. This is the exchange I walked past:
Guy 1: "NCL—what the f__k is that?"
Guy 2: "Newcastle. It's a new flight."
Guy 1: "Is that the same Newcastle as the beer?"
Takeaway: This is really a new route, and a new corner of planet opened up to greater-New Yorkers.
Seat
I sat in seat 2E, a fully reclinable aisle seat on the right of the 757-200 (in a 2-2 configuration in business). The amenity kit was pretty standard, but the blue velvety blanket warrants mention as in-air luxurious. The seat overall was pretty great, though I will say I kept knocking my headphones out of the jack beside my head.
Takeaway: I don't fly business a lot, but I was extremely comfortable the entire flight (even despite a few batches of turbulence).
Service
I was welcomed aboard by Latoya, who was sweet and genuine. Minutes later, attendant Caroline took over and in the hours to follow she did a masterful job in her role. British and accented, Caroline grounded the in-flight experience in the culture I was bound for, liaising admirably for both country and airline and balancing comforting and energizing vibes with her smile and quick wit. While we were still grounded, copies of The Wall Street Journal and USA Today were offered by cart, and instead of reading the news I drank a beer, a Budweiser.
Takeaway: From that first beer to touchdown, the crew of UA 160—and specifically Caroline—elevated my in-flight experience to all-time-great status.
Entertainment
The entertainment offering was vast and intuitive—particularly after the system was rebooted plane-wide before takeoff. The crew apologized for the inconvenience, but there really wasn't any. Cheers all the same. Here's the rebooted offering:
60 movies — from Birdman to Foxcatcher to Interstellar
120 "short programs" — from Alien Sharks to Brooklyn Nine-Nine to Friends to Louie
21 games
Music — library seemed pretty deep, but the music function was out of order; when I tried it, all I got back was, "This selection is not available," spoken endlessly and in rhythm
I watched Sideways and the one available episode of Louie before rolling back with my own iPhone library into a few hours of dark slumber. With breakfast, I watched something called The Message of the Ice Island, a Japanese film about Greenland and global warming. Proving again that aboard planes I will watch any documentary about the far north or south (or really any lightly treaded earth).
Food and drink
Early on, I was handed the menu below and asked, upon reflection, for a first and backup entree selection (just to be safe). About an hour into Sideways, and following delivery of warm nuts, dinner was served. I had:
For my first course, which I took with a Goose Island IPA: Chilled Appetizer (Nori-wrapped smoked salmon with wasabi mayonnaise).
For my entree (my first choice): Short Rib of Beef (Asian-style barbecue sauce, steamed rice, wasabi grits and stir-fried vegetables).
And then came the ice cream sundae cart, which I used as a means of identifying myself as much younger in spirit than those around me. I went for whipped cream, hot fudge and almonds over vanilla.
Lights out, sleep, Louie, work—and then finally, roughly five hours and fifteen minutes after leaving Newark, I opted in for the light croissant breakfast. With no Goose Island IPA.
Takeaway: Really excellent food overall, and I will heap supplemental praise upon the decisions to offer Goose Island IPA and a sundae cart. The offering in economy, meanwhile, though unspoken for, now includes three courses and a complimentary alcoholic drink.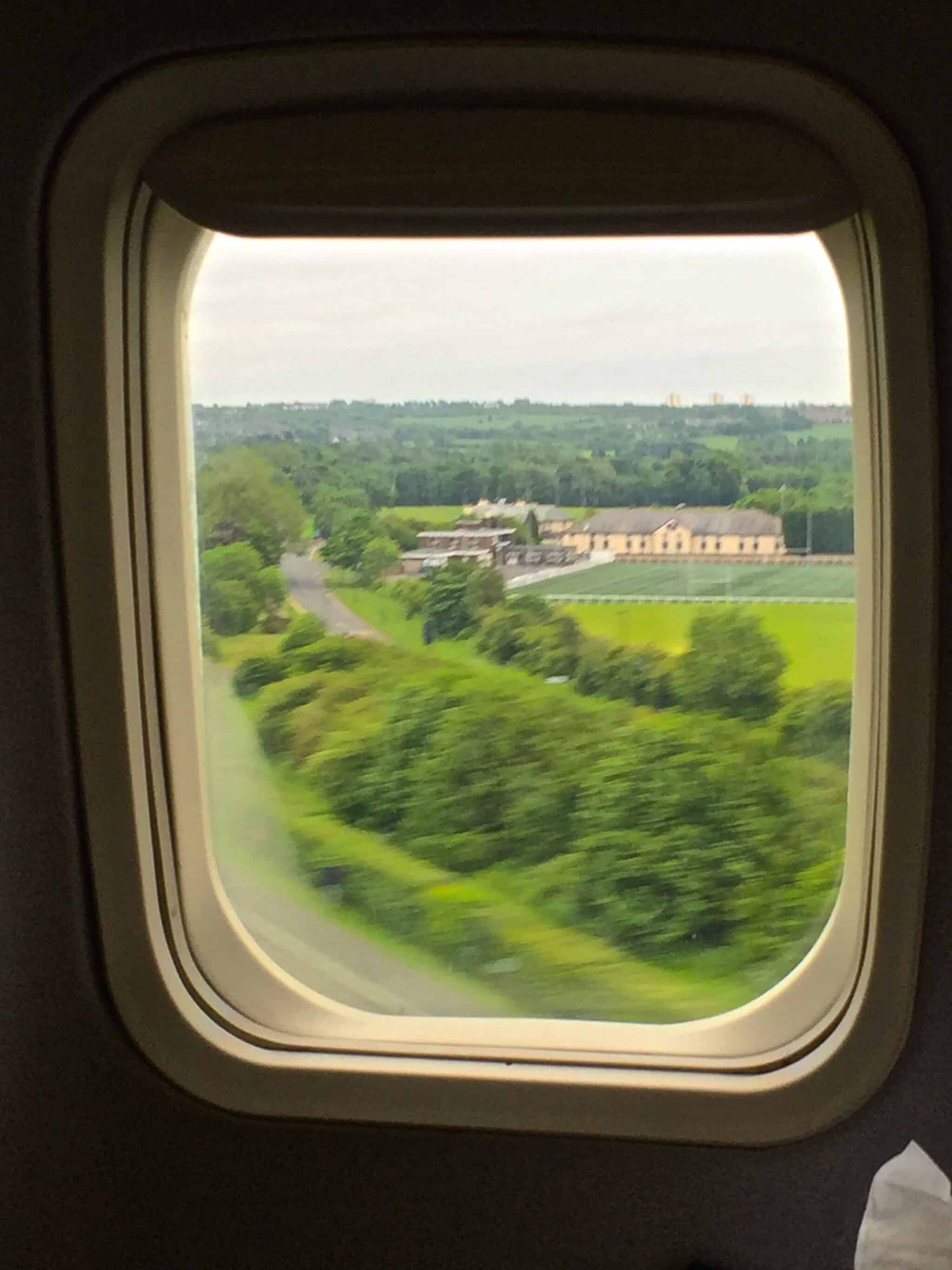 Arrival in Newcastle
We touched down at 7:19 am local time (2:19 am ET on my phone), but over the PA, a flight attendant called our official landing time at 7:20 am local—30 minutes ahead of our expected arrival. My seatbelt was off at 7:27 am local, and the walk to immigration was a short one. I arrived to literally no line, and strolled into the north of England without hassle.
Takeaway: Great flight to—more importantly—a great destination.
The flight back — UA 159 (NCL-EWR) on June 27, 2015
(As distinguished from the flight over.)
Newcastle International Airport (NCL)
A smaller airport, and pretty easy to navigate. There's also free Wi-Fi (in 45-minute sessions) throughout.
Takeaway: A pain-free experience. It's also about 10-15 minutes from Newcastle's city center. En route from the Malmaison Newcastle, where I spent two pleasant nights, I used up all 10-15 probing my driver about the time he won the National Lottery.
The lounge
United doesn't have its own NCL retreat as of now, but as a business class flyer I was granted access to the Aspire Lounge, maybe eight minutes from my gate (and along the route there from security). Its doors are in fact open to travelers of all classes for a moderate price (see link above). It's an intimate, Wi-Fi-powered space, with a light food and drink offering and upgraded seating.
Takeaway: I found inside the light breakfast I prefer, with a drinkable yogurt and some baked good. Always nice to be given access by people paid to limit access, and the effort United made here, without adequate time to build its brand strong in a new airport, was appreciated.
The gate
Unless otherwise noted, UA 159 to Newark leaves from spacious Gate 21. This was the case on June 27.
Takeaway: Not a long walk from security.
Boarding and departure from Newcastle
The flight was scheduled to depart Newcastle at 9:10 am local time, and the first call for boarding came at about 8:35 am. Cabin doors closed at 8:59 am local and at 9:12 am, just two minutes behind schedule, we took to the air.
Takeaway: Almost exactly on time.
Seat
Again on a 757-200, I sat in seat 1B, on the left of the plane and again as part of a 2-2 business configuration. The seat again was fantastic.
Takeaway: Great seat, even wearing a little age.
Service
Alex took care of me in 1B, and his service was immaculate. Early on he anticipated my Bailey's order, and with my downing of the stuff he would fix me doubles with a smile and a joke. When the time came to serve chicken wraps, he inquired, "We're going to have a chicken wrap. Would you like to join us?" At one point he asked if I was in TV or movies, which almost seems like too much, but asked genuinely and non-intrusively, that is in the category of questions that really leaves an impression on a consumer.
Takeaway: Alex, like Caroline on the way over, was outstanding.
Entertainment
The entertainment offering was the same: still impressive beyond the music, which I didn't need but couldn't use. Sleep occupied most of my time on this leg, but I did manage to sneak in all three available episodes of Parks & Recreation and Kashmir Calling, a film about snowboarders who travel to the tense and very snowboard-able Indian corridor of Kashmir.
Food and drink
Really excellent once again, starting at 9:33 am local with some morning nuts and a drink.
For my first course: Chilled Appetizer (Prosciutto with onion relish and garnishes).
For my entree, which I took with a Bailey's: Thai-style Fillet of Tilapia with Shrimp (Chile-coconut sauce, potato straws, basmati rice, and garlic sprouts).
The ice cream sundae cart came again, and again I went for whipped cream, hot fudge and almonds over vanilla. And then later, the friendship offering of a chicken wrap—which was delicious).
Takeaway: A well-crafted and well-executed menu. Morning and night.
Arrival in Newark
We touched down at 11:26 am ET, again over 30 minutes ahead of schedule. I was through immigration (with Global Entry) within maybe—maybe—five minutes of deplaning and on my way back to Brooklyn in 15.
Takeaway: Go to Newcastle from New York, since you can now do it.
For more information on United's new EWR-NCL route, visit united.com. For more information on Newcastle and the north of England, visit newcastlegateshead.com/englands-north.