Iberia Airlines recently debuted a redesigned Business Class on their new Airbus A330 aircraft. Known as Business Plus, the rehabbed cabins offer more amenities on long haul flights to Spain.
Rollout of Business Plus has been staggered since its introduction in Spring 2013. On a recent trip to Madrid, I had the opportunity to experience the new service on both outbound and inbound flights from Miami, Florida.
Miami lounge and boarding
Before the flight, I waited for boarding in the Premium Lounge, which is jointly operated by Iberia, American Airlines, and British Airways. Located in Concourse E, the spacious lounge is available for passengers flying Oneworld-eligible international First Class, Business Class, and Emerald- and Sapphire-tiered customers, as well as Admirals Club members departing from Concourse E.
The lounge didn't seem overly crowded, though at 6,000 square feet it was easy to find a quiet space. Two buffet tables served up plenty of decent food that could easily make a meal, and a full bar was self-serve with a wide array of choices. The staff were especially friendly and accommodating, and the Wi-Fi worked great.
Boarding Iberia from Miami to Madrid was not smooth. There were no lines designated for boarding by specific zones. I thought I arrived late to the boarding gate, because of the massive throng of people circling the gate agents. In the midst of trying to board in the appropriate category, I accidentally cut in front of other Business Plus passengers in the herd of people, angering them and embarrassing me. Not a great way to begin my Iberia experience.
Onboard
Once onboard, it was easy to see the configuration of the Business Plus cabin on the Airbus A330 (though when choosing seats online there was no indication of where the galley or restrooms were). The Business Plus cabin is also divided into two sections, with a galley between, which is not indicated online.
The seating is arranged in a staggered 1-2-1 configuration. Every other row alternates as to how the seats are aligned. In row 1, the single seats are immediately positioned next to the window. The double seats are located next to each other. In row 2, the single seats are positioned by the aisle, with the double seats also positioned farther apart on each aisle. The larger Business Plus cabin is where rows 1-7 are located, with a galley and toilets in the front. Rows 8-9 are located behind the galley and restrooms, with a bulkhead behind separating them from coach.
The seating configuration makes it possible to accommodate lie-flat beds with a 180-degree recline. However, for those seated directly on the aisle, it means that you're lying down facing the aisle traffic with much less privacy than those seated towards the inside.
For travelers flying alone, the best seat for privacy—both from aisle traffic or a fellow seatmate—would be one of the window seats positioned immediately by the window.
On the outbound flight, I was seated in the main section, and on the return, I was in the small section behind the galley. Comparing the two, I would have to say that the section with rows 8-9 had an especially private feel since no one was walking through the aisles to get to the bathroom. The only traffic came from the flight crew. With a bulkhead in front of row 8 and behind row 9, there wasn't the sea of brightly illuminated screens in the seats in front of you that is so common now on aircraft, and especially bothersome at night. The only caveat would be if there were an especially noisy group in the first few rows of coach since there is no sound buffer from behind.
A comforter-like blanket and full pillow were to be found on each seat when boarding. During the flight, an amenity kit stocked with standards (toothbrush, toothpaste, socks, comb, etc.) was handed out, along with some additions such as a hairband for women, an additional bag inside the amenity bag, and a bottle of eau de cologne.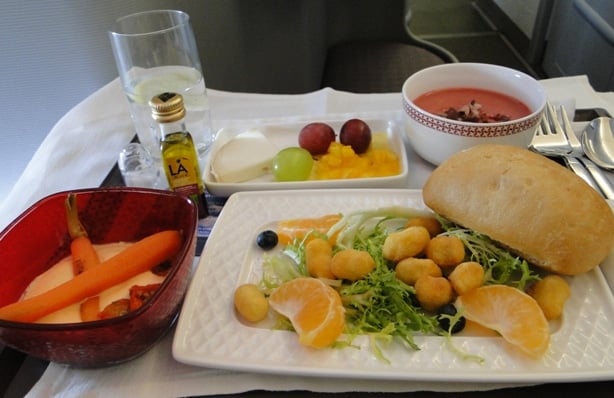 The meal service was enjoyable, highlighted the food and wine specialties of Spain. The menu was created by four young Spanish Michelin-starred chefs. Dinner to Madrid included a choice of duck with Porto wine sauce, king prawns ragout or tomato tortellini. Lunch returning to Miami included a choice of roasted lamb shank, cod confit or duck and apple ravioli. The famous Spanish ham was prominently featured in the return flight menu—with a strawberry gazpacho with Iberico ham, and an afternoon snack of Iberico ham.
A mini bar of snacks and drinks was available in the galley in between meal service. Individually wrapped sandwiches, fruits and chocolates were set out for Business Plus guests, along with drinks and bottles of water.
One of the hallmarks of Iberia's new Business Plus cabin is the upgraded entertainment system. The large in-flight screens are definitely more enjoyable to watch. A touch-screen makes it easy to scroll through selections, while a touch-screen remote by the seat also helps navigate the entertainment without having to constantly bend forward.
On my outbound flight, I had no problems with the entertainment system, though I didn't use it much as I was sleeping. My inbound flight presented a few hiccups while I was trying to watch movies, including a problem trying to switch my system to English at the beginning of the flight that occurred again midway through the flight.
Power ports are available, and there are plans for internet access, texting and phone calls. One fellow passenger was on the phone during the flight, which instantly made me cringe at the possibility of all passengers one day being able to talk while flying. It is loud and disruptive when one person does it, so just think what would happen if more than a handful were on their phones at the same time.
Madrid lounge and boarding
In Madrid, the lounge available for Business Plus Iberia passengers was exceptionally busy. There was a small hot bar with food, as well as a refrigerated wall of shelves displaying sandwiches, drinks, fruit and other snacks. A self-serve bar was also available with wines and liquor. Though it had plenty of amenities, the Madrid lounge was not nearly as nice or peaceful as the Miami lounge.
Boarding in Madrid was more organized. There was a separate boarding queue line for Business Plus passengers located quite far from the boarding for coach passengers, causing no confusion as to when to board.
Overall, the new Iberia Business Plus cabin is a welcome product when flying to Spain, where Iberia is among the nation's largest airlines. Be sure to choose your seats wisely, and then relax and enjoy the experience.