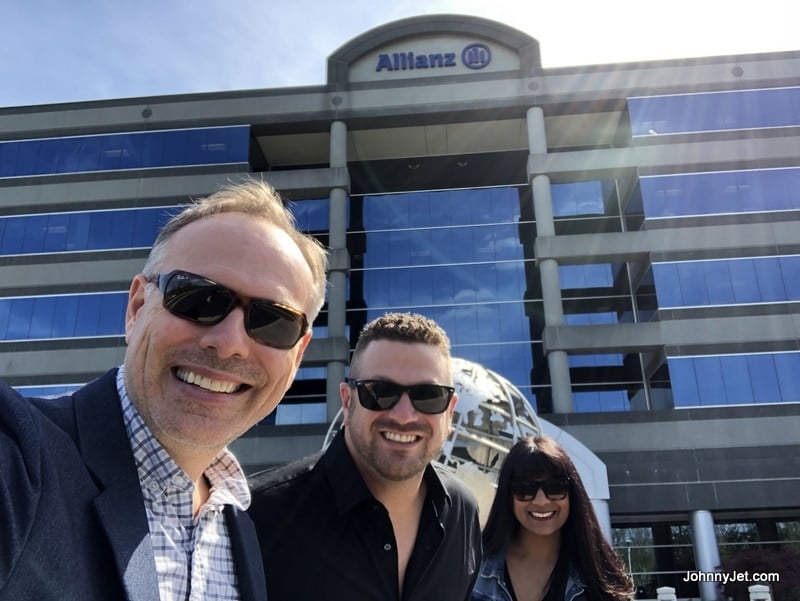 I've been a global ambassador for Allianz Travel Insurance for almost five years. What does that entail? Mostly, I educate the public on the importance of travel insurance. Before working with them and InsureMyTrip.com, I had never really thought much about travel insurance, frankly because it seemed like a boring topic. But after reading horror stories and seeing the bene fits firsthand, I'm now a true believer in having travel insurance, regardless of whether I'm being sponsored or not. It has given me great peace of mind.
FYI: Since I travel so much, I now get an annual plan so I don't have to keep taking the time to buy a separate travel insurance policy for each trip. No matter which plan or company you choose, always read the policy's fine print to fully understand what's covered and what isn't.
I travel because it makes me feel alive
Allianz is currently running a campaign called "I Travel Because…," prompting travelers to think about the motivation behind their travels. You would think that's an easy thing to answer but when you stop to think about the reason why you travel, there's usually more than one reason. For starters, I travel because it makes me feel alive. Growing up in suburban Connecticut, my family and I rarely traveled by plane. I think I flew a handful of times before I entered high school and the furthest we ventured was Florida. Most of our trips involved driving to New York City (42 miles away), Atlantic City, NJ (my dad liked to gamble), and Watch Hill, RI, where we enjoyed an annual vacation to celebrate my parents' wedding anniversary in either late August or early September.
I travel because air travel is so mind-boggling
I still remember takeoff on my first plane ride. We flew from LaGuardia to Fort Lauderdale and I was amazed how small the people, cars, houses and buildings below quickly became. They looked like toys within seconds. It was truly an amazing experience, which is another reason why I travel. Have you ever thought about what it takes for a plane to fly through the sky, loaded with hundreds of passengers and all that luggage? It boggles my mind when I think about the miracle of flight. How fortunate are we to be able to travel so far in such a short amount of time? If I told my great grandparents that I've flown to Hawaii just for dinner, they would probably faint or slap me for lying.
But flying didn't always come easy for me. In fact, there was a time I used to be afraid to fly. Between the ages of 18 and 21, you couldn't get me on a plane. That's because during my senior year of high school, I talked my mom into going on our first international trip (with the exception of driving to Canada once) to visit my sisters, who happened to be living there (long story, but my oldest sister, Georgette, fell in love with an Aussie at a Club Med and she followed him Down Under. Then my mom sent my other sister, Carol, to go get her and she fell in love with an Aussie. Those damn Aussies. Georgette stayed for three years and Carol stayed for six months but they eventually broke off their relationships).
Our dream trip was going to take my mom and me from New York to San Francisco to Honolulu to Sydney to Perth (where my sisters were living) back to Sydney, Fiji, Los Angeles, then back home. All in two weeks. After months of trying to convince my mom to go, she finally caved! Before the trip, she took me to my asthma doctor because I had recently been diagnosed. Unfortunately, my doctor put the fear of God in me when she said: "You're going all the way to Australia?! You know that's a 27-hour flight and you might have difficulty breathing since planes are pressurized?" I had no idea what that meant but when we went to the airport a few days later, I had a full on anxiety attack.
My parents thought I was joking when I said I couldn't get on the plane. In fact, they both laughed. When my mom saw me crying, she realized I wasn't joking and she started to cry since she had no idea what was going on with me and she realized that she now wasn't going to see her daughters. Then my dad started crying because he thought he had the house to himself for two weeks.
My parents were amazing and took me to all kinds of shrinks over the next few years. It wasn't until I went to a homeopathic doctor who said the problem was that I was on too much asthma medication and that it was giving me anxiety. He reduced my dosage, gave me some natural supplements and it worked! At age 21, I fulfilled my dream of going to college in California and from there, my life completely turned around.
At college, I met a Scottish girl named Sally whose parents lived all over the world (her father was a banker) and the first summer, she invited me to Singapore but I gave her a lame excuse about why I couldn't go. But the truth was that I was afraid: Afraid of the long flight and afraid I wouldn't be able to even breathe in Asia (ridiculous, I know). The next summer, she invited me to Hong Kong for a month and I knew it was time to face my fears so I said yes.
The problem was that Sally only flew business class and I didn't have the money or her father's miles to get a big, fat seat. So, that was my first travel challenge: to find a cheap premium ticket, which I did by finding a consolidator that sold a business class ticket for just $300 more than coach. I quickly learned that one of the best ways to get over a fear of flying or fear of a long-haul flight is to fly up front. Wow!
The LAX-HKG flight ended up being 16.5 hours because we were delayed for two hours on the tarmac and it was so amazing, I didn't want to get off the plane. I still remember to this day how it felt when I walked down the plane stairs into the hot and steamy Hong Kong air. I had a huge monkey lifted off my back. It was the first time in years that I really felt alive and proud of myself. It was one of the best feelings ever. I had truly accomplished something even though I just sat in a comfortable seat and got waited on hand and foot for three quarters of a day.
I travel because I love to explore
I fell in love with Hong Kong and travel. During the month-long trip, my girlfriend became sick for a few days during the time we had planned on going to Macau so I ended up exploring the territory on my own. I took the high-speed ferry for an hour and toured around the city for just a few hours but it was that quick trip that made me want to explore new places. Another reason why I travel. A year or two later we went to Australia.
I travel because of the people I meet
The real reason why I travel is for people. Usually, it's to see friends, family and clients but that turned out to be just a small part of it. What travel did to me was open my mind and dispel any preconceived prejudices I had. I quickly learned that the media only focuses on the negative and all my fears about travel were ridiculous. For the most part, I believe that 97% of people in the world are good but those nasty three percent get all the headlines and instill fear in many. So now I'm huge proponent of traveling internationally because as corny as it sounds, I truly believe the more people that travel, the less prejudices there will be in the world.
I travel because I love to try new foods
I used to be a very finicky eater and there are still some things I don't like (lamb, goat cheese, mushrooms…) but I will pretty much try anything once and that has allowed me to expand my horizons and my palate. I will now travel a great distance just to get some incredible food like food from hawker stands in Singapore or fresh pasta in Italy. Oh and I can't forget my favorite fruits like mangosteens or rambutans that Southeast Asia has an abundance of.
I travel because I learn
I never get bored of traveling because I'm always learning, even if I go back to the same place I've been 100 times before. And now that I have a two-year-old, I'm learning even more but most of all he's learning a tremendous amount each and every minute. Traveling was special before Jack but now, to see the world through his eyes, it's off-the-charts special.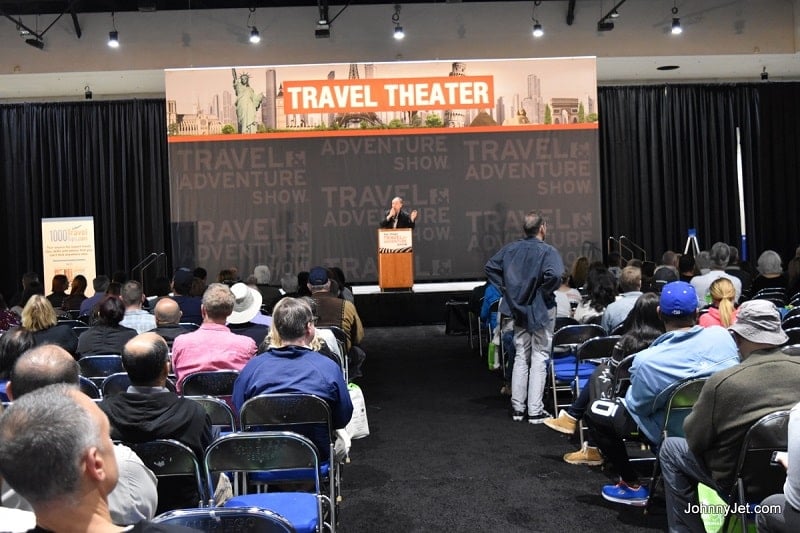 I travel because of work
Work is the main reason why I travel and I'm fortunate that my wife is in a similar business (I met her on a press tip) so we've been to over 65 countries together. We're very fortunate to be able to travel together and because of our similar line of work, we're able to bring our son with us. We all try to be together whenever we can and when it's necessary, my wife and I trade off and go to work functions separately, while the other hangs back with Jack. It works and allows us to travel, work and be together all at the same time.
I travel because it builds stronger relationships
Of course, we can't always travel as a family. And the old saying "absence makes the heart grow fonder" couldn't be any more accurate. Because I travel so much, my wife and I appreciate each other way more than we might otherwise, because we don't take each other for granted. When we dated and commuted between Los Angeles and Toronto, we always had these long and sometimes tearful airport goodbyes and that's carried over to our married life. I think the secret to marriage might just be travel! Whether you travel apart and learn to miss each other or travel together to enjoy each other's company, both are rewarding experiences. (And you really get to know someone when you travel with them!)
So there you have my main reasons for travel. I could find many more but you get the point. Travel is truly an amazing experience and I'm fortunate to do what I do because I love it and it makes me a better person.
Why do YOU travel? Leave a comment below and finish this sentence: I travel because _____________.
Disclaimer: Johnny Jet works as an ambassador for Allianz Global Assistance (AGA Service Company) and receives financial compensation.
---
For more information about Allianz Global, visit AllianzTravelInsurance.com.