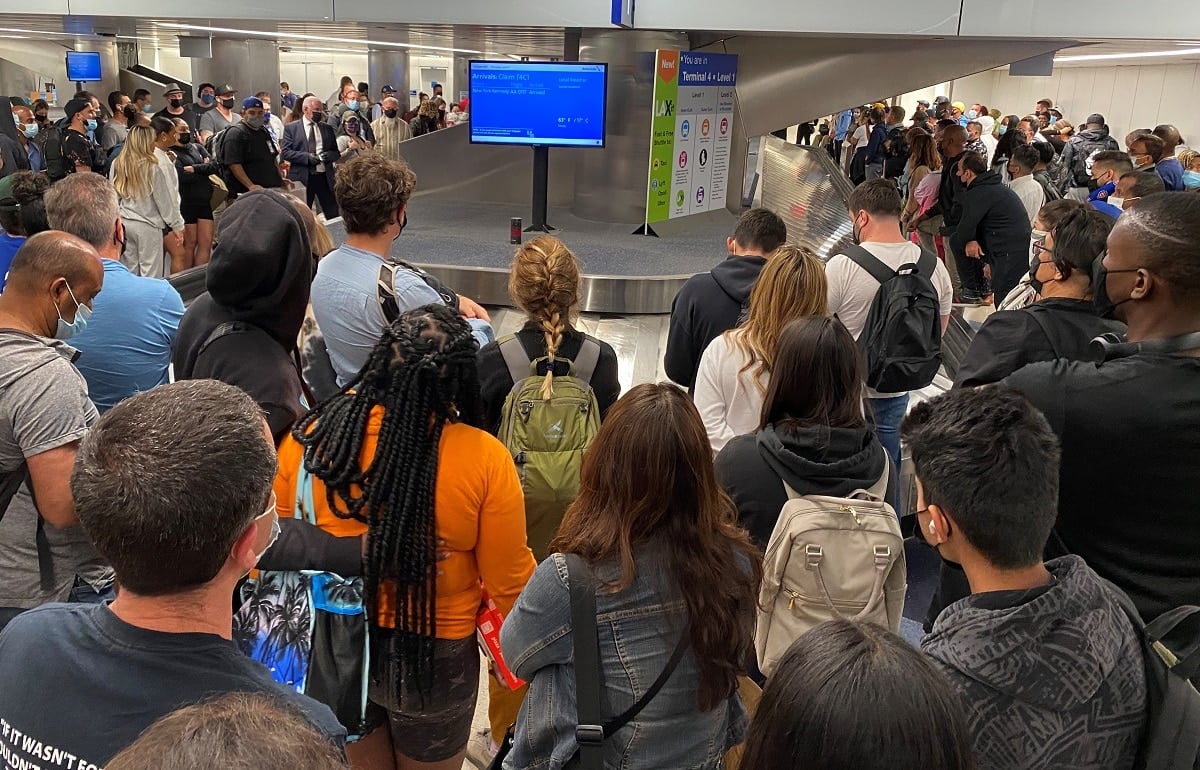 If you read my article on the summer of the inflation vacation, then you already know that the high cost of travel is one of my arguments for staying close to home this summer. As promised at the end of that post, the other reason (and the main one) is that everything is pointing to the fact that it's going to be a summer of travel hassles. That is … unless you are smart and lucky with your travels. Here's why you most likely won't find me traveling internationally or to many U.S. destinations this summer.
A few months ago, I wrote a post titled Summer Travel is Going to Be a Doozy after JetBlue, Spirit and American had serious meltdowns during Spring Break, due to just a little bit of bad weather. The writing was on the wall because if the airlines can't handle spring thunderstorms, what are they going to do about summer storms, which are worse and more frequent?
Sadly, the problems the airlines are facing have gotten worse and almost all travel insiders are expecting them to continue. And of course, it's not because of the weather. The root of this year's travel chaos is staffing issues, from reservations agents to pilots and everything in between, including airport security screeners.
The pandemic did a number on the travel industry; there were months when airports and airlines were ghost towns. Many pilots and airline workers either took early retirement, accepted a buyout or found another job. Especially, airport workers. I've heard that many went into construction since it's booming.
Speaking of booming, that's what the travel industry started to do and the airlines were somehow caught off guard. You would think a simple fix is just hiring new employees but in the travel industry, there's a lot of training required, especially for pilots.
United Airlines CEO Scott Kirby said on a quarterly earnings call, "The pilot shortage for the industry is real, and most airlines are simply not going to be able to realize their capacity plans because there simply aren't enough pilots, at least not for the next five-plus years." According to CNBC: "Kirby estimated the regional airlines United works with currently have about 150 airplanes grounded because of the pilot shortage."
Robert Isom, American Airlines CEO, announced at the Bernstein Strategic Decisions conference, that his airline is grounding about 100 regional jets due to the pilot shortage.
American and United aren't the only airlines whose CEOs are putting up the red flag. Ed Bastian, the CEO of Delta Air Lines (which by the way has been the best run airline for close to a decade), stated in a Good Morning America interview that, "We're only a little over 80 percent recovered as an airline yet the demand is already over 100 percent." He admits "it's a challenge" even after hiring over 15,000 people in the last 14 months. But he says "there's a lot of training, there's a lot of experience, our pilots need to get staffed."
Airlines cancel flights amid soaring demand for air travel. @giobenitez has more on the summer travel turbulence. https://t.co/kWY5S6eOU4 pic.twitter.com/FyAFio6JBB

— Good Morning America (@GMA) June 6, 2022
Keep in mind that COVID is still surging and doing a number on employees. On top of that, summer is when thunderstorms can really wreak havoc on an airline's schedule. That's because when lightning is present, everything on the ground comes to standstill as ground crew aren't allowed outside to help guide planes to their gates or unload baggage. That's another reason not to check luggage!
And this isn't just a problem in the United States. In fact, airlines all over the world, from Australia to Wales, are experiencing staffing shortages. My Twitter feed is filled with unhappy travelers who either missed their flight because security/immigration lines were too long or their flights were canceled and there was no room to be put on another for days.
Just look at what happened last week in Amsterdam. According to Reuters: "KLM, the Dutch arm of Air France-KLM, said it would not bring any further passengers on Saturday from European destinations to Amsterdam's Schiphol Airport, its main hub. The airline, which had already cancelled dozens of flights to ease traffic pressure at the airport, said weather conditions and runway maintenance were preventing many aircraft from taking off and landing."
Lufthansa, Swiss and Eurowings scrapped over 1,000 flights in July. That's right, according to the Brussels Times: "German airline Lufthansa and its low-cost subsidiary Eurowings are scrapping over 1,000 flights in the busy vacation month of July due to staff shortages. Lufthansa has cancelled 900 domestic and intra-Europe flights to and from its Frankfurt and Munich hubs for July; Eurowings also had to scrap several hundred flights, the airline announced in a statement on Wednesday."
The Independent is reporting: EasyJet cancels 60 more flights, disrupting 10,000 passengers' travel plans. "Ten thousand passengers booked to fly on easyJet on Thursday to, from and within the UK have had their flights cancelled. The Independent has identified at least 60 grounded flights today, most of them to and from London Gatwick – the airline's main base. Britain's biggest budget airline is unable to crew the schedule it has planned from the Sussex airport, and is cancelling around 30 flights daily at a few days' notice."
According to Fodors, there's 'a Perfect Storm in the U.K.' thanks to Brexit. "After Brexit, British travelers lost their privilege to travel within the E.U. without fuss. Travelers now need to have their passports stamped on entry and exit, contributing to the delays. Additionally, Brexit has pushed out E.U. workers in the country—the travel industry has pleaded its case to hire from overseas, but the request was denied."
The Daily Mail writes: "UK staycation bookings surge as Britons turn their backs on foreign holidays: Holidaymakers look set to revive the 'Great British Staycation' with a recent boom in summer bookings as chaotic scenes continue to plague the country's airline industry. Tourism chiefs have reported a surge in reservations in recent weeks as travellers turn to the beaches of Dorset, Welsh valleys or the Cornish coast in a bid to swerve Britain's beleaguered airports."
Meanwhile, in nearby Ireland last week, Euronews is reporting that: "'Hellish queue' stretches a mile out of Dublin airport after thousands miss weekend flights." More than 1,000 passengers missed flights due to queues and a lack of airport staff.
I'm presently in Toronto, Canada visiting with my wife's family who we haven't seen in person since the start of the pandemic. Almost every news cycle, there's a story on how bad security and immigration lines are at Toronto's Pearson International Airport. Here's a CTV story from Thursday: "It's been a nightmare for travellers flying through Canada's busiest airport, with long lines, flight delays and cancellations becoming the norm, and aviation experts predict that these problems are only going to get worse before they improve. Duncan Dee, former chief operating officer for Air Canada, says much of these delays stem from staffing levels at customs and immigration desks at Toronto Pearson International Airport inadequately equipped to deal with the surge in passenger traffic as well as the COVID-19 border measures, creating a domino effect of delays. "Each and every one of the travellers is screened. And it's now taking four times longer than it did before the pandemic."
Now, I don't want to prevent anyone from going to see their loved ones or finally taking their dream vacation. But I do want you to know that unless you time it right and have luck on your side, you might be in for some serious travel hassles.
Here's how to minimize summer travel hassles:
1. If you can postpone your trip until late August or September, you will most likely avoid most of the headaches as kids are back in school, crowds will dissipate and prices should go down.
2. If you can't postpone your travels, then fly mid-week to avoid the weekend crush. We flew New York to Toronto on a Wednesday at 8:30am and encountered no lines at either airport.
3. Take the first flight of the day out or at least an early morning flight. Taking the first flight out pretty much guarantees you will not get canceled as the plane and crew should already be in town and you don't have to wait for an incoming aircraft. It's also the least likely time for a thunderstorm to occur.
4. Download the airline's app and the Flighty app to track your plane and stay updated the minute they change plans.
5. Check your reservation and seat assignments multiple times: Right after you book, a month before your trip, a week before and the day before just to make sure the airline hasn't canceled your flight or swapped the type of aircraft.
6. Arrive at the airport super early: Three hours for a domestic flight and even longer for an international flight.
7. Avoid connections unless there are no other options. The more flights you have to take, the higher your chances of something going wrong.
8. If in the United States, sign up to TSA PreCheck, CLEAR and Global Entry to cut lines (they don't always offer them or have them open).

9. Use a concierge service to escort you to the front of the lines. It's expensive but it's definitely worth it for some business and leisure travelers.
10. Follow your airline(s) and airports on Twitter and the local news outlets to find out if there's going to be any construction, incidents or strikes (for example, over 1,000 SAS pilots could go on strike by late June).
11. If parking your car at the airport, make advanced reservations as spots fill up fast and you don't want to scramble. It's best to get a reliable ride from a friend or a car service. I use Blacklane (full disclosure: I'm a brand ambassador). Good to Know: Use my Blacklane code JOHNNY15JUNE22 to save 15% off your first Blacklane ride when booked in June for future rides.
12. It might be less of a hassle to drive and if you're meeting loved ones, see if they will meet you halfway. Here's how to find halfway points.
Listen, I love summer. It's my favorite season of the year and historically, I've traveled extensively during the suer season. So it's not normal for me to warn people to postpone their travels but this year, there's a unique confluence of events we've not experienced before and it might just make the most sense to wait to save money and avoid hassles and headaches.