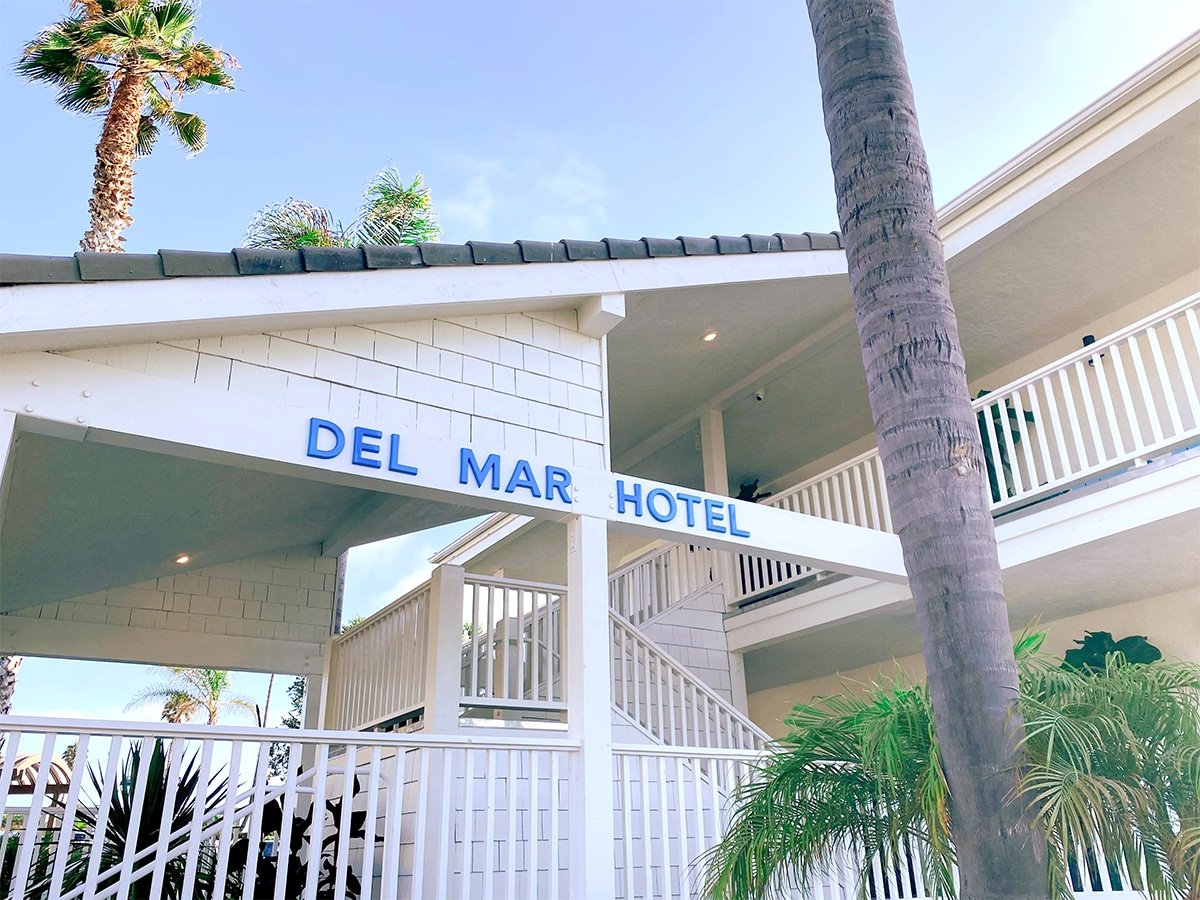 A big thanks to the Del Mar Beach Hotel for hosting our stay so we could provide this detailed review of our experience.
The amazing thing about living in Southern California is that there are so many amazing getaways just a short drive from where we live in Los Angeles. To take advantage of this fact, my family and I just returned from an incredible two-night stay in Del Mar, California, which is 22 miles north of San Diego and is famous for its racetrack.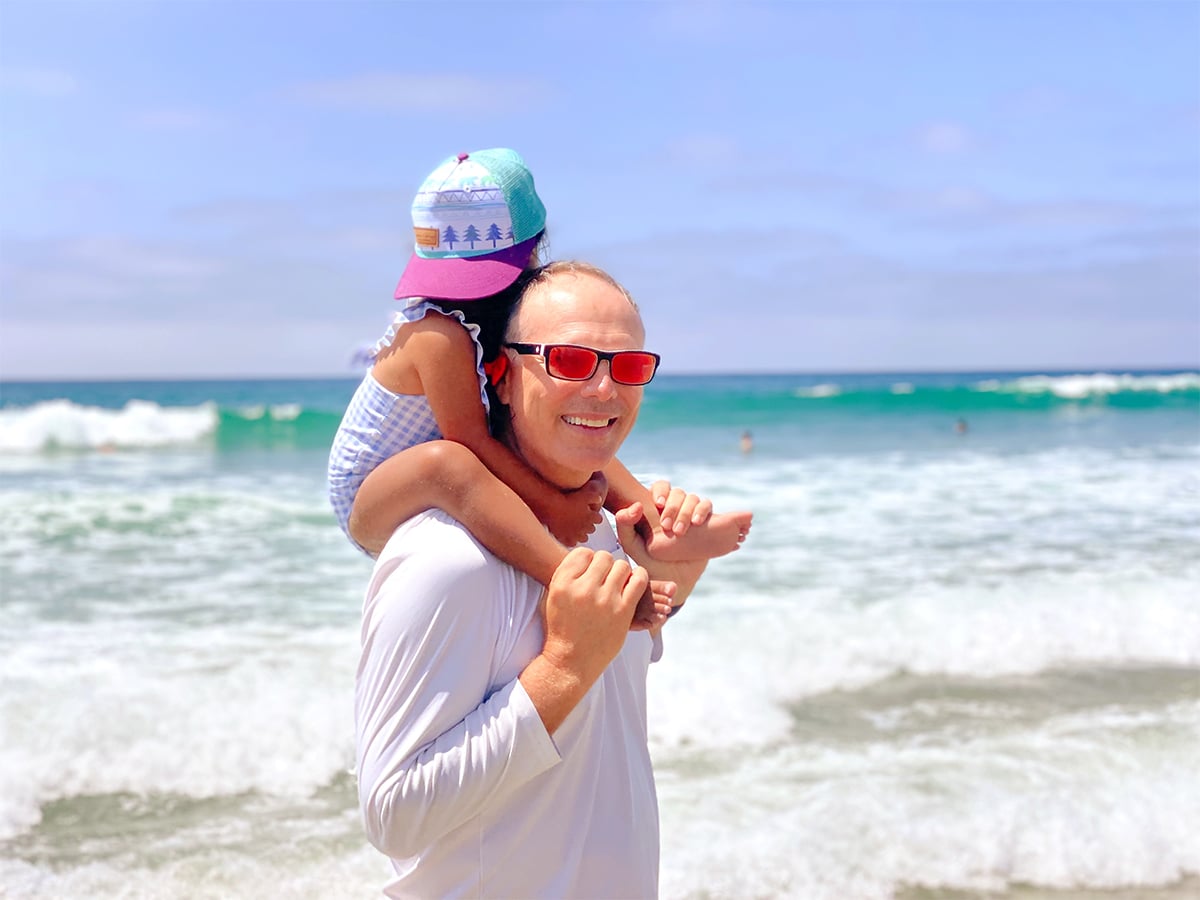 I've been to Del Mar a couple of times but mostly only to the Del Mar racetrack with my dad. I never knew how much nicer the beach in Del Mar is compared to the South Bay in Los Angeles. The water is clearer and warmer by a few degrees, giving it a more tropical look and feel.

The Del Mar Beach Hotel kindly hosted us for a two-night stay and I was looking forward to checking it out, despite not knowing much about the hotel. All I knew was that it was originally built in 1968 and was once a dilapidated motel. But it has recently undergone a multimillion dollar renovation and now, it is a chic boutique hotel … one of very few hotels in California that's right on the beach. In a state known for its long stretches of beautiful sandy beaches, travelers should know about this gem that's actually on the sand. Beach access doesn't get any easier than it is here.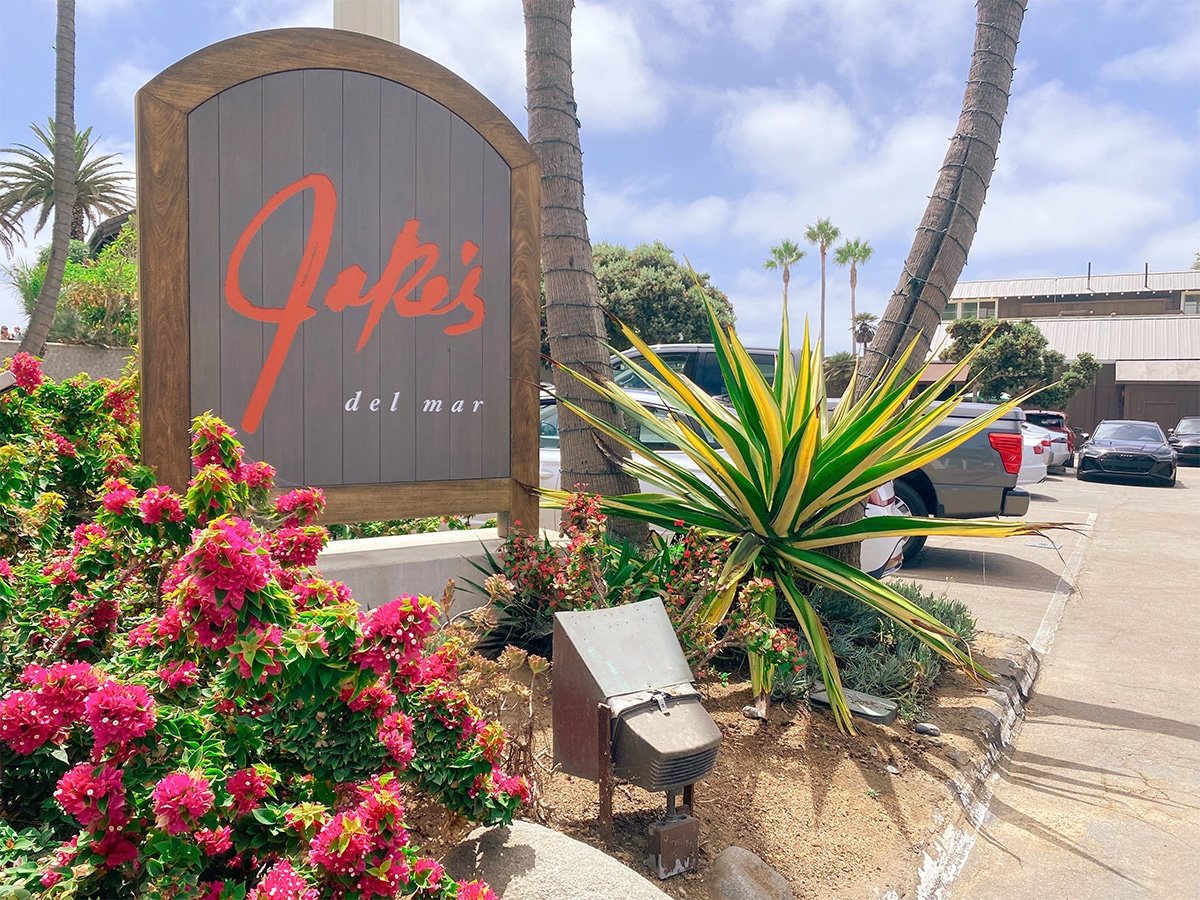 The Del Mar Beach Hotel is located beside Poseidon Restaurant and Jake's Del Mar, which is very popular; it's a sister property to Duke's in Waikiki.
When we arrived at the hotel at 5pm, I parked in the free, 28-spot parking lot. It's nice that hotel guests don't have to pay for parking or try to find parking nearby. I went looking for the 24/7 front desk, which wasn't easy to find from the parking lot or street and there's no signage indicating where it is. Turns out, it's located on the ground level, the first room near the street but on the opposite side of the hotel parking lot. If we had parked at Poseidon, it would have been more obvious.
On arrival, every guest is offered a welcome glass of champagne. I declined since I don't drink and had my wife and kids in the car, but it's a nice start to your trip.
What's also nice about the Del Mar Beach Hotel is that, on the morning of your stay, they email guests a link to check-in to speed up the check-in process. Just input your name, add the names of everyone in your room, add your credit card number and you're done. When you arrive, just show your ID and credit card and you're good to go.
The main hotel has 46 rooms and the rates range between $219 and $650 a night (plus tax and a $30 destination fee), depending on the time of year.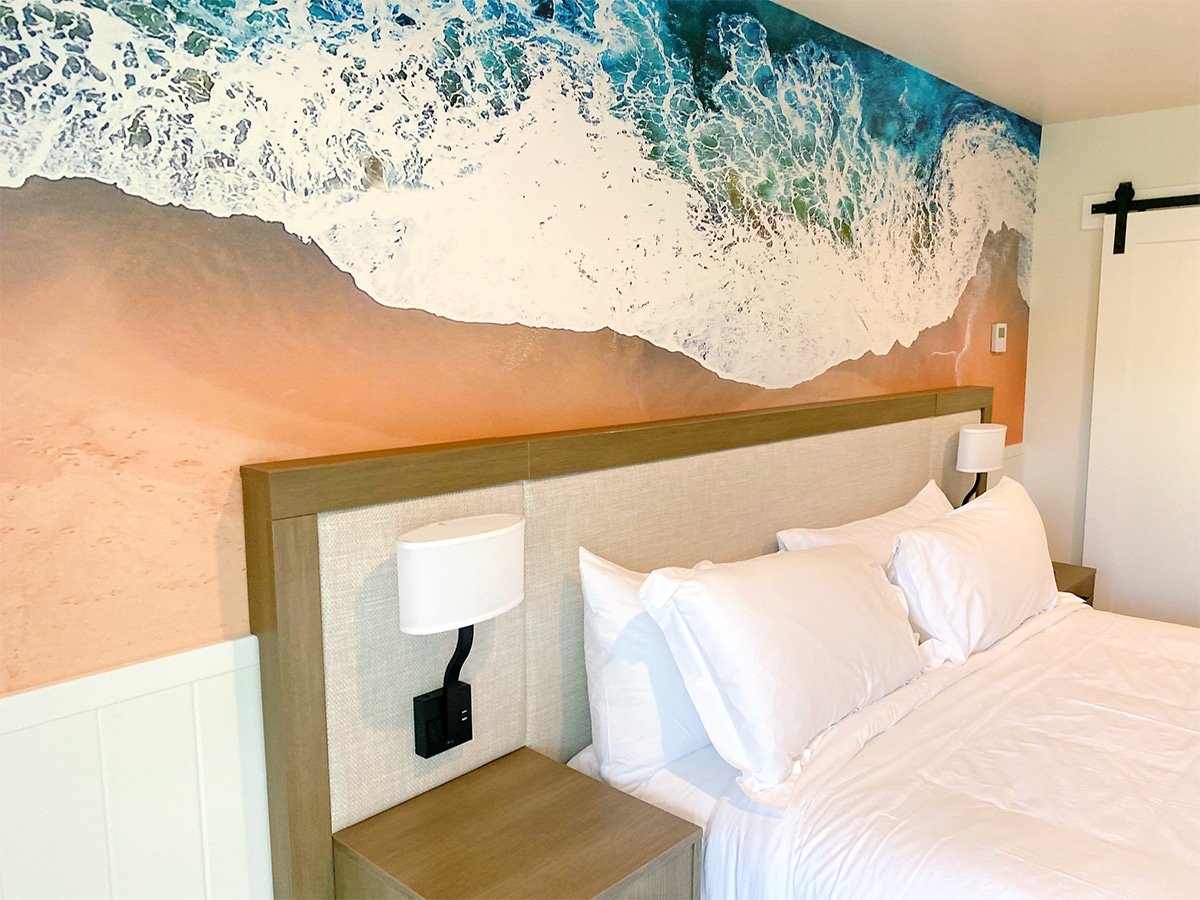 All of the rooms are 300 square feet and have been fully refurbished … and they did a great job. I asked an older woman, and guest of the hotel, who I met on the beach, how she liked the hotel and she said she loved it. She did note that she could hear the person above her walking around until midnight so a good tip is to book the top floor of the two-story building.
RELATED: 5 Family-Friendly California Road Trip Ideas from Los Angeles
We weren't in the main hotel. Instead, we were next door in the Beach Bungalow ($900 a night), one of two beach houses that are part of the hotel. My wife and kids were in the car while I went to check in. Fred, from the front desk, walked me the 50 steps over to the bungalow to show me how the keyless lock worked and to show me around.
When he opened the door, my jaw dropped. Seriously. The photos below will speak for themselves but here are all the details you need to know about the incredible Beach Bungalow at the Del Mar Beach Hotel:

Friendly staff
First things first: We didn't meet too many staff members but the ones we did meet were all super friendly and helpful, from those working the front desk and back patio to those handing out beach chairs, umbrellas, boogie boards, towels and kids toys (all included in the $30 resort fee).
Parking
The Beach Bungalow has its own driveway that will easily fit four cars. For those driving a Tesla, there's a Juice Box on the side of the house so it's easy to charge.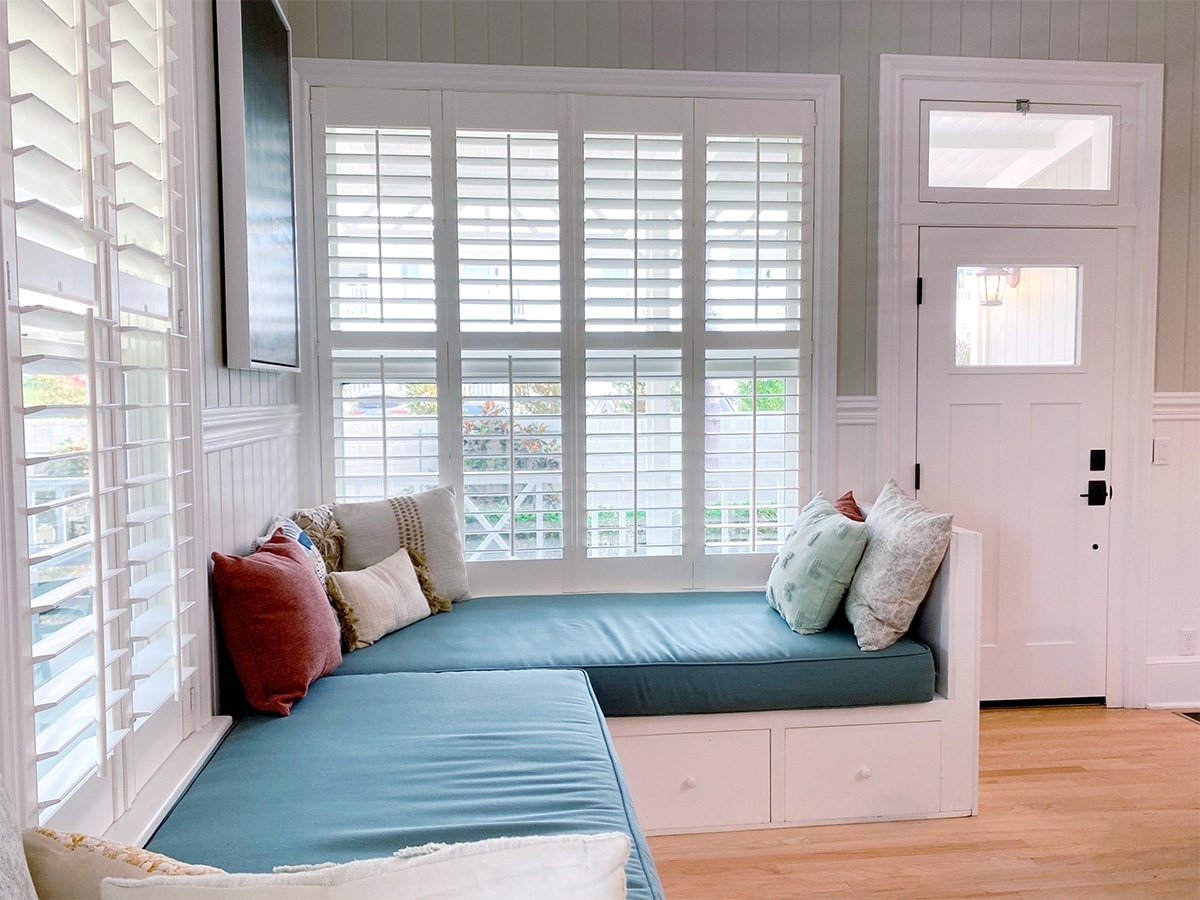 Entryway
When you step into the bungalow, you're greeted by a vast expanse of wide open, open-concept living space. To your immediate left is a beautiful, upholstered window seat, perfect for putting shoes on and taking them off or just relaxing during the day, curled up by the window reading a book. My wife loved that the bungalow has hardwood floors throughout. They feel modern and so much cleaner than carpet. It's also better for our son, who is allergic to dust.

Living Room
The Beach Bungalow has a large living room with a comfy pullout couch and three armchairs. At 90 inches, the TV is enormous and awesome – the size of the room can easily accommodate such a large TV. It's got cable and all the streaming services available. Most of the streaming services were still logged in from previous guests so here's your reminder to always sign out before checking out of a hotel or home rental. There are three TVs in the house and the remotes aren't labeled so make sure that you keep them organized. FYI: Inside, you'll find QR codes to get the user instructions to operate everything, like the stove, washer, jacuzzi and BBQ (although I could have used one for the shower knobs!)

I slept on the pullout couch while my wife slept with the kids in the bedroom. The pullout couch was nice and comfy but there was nothing covering the windows above the two doors. I like complete darkness (and privacy) at night, which is a good reason to travel with this portable blackout curtain and, as always, a comfy eye mask. There are also nearby train tracks and at night, the trains can be pretty loud so pack a pair of earplugs as well.
The design of the entire house but the living room especially is beautiful. The TV is recessed into the wall, flanked by built-ins that look great.

The kids loved the giant wooden Tic Tac Toe game on the coffee table and I loved the coffee table – it is round as are the side tables and the kitchen table. There weren't too many sharp edges to worry about with little ones running around.

Kitchen
The gourmet kitchen is beautiful, large, clean and modern. It's the kind of kitchen you actually want to spend time in.

As one would expect for a house rental, the kitchen was fully stocked. But this one went the extra mile. They had not just dishes and glassware but everything you could possibly need to cook and bake.

There was even a fully-stocked spice rack, which I don't think I've seen in a rental before but was a nice touch.

I don't know much about stoves but my wife does and she was very impressed with the top-of-the-line Wolf range, as well as other luxurious appliances, including a SubZero refrigerator and a 40-bottle wine fridge. Of course, there was also an espresso machine, a tea kettle, a dishwasher and a microwave nestled neatly in the kitchen island.

There's a large round table to eat at and, in our case, a great place for the kids to draw and color.
Outdoor Patio
Floor-to-ceiling glass doors open up from the bedroom to the back patio, which has a state-of-the-art BBQ and an outdoor kitchen with two broilers and an ice machine.

The outdoor table seats 10 and there's a flat screen TV, and three overhead heaters that turn on with the flick of a switch. The kids loved eating their meals out here.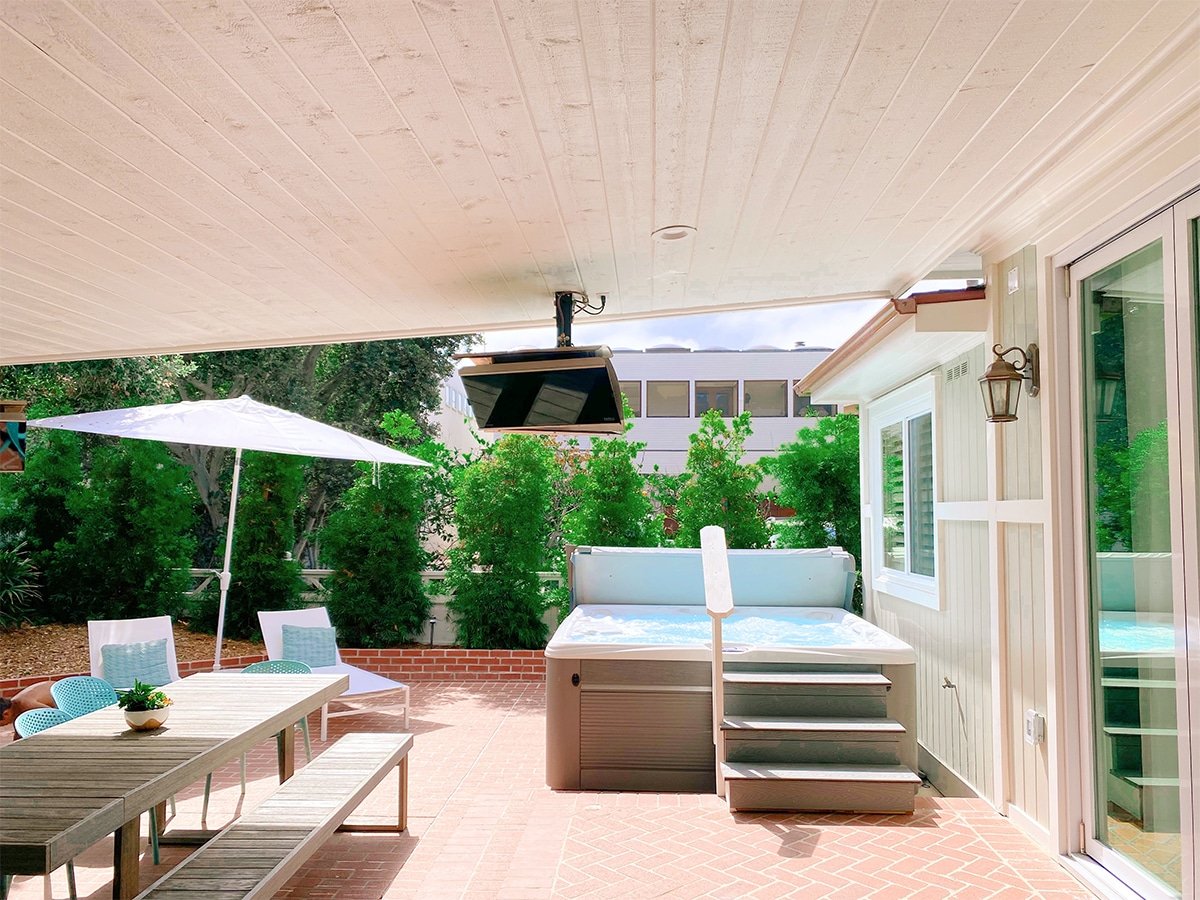 To make this one of the best back patios ever, there's a four-person Jacuzzi. It was easy to take the top off and put back on, to operate the jets and adjust the temperature.

Around the back, there's an outdoor shower that's connected to hot water pipes, unlike the outdoor shower at my brother's place, that's hooked up to a garden hose.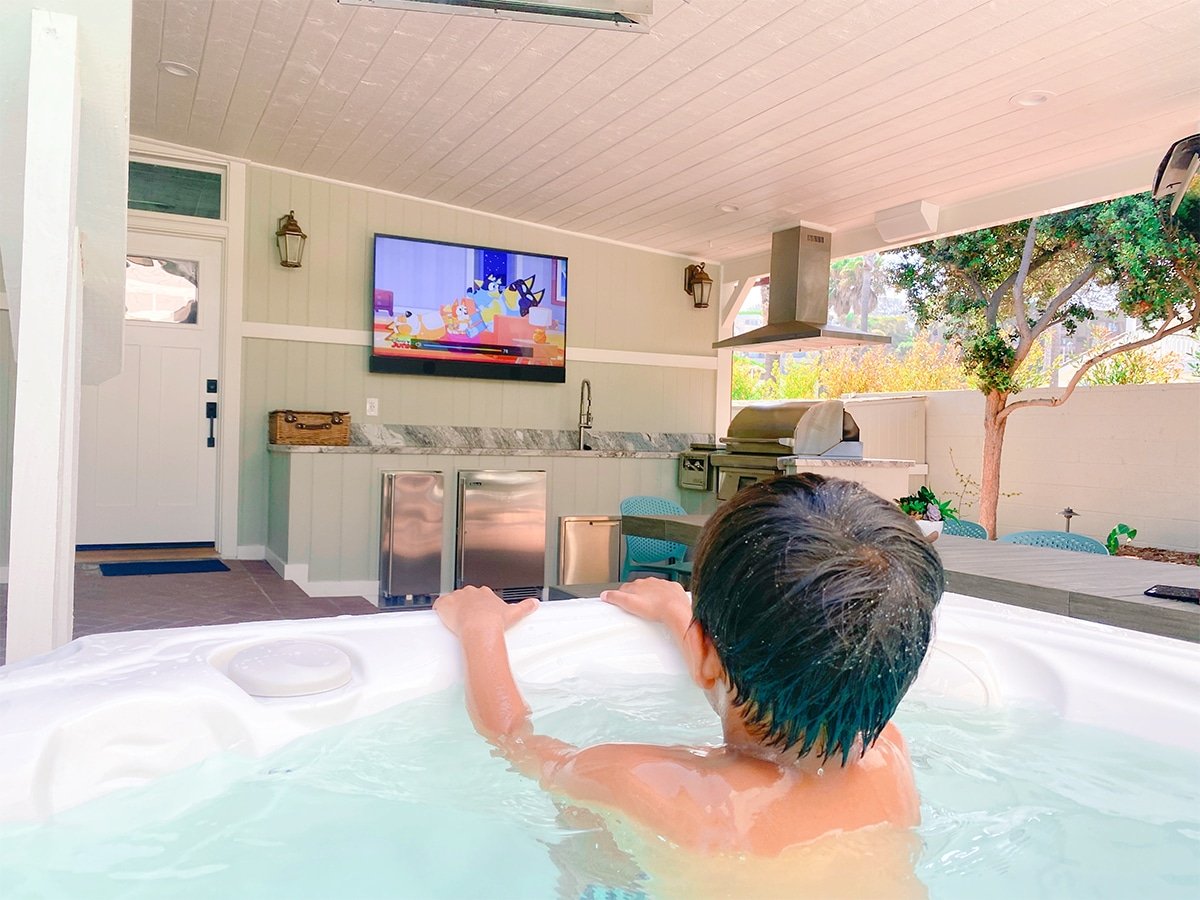 My kids seriously didn't want to leave the Beach Bungalow. They loved taking a warm outdoor shower after getting home from the beach, eating outside and soaking in the Jacuzzi while watching their favorite show, Bluey.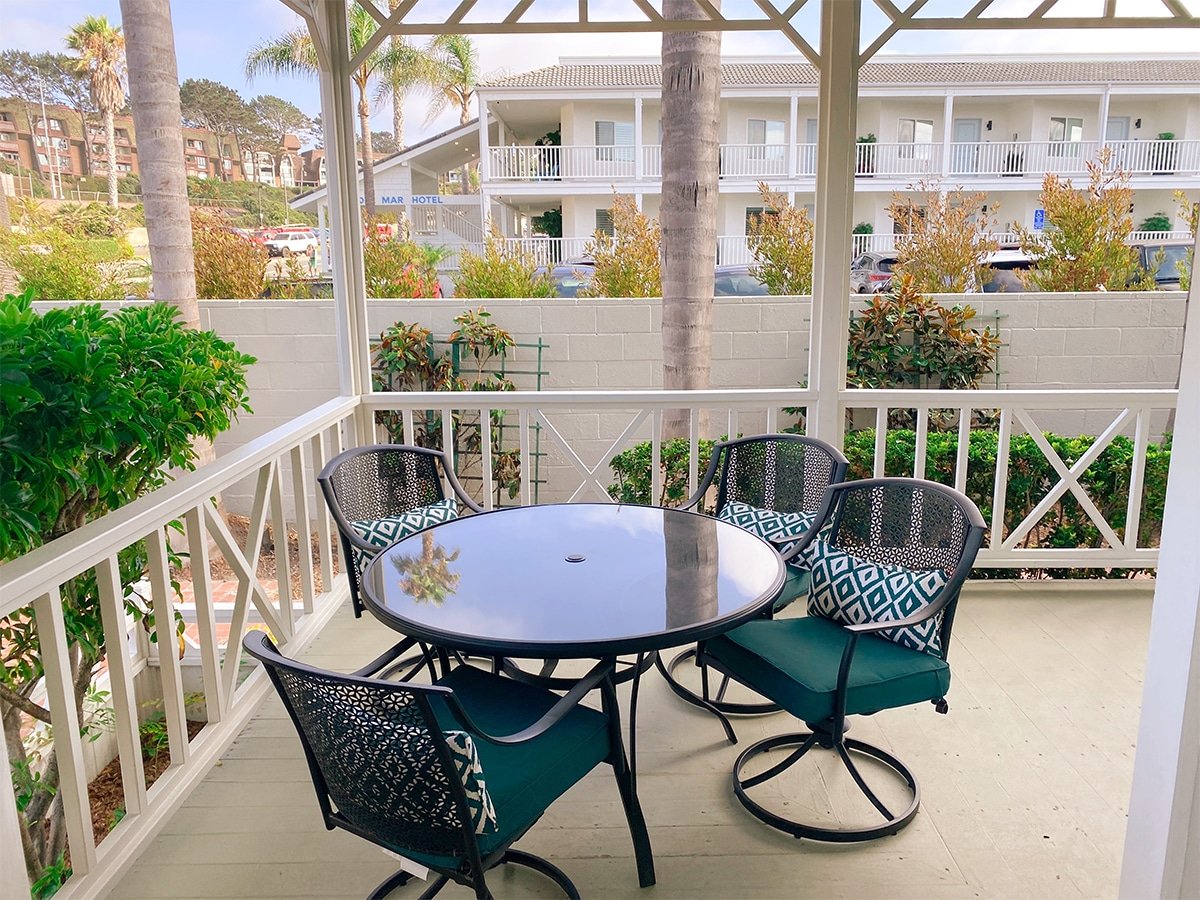 Front Porch
There's also a place to sit on the wraparound front porch. You'll find a four-seat table there.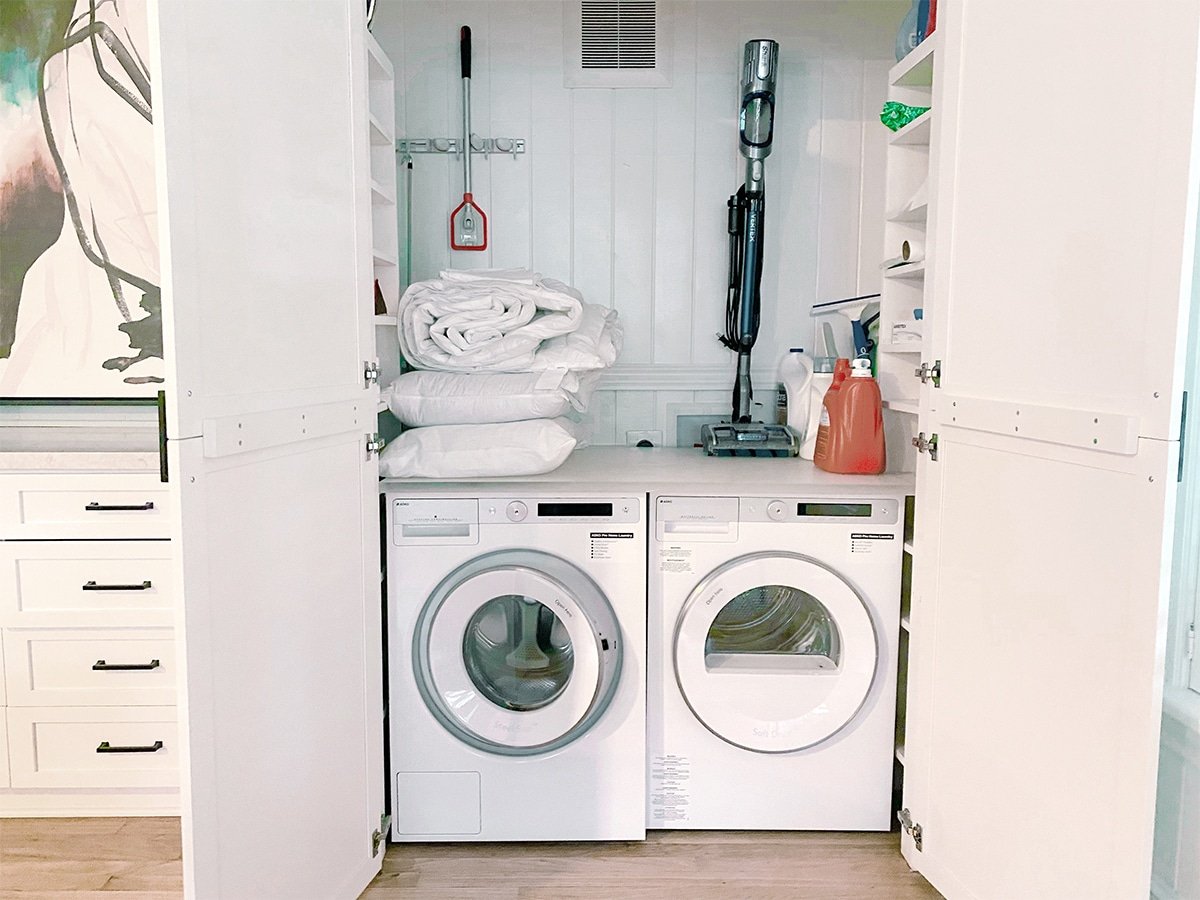 Laundry
To my wife's great relief, the Beach Bungalow has a washer, dryer, an iron and an ironing board. We had a photo shoot booked with Flytographer while we were there but even if you don't have something special planned, laundry facilities are always awesome when traveling, especially with little kids.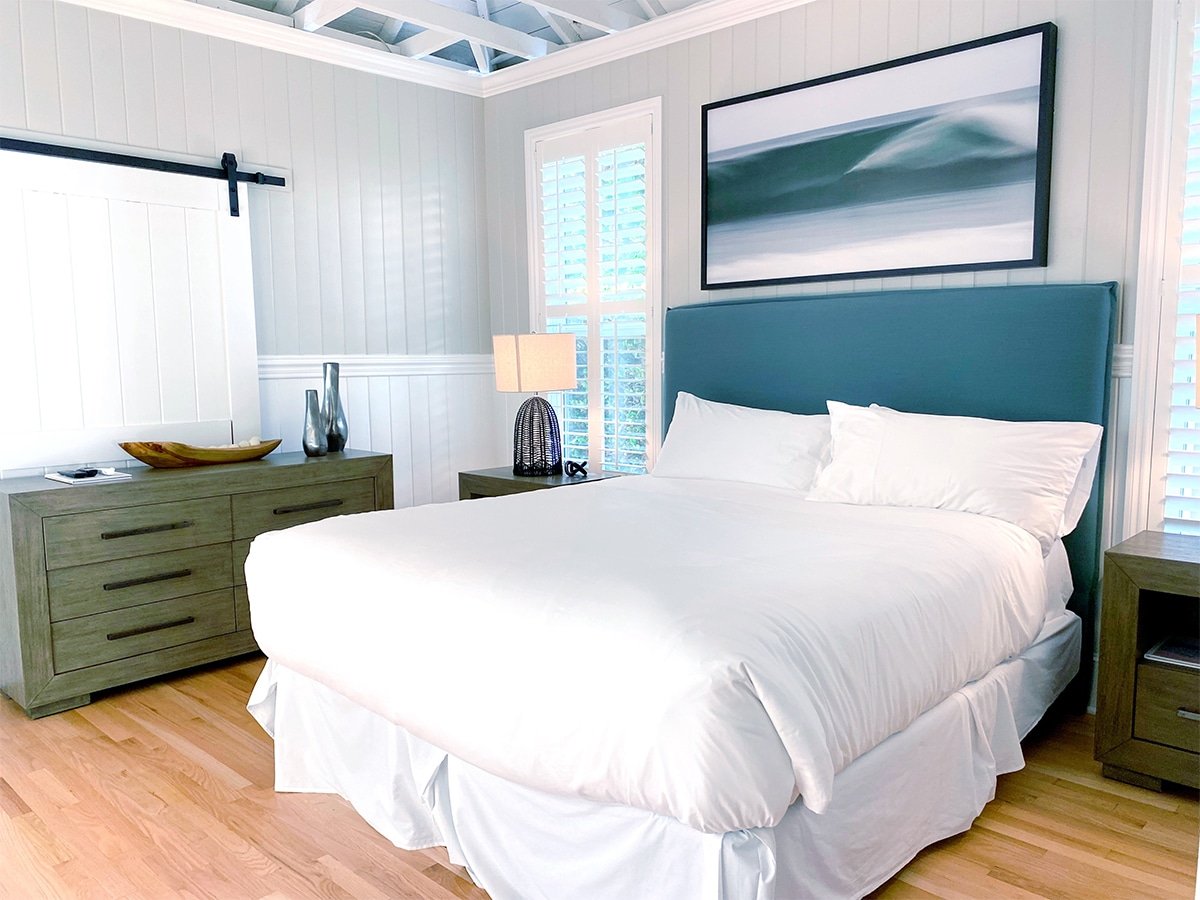 Luxurious Bedroom
The one, large luxurious bedroom has a comfortable king size bed and soft sheets. My wife said she and the kids slept great. There's a flat screen TV mounted high up on the ceiling. There's a chest of drawers for unpacking your clothes but no closet to hang anything.

Two Bathrooms
The bungalow has two bathrooms. Behind a sliding barn door in the bedroom is the ensuite bathroom.

The bathroom is big and beautiful with gorgeous tilework on the floors, the walls, the counters and the shower. The massive double shower has two showerheads, which the kids loved because they could both be in there but not have to share a showerhead. The second bathroom, just off the living room, is much smaller but also has a shower.

Beach
As I mentioned at the beginning, I never knew how much nicer the beach in Del Mar is than in the South Bay of Los Angeles. The water is almost turquoise, clear and warmer by at least a few degrees. Just like at home, the beach is perfect for kids at low tide so we spent a lot of time there.

An added bonus for those with kids is that the hotel's beachfront is right next to the lifeguard stand.
Do the Stingray Shuffle
Good to Know: if you plan on swimming between May and October, do the Stingray Shuffle when you go for a dip. Shuffle your feet slowly and gently as you walk into the water so the stingrays feel your vibrations and move away and you don't step on them.
Restaurants
On the other side of the lifeguard station is Poseidon Restaurant and right next to that is Jake's Del Mar. FYI: There's also a little snack bar in between the hotel and Jake's in the parking lot with $7.50 burgers but there was no line at lunch time, not a good sign.

Jake's Del Mar
We went to lunch at Jake's at 2pm on a Wednesday and there were some vacant tables by the window, which was exactly what we wanted; we've avoided eating indoors during Covid. The windows were wide open and there was a beautiful ocean breeze so we got plenty of fresh air.

I had delicious Brussels sprouts ($11) with shishito peppers, spicy toasted pumpkin seeds and parmesan as well as a strawberry and spinach salad ($13).

My wife had the ahi poke bowl, made with sesame soy dressing, onion, avocado, pickled papaya, kimchi, jalapeño, sushi rice ($21). The kids had mac and cheese, which comes with French fries or fruit ($8.50).

Since Jake's Del Mar is a sister property of Duke's, we had to order their signature dessert, the Hula Pie ($13), which did not disappoint and brought back great memories of all our past trips to Hawaii.
Town of Del Mar
If you're looking for more restaurants and shops, just 0.3 miles down the road is the town of Del Mar. It's a two-minute drive or a nine-minute walk.

Del Mar Pizza
The only place we ate at in town was Del Mar Pizza, which was surprisingly good. There aren't too many places in California that serve solid New York-style pizza but Del Mar Pizza is one of them.
The Del Mar Beach Hotel also has a Beach House, which is next door to the Beach Bungalow and it goes for $1,100 a night. I haven't been inside but it does have a garage and looks even more amazing than the bungalow (if that's even possible).
What was nice about renting this house through the hotel is that they have someone on property 24/7 so if you need something, like a toothbrush, which I foolishly forgot, they can get you one without you having to go out. It's also surprisingly a lot cheaper than other comparable rentals in the neighborhood and I'm sure, much, much nicer. The Beach Bungalow is very luxurious.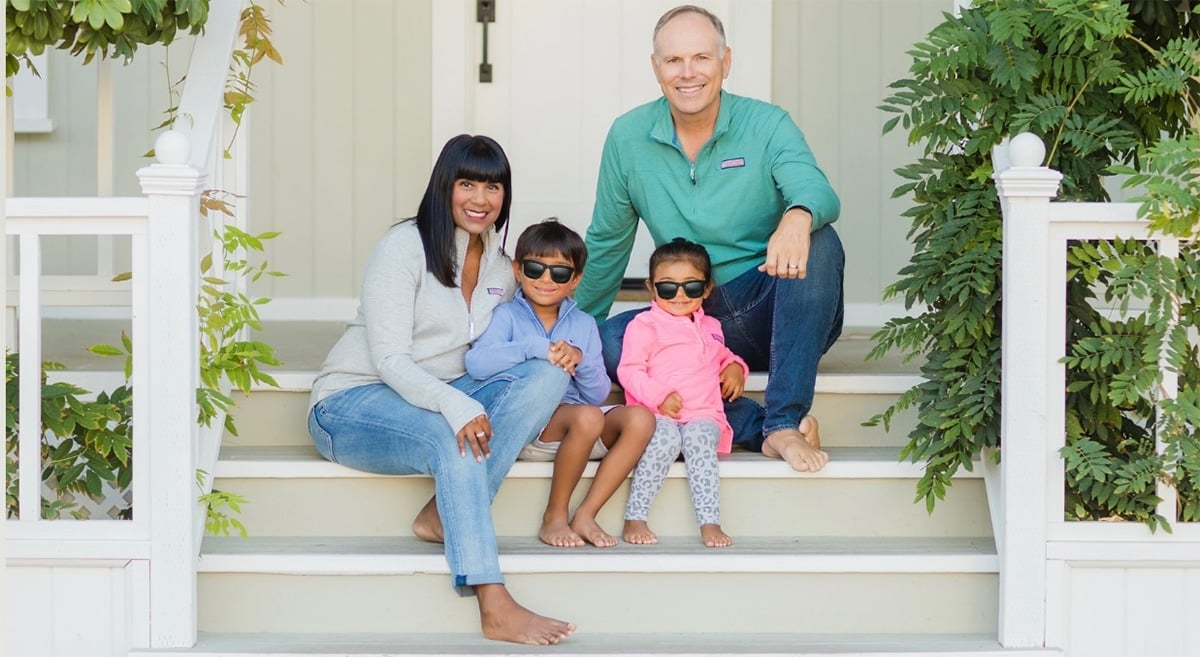 Overall
Overall, our entire stay was amazing. The bungalow was big, beautiful, modern, gorgeously designed and full of top-of-the-line, luxurious finishes and features. The place was extremely kid-friendly and you just can't beat the access to the beach and solid restaurants like Jake's Del Mar right next door. Everything about our stay embodied a casual, cool, California vibe and I have a feeling we'll be back!