A big thank you to Visit El Segundo for hosting our stay so we could provide this detailed review of our experience. Also, this post contains references to products from one or more of our advertisers. We may receive compensation when you click on links to those products. For an explanation of our Advertising Disclosure, visit this page.
The Hyatt Place in El Segundo (750 N Nash St, El Segundo, CA) is a solid 3-star hotel that comes with a lot of great free perks, including a well-run breakfast buffet, an airport shuttle, a gym, a pool and of course, Hyatt points. My family and I recently spent two nights there and it was a great little staycation. RELATED: 60k Bonus With The World of Hyatt Business Credit Card Review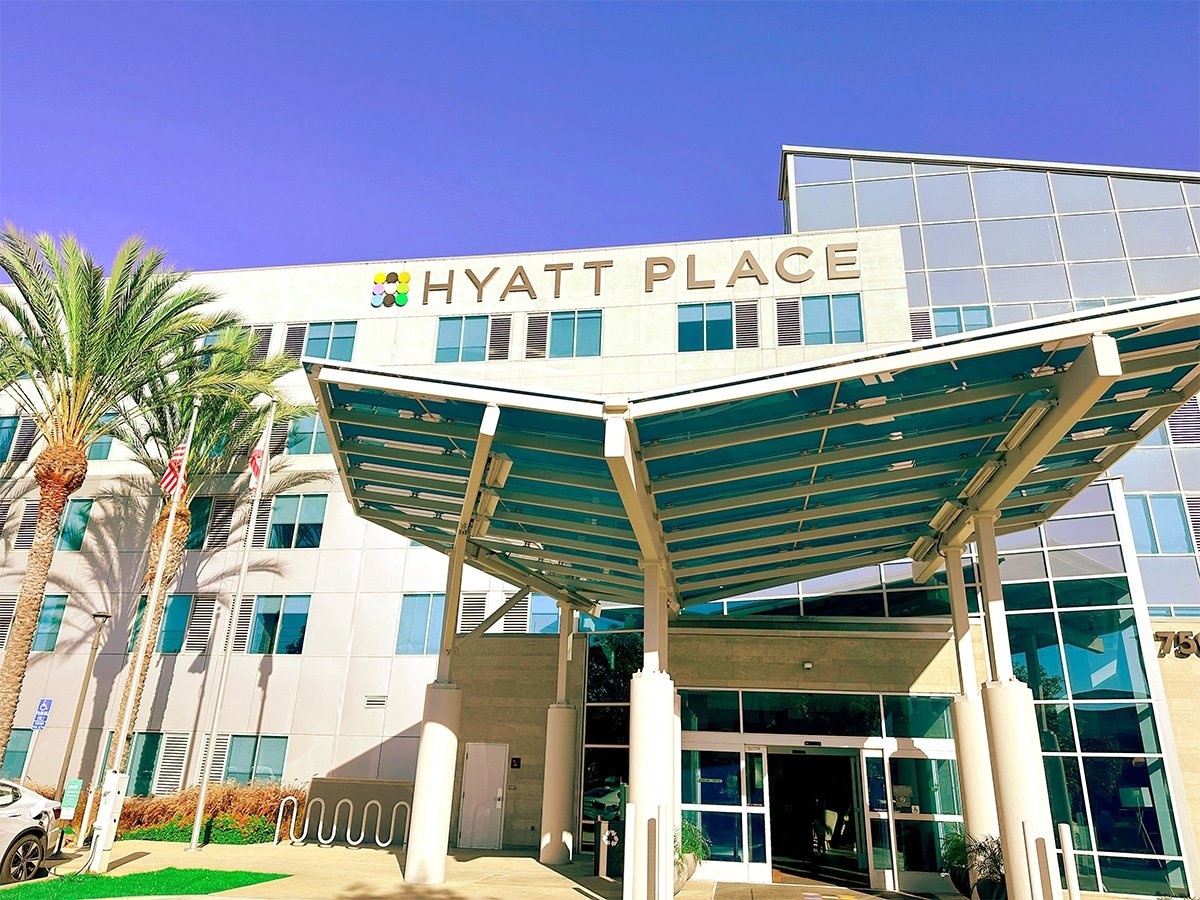 Here are 10 reasons we loved the Hyatt Place El Segundo:
1. Location
If you're visiting Los Angeles or will be on an overnight layover and don't want to be in a high rise on busy Century Boulevard (but want to stay close to the airport), then consider the Hyatt Place in nearby El Segundo. It's just a 3.4 mile drive from Los Angeles International Airport (LAX) but gives you a completely different local experience.
In addition to being close to LAX, the hotel is just a few blocks from where the L.A. Lakers practice at the UCLA Health Training Center. It's also near the L.A. Kings' practice facility, the Toyota Sports Performance Center. The latter allows you to rent ice skates on the rink next to the Kings.

2. Free airport shuttle
Hyatt Place El Segundo offers guests a free airport shuttle every 30 minutes. Depending on traffic and street lights, it could take anywhere from seven minutes to 30 to get from the hotel to the airport but it's nice to know you don't have to worry about finding your own transportation. Hopefully, when the construction is completed, the notorious traffic that clogs LAX's horseshoe will be alleviated.

3. Comfortable and clean rooms
The hotel has 143 rooms, 87 of which have king beds,  51 have queens and five are suites. We were in the latter, compliments of Hyatt. Rooms start at $179 a night.

Our suite had a full kitchen and I do mean full. There was a full-size refrigerator, a dishwasher and cabinets and drawers stocked with cutlery and crockery. There was also a pull-out couch, though the mattress was terrible for adults but fine for kids. Of course, my kids sometimes don't like to sleep alone in hotels so I usually sleep with my son on the pull-out while my wife sleeps with my daughter on the bed. There was no way I would fit on this pull-out so my wife had the pleasure.

But the bed was extremely comfortable.

And the bathroom was large, clean and spacious.
4. Blackout shades
I'm sure the hotel receives guests from all over the world, all of whom are on different time zones. If you're jet-lagged or, like me, need almost complete darkness to get a good night's sleep, you will appreciate the blackout shades.

5. Friendly staff
These days, it's difficult for many hotels to find staff, let alone friendly staff. The Hyatt Place seems to have conquered this. Almost everyone we encountered was super friendly – from the front desk staff to the breakfast buffet attendant to the housekeeper.
NOTE: Speaking of housekeeping, the hotel doesn't offer daily service. Rooms are cleaned every other day and it's just a light cleaning. Full cleaning takes place on the fourth day, which is fine by me since I usually don't like having people in my room, anyway. RELATED: How Much I Tip Hotel Housekeepers and My Trick to Make Sure They Get It

6. Breakfast buffet
It still amazes me that 3- star hotels offer a free breakfast buffet, while five star hotels charge an arm and a leg. Of course, the quality of the food is different but if I'm traveling on my dime, I would much rather take the free breakfast over the overpriced one. Besides, how much can you really eat, anyway?
Breakfast at the Hyatt Place in El Segundo is open from 6:30-9:30am and it's great. The main reason is the variety but also the friendly woman running it, who we saw constantly making sure everything was all tidied up and all the tables were bused and cleaned.

You'll find the usual fare: eggs, pancakes (French toast on our second day), sausage (replaced by bacon on our second day), potatoes, cereal, toast, oatmeal with five toppings, almonds, granola, coconut, dried cranberries and brown sugar.

7. Plenty of nearby places to eat
The great thing about being in El Segundo is that there are dozens of places to eat within a two mile radius and some of them are truly excellent, like S&P Pizza in downtown for a slice, Jame for Italian, El Tarasco for cheap Mexican or Sausal for higher-end Mexican. If you want something closer and quicker, there are plenty of fast food chains like In-N-Out and Chick-Fil-A, both half a mile away. There are also grocery stores nearby like Ralph's and Whole Foods. El Segundo even has a world-famous Randy's Donuts.

One night, we ate at Flora Rooftop Bar and Lounge, atop the AC Hotel by Marriott (2130 E Maple Ave., El Segundo, CA).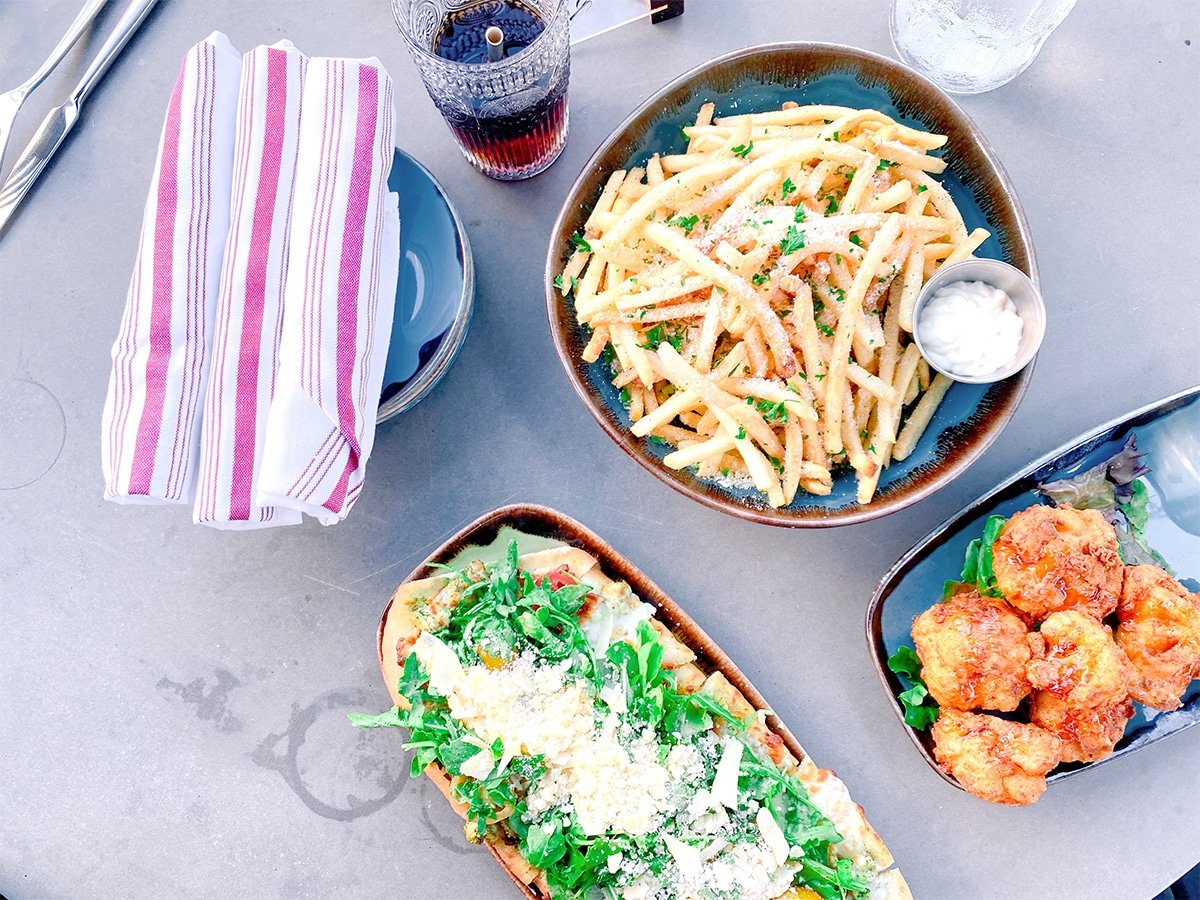 It's a pretty spot with a great vibe, fun drinks and fresh, farm-to-table coastal California cuisine.

8. Gym
If you overeat at breakfast, there's a small gym to work the calories off.

9. Pool
Next to the gym is a small pool …

… and a hot tub.

10. Laundry facilities
We always appreciate laundry facilities when we're traveling with our kids because we almost always need to run a load. But even if you're not traveling with little ones in tow, it's handy to have a washer and dryer for long travels or for emergencies.
Overall, we had a great stay at the Hyatt Place in El Segundo and would recommend it for either a long layover or a long-term stay. It's in a great location and has everything you need.
KEEP READING:
–8 Ways To Make Sure An Airline Doesn't Lose Your Bag … And That You Don't Get Robbed or Stalked
–The Trick For Getting Airport Luggage Carts for Free
–Airline Lost Your Luggage? Do This If You Want to Get Compensated
–Why Frequent Fliers Use Apple AirTags or Samsung SmartTags When They Travel
–An Airline Executive's Number One Tip for Avoiding Lost Luggage When You Fly
Want more travel news, tips and deals? Sign up to Johnny Jet's free newsletter and check out these popular posts: The Travel Gadget Flight Attendants Never Leave Home Without and 12 Ways to Save Money on Baggage Fees. Follow Johnny Jet on MSN, Facebook, Instagram, Pinterest, and YouTube for all of my travel posts.