Thank you to 250 Main for hosting our writer's stay so she could provide this review of her experience.
After a week of sailing on a schooner (and having the best time) I was ready for a long, hot shower, a large comfortable bed and a little luxury.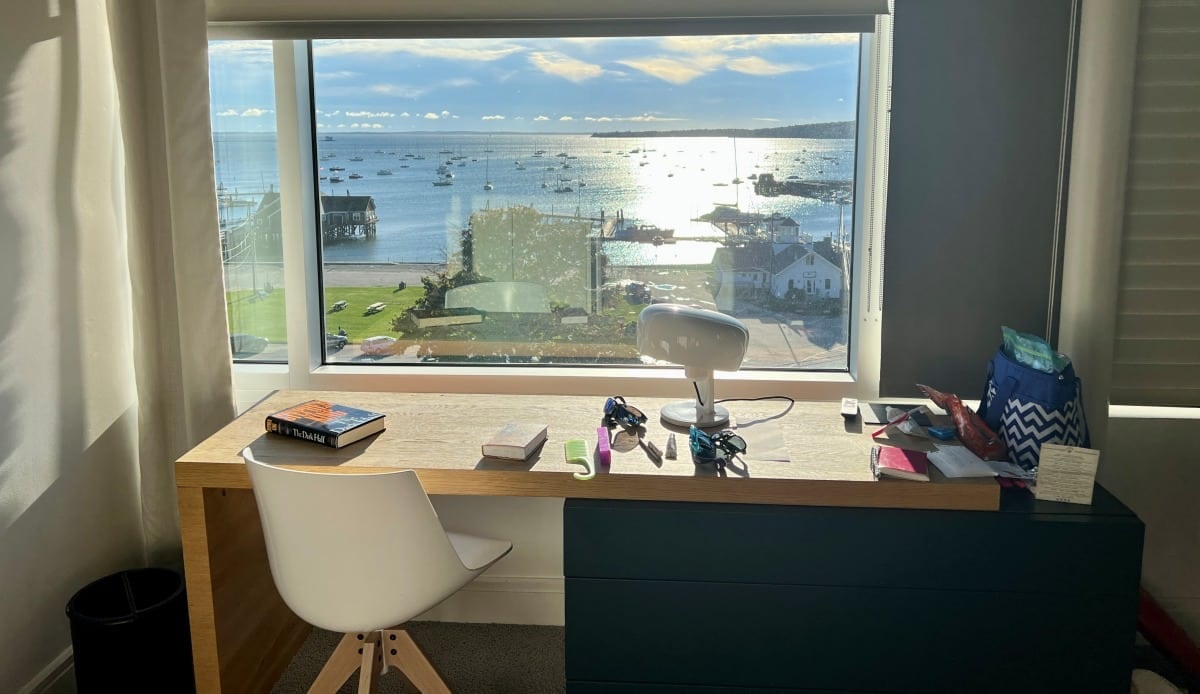 250 Main delivered. It's a 26-room boutique hotel built by the yacht builders Lyman-Morse from reclaimed wood,  displaying local artist's work from the numerous galleries all along Main Street in Rockland. The ship-like lobby has a modern Danish feel with light wood and large windows to let in the sun. It is the perfect place to unwind with a glass of complimentary wine or beer. The lobby is where a Maine-themed continental breakfast is served; delicious, locally-roasted coffee or specialty teas, Maine blueberries, blueberry muffins and yogurts.
Most rooms have a view of the harbor and with almost floor-to-ceiling large windows, cool electrically operated blinds and blackout shades. Some rooms have balconies.
Our room on the fifth floor had a sweeping view of Penobscot Bay. The large, 18-inch, sunflower-shaped rain shower felt like being under a waterfall of warm water. The heated green marble bathroom floor warmed my toes and the towel rack heated up large fluffy white towels. I could live in that bathroom. Shampoo, conditioner and body-wash in large sizes attached to the shower wall eliminated the need for small individual-sized plastic bottles that contribute to the landfill. The king-sized Simmons Beauty Rest, with 14-inch pillow-top mattress and extra soft cotton sheets, made it hard to get up the next day.
On a sunny, late September day, we went up to the roof deck that we had all to ourselves. We sat in the Adirondack chairs and looked out on the seemingly endless Rockland Harbor – it was almost as if we had never left the schooner. To the left was the small but vibrant city of Rockland with many art galleries and the renowned Farnsworth Museum featuring Maine artists like Andrew and Jamie Wyeth, and the newly relocated Center for Maine Contemporary Art.
After we perused the art galleries on the street, just a stone's throw away, we had a beer at a local brewery.  We tried Rock Harbor Brewing Company on Main Street, which had the feel of an old neighborhood pub.  We then took a five minute drive to Primo Restaurant , a farm-to-table eatery that has been in business since 2000. Most of the vegetables and fruits are grown on the 4 1/2 acre farm where Primo resides. The seafood all comes from Maine waters. I first visited Chef Melissa Kelly and her restaurant 18 years ago and since then, her business has flourished, with more gardens and event space added. It takes weeks to get a reservation. I would say this is THE happening place to eat in Rockland.
Thrumcap Oysters from nearby Isleboro on the half shell were unlike any I have ever tasted. Plump and so fresh. I did not even add lemon. Next, there was fresh caught seared-tuna over purple new potatoes. My companion enjoyed the Seafood Fra Diavolo over linguini, my father's favorite and a nod to Melissa Kelly's Italian heritage – her grandfather's name was Primo. Along with the extensive wine list, you will be treated to imaginative cocktails and homemade desserts like crostini with peaches, blueberries and buttermilk gelato. There are nine separate dining rooms keeping the intimacy of a small farmhouse.
Rockland has an edgy feel but is a safe town to wander around at night. Within walking distance are the wharves where the historical schooners are docked. Gourmet cafes and clothing shops make it a fun place to explore and right up the road are more shops, cafes and schooners in the beautiful  harbor town of Camden.
Spend a weekend getaway at 250 Main and explore the towns of Rockland and Camden or even better, stay here after sailing on a Maine Windjammer.
KEEP READING:
–8 Ways To Make Sure An Airline Doesn't Lose Your Bag … And That You Don't Get Robbed or Stalked
–The Trick For Getting Airport Luggage Carts for Free
–Airline Lost Your Luggage? Do This If You Want to Get Compensated
–Why Frequent Fliers Use Apple AirTags or Samsung SmartTags When They Travel
–An Airline Executive's Number One Tip for Avoiding Lost Luggage When You Fly
Want more travel news, tips and deals? Sign up to Johnny Jet's free newsletter and check out these popular posts: The Travel Gadget Flight Attendants Never Leave Home Without and 12 Ways to Save Money on Baggage Fees. Follow Johnny Jet on MSN, Facebook, Instagram, Pinterest, and YouTube for all of my travel posts.