Every day, I scour the internet to find the top travel news stories to include in my newsletter (you can sign up for free here). It shocks me that almost every day, I read a horror story about people getting severely hurt or dying from doing really stupid stuff. Many of these stories seem to involve tourists climbing over fences or getting too close to wildlife. Almost always, there are signs warning people not to do these things but unfortunately, there are some people who just don't heed the warning. RELATED: How to Survive a Cougar Attack
Just this week, a 28-year-old woman died hiking in Hawaii in an area that was off limits. According to the local paper, Big Island Now,: "Officials remind everyone that Wailua Falls is closed off to hiking. "No Hiking," "No Trespassing" and "Danger" signs are posted in the area, advising the public."
A week ago, a Texas hiker was gored by a bison, the attack caught on video, which she later posted on TikTok.
@rebeccaclark Solo hiking at Caprock Canyons State Park & Trailway in Texas. I was charged and gored by a bison because I was to CLOSE to be passing them on a trailway They are beautiful creatures protected by the Texas Parks & Wildlife Department (TPWD) and are a part of the Texas State Bison Restoration Project where the park has restored the historic Charles Goodnight Bison herd (The Official Texas State Bison Herd) to a portion of its former range in the park. I am posting to support safety while enjoying Texas State Parks #TPWD #bisonetiquette101 #hikingsafety #llbean #chaos #rei ♬ dumb dumb – sped up – mazie

Good to know: Though this attack didn't happen in Montana, there have been plenty over the years which is why Yellowstone National Park officials say that visitors should stay 75 feet away from large mammals like bison.
As you can see from the photo below that I snapped – not everyone listens to warnings about animals or safety at attractions.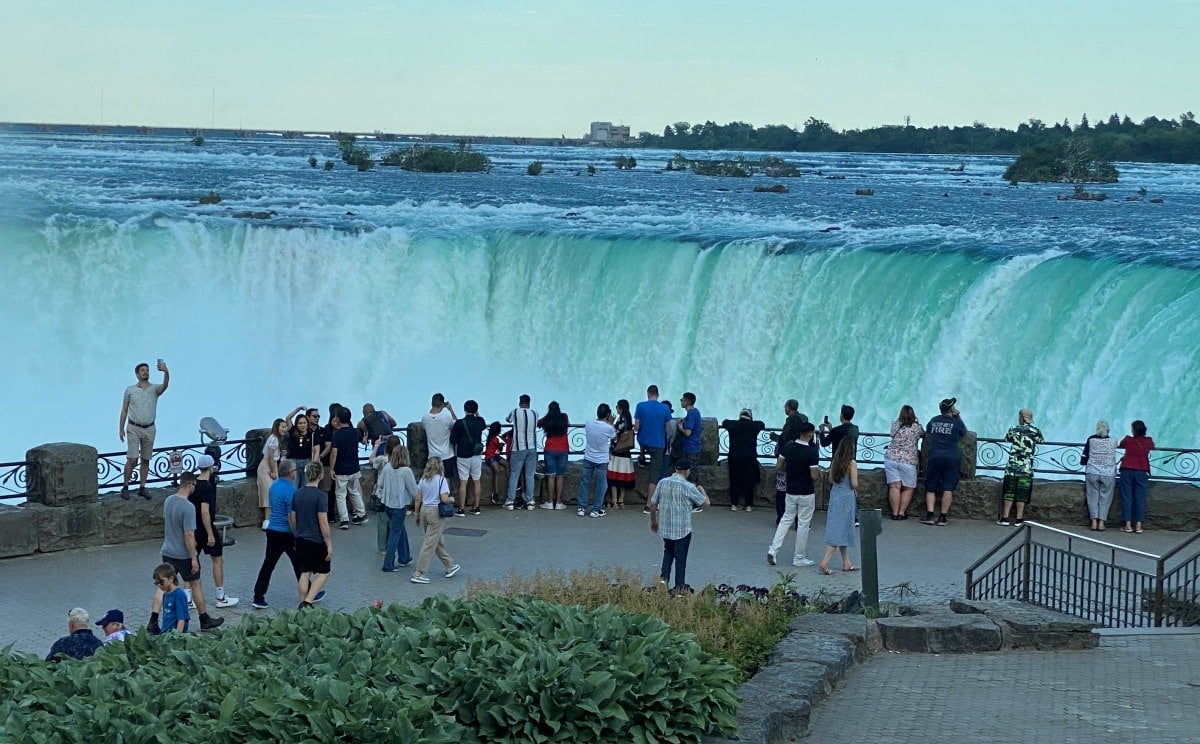 The photo above was taken this past summer in Niagara Falls (we had a great family vacation there; read our Niagara Falls Destination Guide if you're planning your own trip.) Fortunately, the guy standing backwards on the ledge for a selfie, and the several copycats who followed, didn't fall over.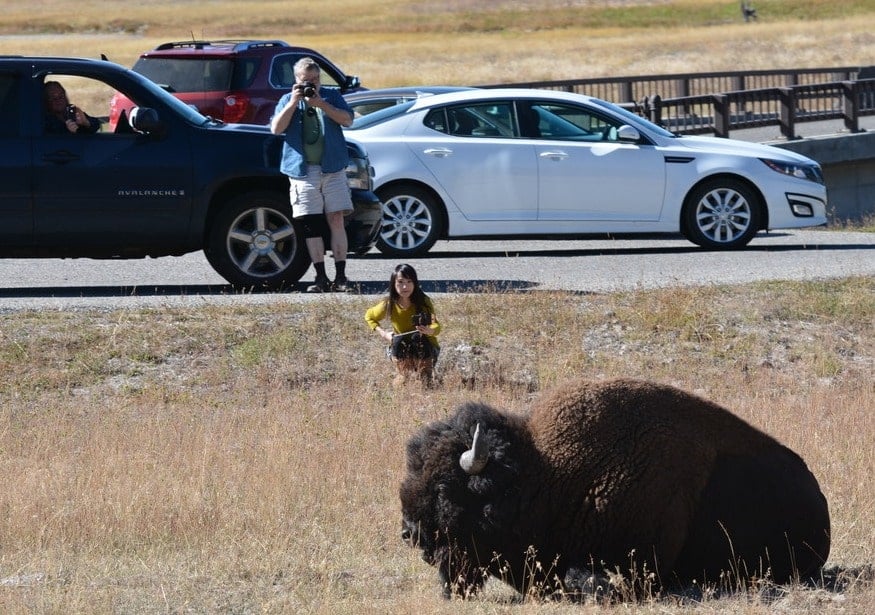 Another example: I took the photo above of a tourist getting too close to a bison in Yellowstone National Park four years ago. Related: Top 10 Things to Do in Yellowstone National Park.  
Crazy, right? Listen, I get it. I know that in this social media era, everyone is trying to get the shot, push the boundaries and one up each other … but is it really worth the risk for likes?
I'm so fortunate to have traveled the world and I'll admit, I've pushed the boundaries and done some dumb photo ops myself. But in my defense, it's always been with a local guide encouraging me to do it. Does that make it okay? That's debatable and I've included some of my experiences below with dumbest at the top:
Petting a cheetah in South Africa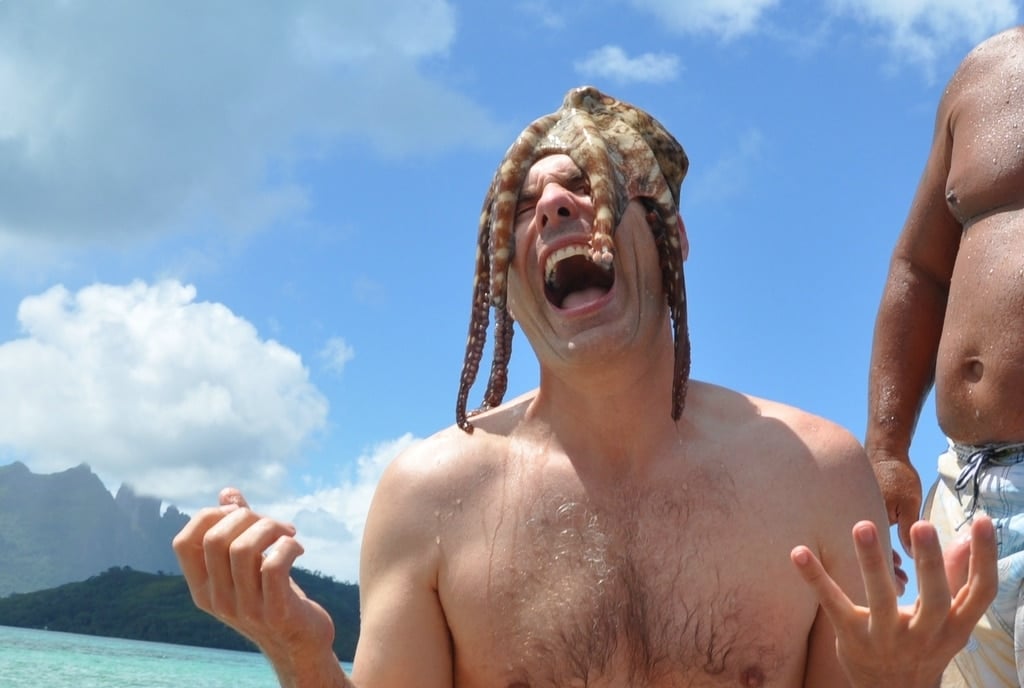 A live octopus on my head in Bora Bora
Holding a tarantula in the jungles of Belize
Swimming with sharks in Tahiti and Australia
All of these photos are quite old and in the years since, I've learned so much about respecting wildlife, and to heed local laws and expert advice. I think a lot has changed in recent years as more and more people start to realize that there needs to be more respect between humans and animals and that animal welfare is to be protected. But not everyone.
The inspiration for this article was a video I found on Instagram where a tourist in South Africa got way too close to a seal or sea lion (I can never tell them apart) and as the caption reads, "#NotYellowstone #SeaLionAttack #BeSeaLionAware"
View this post on Instagram
The comments on the video aren't too sympathetic but it must have been a scary situation. The moral of this story is to respect wildlife, boundaries and clearly displayed warning signs. Don't end up all over social media or on the news for all the wrong reasons.
KEEP READING