The travel search engine KAYAK has always been one of my go-to websites for pricing out flights to find the best deals. Especially during the busy holiday travel season, it's important to know the right tools to have at your finger tips to help you find the cheapest prices during peak travel times.
Recently, the site launched a new section of their website full of tips and hacks to make travel easier this holiday season called the Holiday Travel Hacker. It's a must-have travel tool!
KAYAK's Holiday Travel Hacker
The Holiday Travel Hacker is a great feature because it tells you the median airfare for where you plan to travel, when to book for best rates and when to depart and return. Check it out here for North America travel during the Thanksgiving holiday.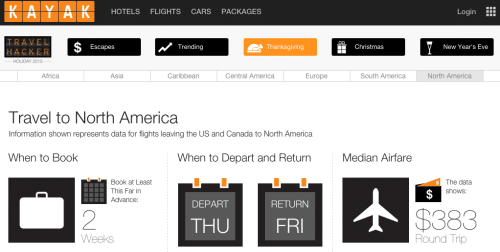 For example, this year my wife, Natalie and I are staying in Los Angeles for Thanksgiving. Then Natalie and I are leaving to see her family the day after Thanksgiving. So I booked our flight from LAX to Toronto in that 2-week window to get the lowest price. There's still a little time left even to book flights for Thanksgiving. As you can see here the prediction from KAYAK for Christmas is to book at least 1-3 weeks out for air travel to North America.
Holiday Escapes List
If you are looking for a place to go this holiday, check out the seasonal lists that show the cities with the greatest drop in airfare, making them a great bargain. KAYAK has the top 10 holiday escapes listed here. Once you are at the map, you can click on the city to see more detail on the airfare trends. The areas in this list are ones that saw the biggest decrease in median airfare year over year, making them great deals. These places listed aren't necessarily budget destinations. The below screen shot shows that Belize City could be a great holiday escape because it has a 20% decrease in price versus the previous holiday season.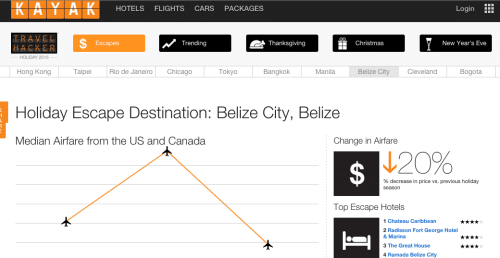 Price Alerts
Beyond the Holiday Travel Hacker, I love KAYAK's price alerts because you don't have to constantly search for the best fare all the time. You simply put in the price you want to monitor and the price alerts do the rest by notifying you via email when flights match your price.
Flight Search
I think KAYAK has one of the best overall flight searches in the market. There's an easy interface, the search pulls up the cheapest options and sends you directly to the airline website for booking. I prefer this method than booking through a third party since it's easier to cancel or change tickets.
KAYAK also allows you to purchase "hacker fares," which means they found a cheaper round trip ticket using two airlines versus one.
So, as you look toward holiday travel planning, check out KAYAK's new Holiday Travel Hacker as well as my favorite tools above to score the best deals and get all the relevant travel information you need before you book.
This is a sponsored post but the opinions above are my own.