I have to start this post by stating that I am not an "outdoorsy" kind of girl. My idea of camping is a hotel with no mini-bar.
That being said, when Johnny told me Navitat was hosting a press tour, I jumped at the chance to check it out. I really had no clue what fun I was getting myself into.
Getting to Wrightwood, CA
This is a beautiful and easy drive. For everyone who's visiting Los Angeles and the surrounding areas, hop in your rental car and make the trip.
Locals, you'll find it's easier than a trip up to Big Bear. Fewer twists and turns – take it from a chronically carsick travel writer – it's a painless drive. From Los Angeles, it should take about an hour and a half.
If you choose I-15 through San Bernardino you'll see the gorgeous Mormon Rock formations on your way to the Angeles National Forest.
Be Prepared
Like I said, I'm not an outside kind of girl. I'm delicate, like a houseplant. So I was a little intimidated to learn I'd be spending close to four hours in the wilderness.
Also, in addition to 10 zip lines, I would be rappelling out of high trees and hiking. Hiking? Rappelling? Who am I, Rambo? I didn't sign up for this.
Somewhere in the middle of being strapped into a 12-pound harness, complete with safety helmet and leather gloves, I realized this was getting serious. But lucky for me, I didn't whimp out.
I took the plunge and I'm so glad I did, because after the first two zip lines – I was hooked! Fresh mountain air, stunning panoramic views, and fun tour guides were only the beginning to an extraordinary day. This is so much more than just a zip line. I was surprised to learn that Navitat actually has a few tour features only found on this tour in Wrightwood, California.
Four hours literally flew by, at the end of the tour it felt like I had been outside for maybe two hours. Here are a few insider tips to prepare yourself for a stellar Navitat Adventure:
Wear Sunscreen
Bring Lip Balm
Do not fill up on water right before your tour. Water is provided but bathrooms are not.
Read the Requirements
After taking the tour, I can definitely recommend Navitat to couples, groups, and families with older kids and teens. Make sure to read the Participant Requirements thoroughly before booking your tour.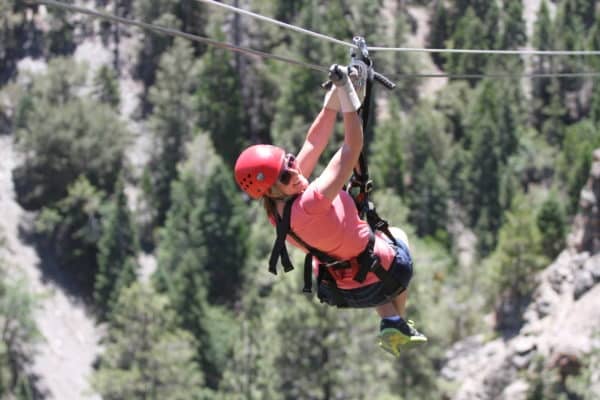 Children need to be at least 10 years old, everyone must be in good health to participate in rigorous physical activity, and everyone needs to be between 90 and 250 lbs. All participants will be discretely weighed upon check-in.
Tis the Season
Keep in mind Navitat is not open year round. Their season typically runs from March through November. Think about the weather when booking and dressing for your tour.
Here are few insider tips for booking your tour:
In the summer, book your tour earlier in the day. Afternoon can become very hot in Southern California
In the fall, book your tour for later in day when it is a bit warmer
Dress in layers that can easily be removed if you get too hot
Wear closed toe, comfortable walking shoes
Deals, Discounts and Free Stuff

The best deals can be found on a weekday. Typically there aren't any big crowds. The tour rate is also a better value on weekdays: $109 per adult and $99 per youth ages 10-17, Sundays through Fridays. Saturday tours are $119 per adult and $109 per youth.
Navitat also offers several discounts. If you're a group of eight or more you can receive 10 percent off. Military families, service industry employees, locals, and even Mountain High season pass holders can all receive a discount. Make sure to check their website before booking for any discount policy changes or updates.
I'm proud to say I'm one of the converted. I went from being intimidated by the great outdoors to having a whole new appreciation for outdoor adventure. I'm looking forward to visiting Navitat again. And if you visit make sure to pick up a frequent zipper card. Zip three times and the fourth is free!
Happy Travels!