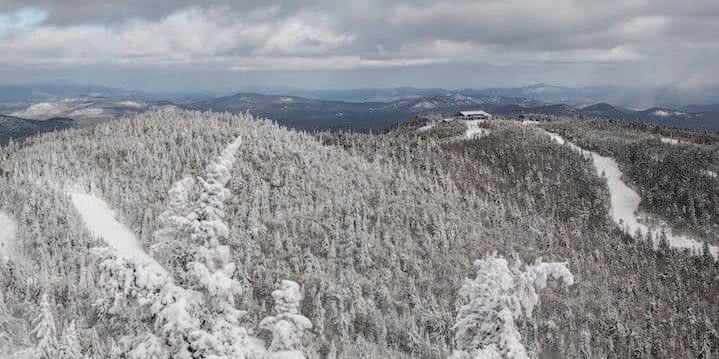 When I was eight-years old I was climbing the stairs inside New York state's Gore Mountain ski lodge when the hooks of my opposing lace-up ski boots hitched and sent my forehead racing into the hardwood staircase. Retrograde amnesia set in for an hour. I didn't know my name, nor who my parents were. The lodge doctor made announcements over the resort intercom system describing what I looked like and that my parents needed to show up. My father raced down an expert slope and claimed me. Fast-forward 45 years: I'm watching my daughter Bella (13) scale those same stairs—phone in one hand, snack in the other—without a hitch. Everything changes, including Gore Mountain. We'll go there later.
The Adirondack Mountains are famous for their majestic beauty (see this post), especially when enjoyed via one of their signature rustic lakeside lodges. A form of rural gentrification has "upgraded" this old-timey getaway theme in a way that can now miss the point of coming to this once isolated lair of upstate New York. However, a few archetypal gems linger. Near the Hudson River-bordering hamlet of North River, a journey up a winding tree-flanked dirt road leads to a classic creaky lodge overlooking a pure lake with a private beach and paddling options—exclusive wildness, unless you're an owl or bear.
Garnet Hill Lodge is a palatial log house originally built to board generations of garnet miners and their visitors. Its big windows overlook mountain-encircled two-mile-long Thirteenth Lake, which remains pristine and is stocked with landlocked salmon and brown and brook trout. The pine-scented campus has three separate buildings offering 25 cozy rooms. The resort specializes in homegrown hospitality. Unlike training-program-inspired cordiality with tourists, Adirondackians do it via straight-shooting genuine smalltalk. As NYC-based Bella noted (after devouring another round of Cajun-encrusted scallops), this brand of genuine Adirondack hospitality is "calming."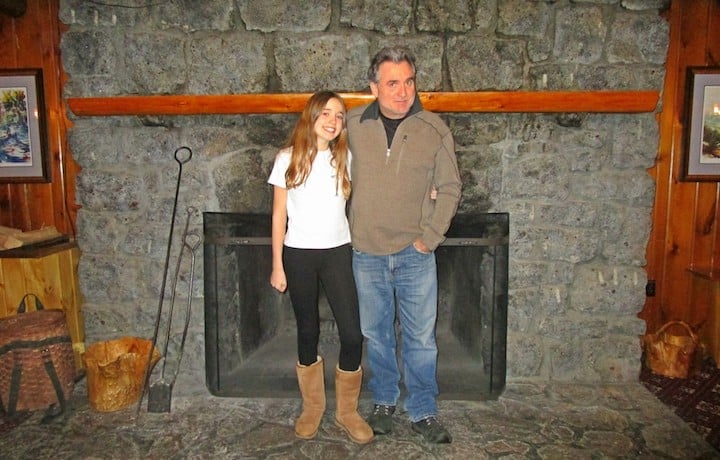 This comfy intergenerational vacation nesting place is not far from the Siamese Pond Wilderness, the Adirondacks's second-largest, which feeds Thirteenth Lake. Here, you're instantly distanced from modern life. Having no in-room TVs or phones (except an old-style house phone in the activities/TV room) encourages guests to enjoy canoes, kayaks and hiking trails. Cooler weather guests enjoy 35 miles of groomed cross-country trails (which double as the warmer weather hiking trails) and several snowshoe trek options. Gore Mountain ski center is 15 minutes away.
The centerpiece of the lodge is a massive garnet fireplace, which like the lodge was built in 1936. The couches encircling the hearth make you feel welcome in a spacious living room away from yours. Today's guests commune around the fireplace—the flagship of an historic space 2,000-feet above sea level—while contemplating their next activity, which could be chatting in the pub, shooting pool, or savoring fine dining in the lodge's dialed-down yet atmospheric restaurant. The menu offers exquisite oversized options including clams posillipo, tomato bisque, steak, and swordfish.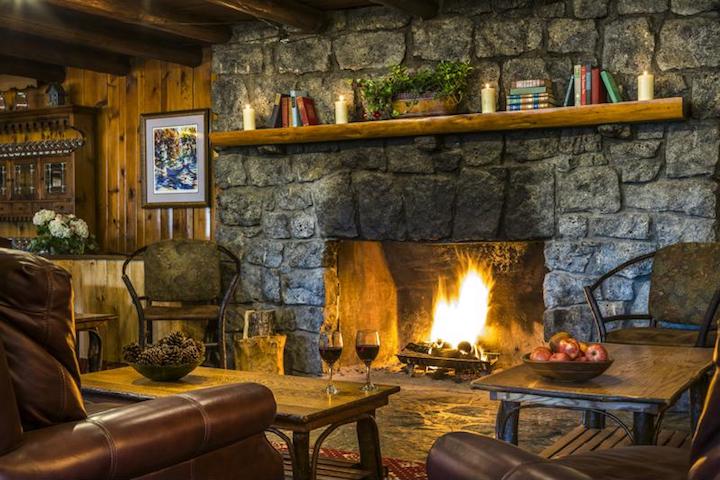 Garnet mining initially settled this area, and the antique atmosphere remains rugged for rough-housing kids (well, boys) who have less to destroy in these rustic environs. The lodge is kid-friendly—as in parents can enjoy cocktails at the bar or marathon feasting in the restaurant while their kids roam safely in same multi-hued, woodsy airspace that includes a game room. When the leaves are on the trees, the nearby (five-minute walk on a dirt road) Ski Center offers fat-tire mountain biking and hikes with in-house guide/naturalists who'll help you explore the gorgeous, overgrown remnants of the "blast and carry" Hooper Garnet Mine (which used no chemicals).
Part of the lodge's earthbound hospitality is that every employee is a "man" for all seasons, from ski instructor to bartender. Owner Dwayne, a former Marriott executive, explains ascending from corporate to homey hospitality as "more work but more rewards." Dwayne added a second revelation: "The staff makes their own independent decisions on unfolding customer service situations." The result is guests feeling like they're visiting old friends who prefer living in the woods.
One of the highlights of our journey was, surprisingly, helping Bella with her homework during off hours in the lodge's picture-windows dining area. While I helped her structure an upcoming speech, other families chatted around the fireplace. When staffers checked to see if we needed anything, we also traded jokes about city life versus country life. It's no joke that this place brought us back down to Earth.
More on the Gore Mountain area

Gore Lore—North Creek's ski resort Gore Mountain has New York's largest trail and lift system.
In 2016, Gore's 14,589 solar panels went live on the grid and offset 85% of the mountain's energy use, which is mostly snowmaking and lifts.
Each of the Northwoods Gondola "cabins" features a story inside with trivia about the history or ecology of Gore Mountain and the Adirondacks. "Every gondola tells a story"—Bella
Here are the summer and fall events schedules plus a link to their resort publication The Echo.
The area has been busy adding to its warm-weather activity line-up, and welcomes visitors to experience an array of activities including scenic gondola skyrides, downhill mountain biking, hiking, and a nice selection of Base Area attractions and events. Gondola riders can join free interpretive hikes from the summit of Bear Mountain that are offered twice daily, or explore a variety of routes on their own.
On August 4, Gore will host the all-new Monster Mountain 10K, a challenging road race from North Creek to the Base Lodge and back.
Gore's popular Harvest Fest every Columbus Day Weekend pleases leaf-peepers of all ages with terrific live entertainment, vendors, and free family fun.
---
For more on travel to New York's Gore Mountain, visit goremountain.com.