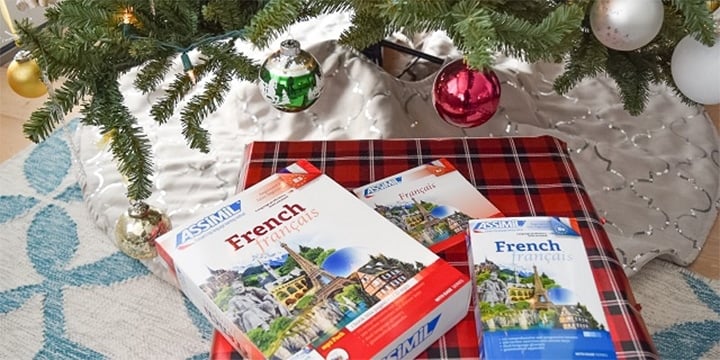 The holidays are here yet again and if you're struggling to find a great gift for the traveler on your Christmas shopping list, you're not alone. Every year, so many people are stumped and if you're one of them, look no further … I've got your answer!
This year, give someone the gift of something totally unique … like the gift of a new language. I absolutely love this idea. Assimil is a language-learning program that can help someone learn a new language in weeks instead of years. Assimil is new to the United States but has long been popular in Europe (it's a French company founded in 1929) and is a wonderful gift to give this holiday season.
Because I travel so frequently, people often ask me if I speak any other languages. I always tell them that I can barely speak English! But hopefully that's about to change with the help of Assimil. They sent me the French program to try out and over the next few weeks, I'll be giving it a whirl in my attempt to become bilingual. My wife is Canadian and since French is one of Canada's official languages, she speaks it pretty well. When we've traveled to Quebec, France and Tahiti, she's been able to communicate with the locals while I stand by silently. I'd love to change that and join in the conversation with at least a funny, if poorly pronounced, joke!
There are lots of language learning programs out there but I like what I know about Assimil. Within the first lesson, users should feel like they've made some real progress learning a new language and all 100 lessons can be completed in a few weeks. I love that; I don't have a lot of time these days since my wife and I welcomed our first son a few short months ago. Once the 100 lessons are completed, it's the equivalent of finishing one year of college or high school level of study. That's amazing!
The other great thing is the affordability of the program. It's normally $125 but can now be purchased for less than $75. And while there may be even cheaper products out there, many of them are entry-level and don't provide as advanced learning as Assimil. And because of its European roots, the Assimil programs offer greater authenticity when it comes to learning any of the many European languages—and they do so with a focus on quality of the user experience.
So if you're looking for a unique gift this Christmas, you might just want to consider Assimil. It's perfect for the person who's made a New Year's resolution to learn a new language. Or maybe for your parents who are planning a European vacation for the summertime. Maybe you're shopping for a friend who travels frequently for business. Or perhaps you want to add it to your own Christmas wish list. Whoever you're shopping for, I think they'll love this. You can buy Assimil from OptiLingo here.
Since I was fortunate enough to receive a sample, I'll be giving Assimil a try and learning some French in the new year. Wish me luck and stay tuned for a follow-up post where I'll tell you all about my experience. Au revoir!
This post is sponsored by Optilingo.
Save
Save