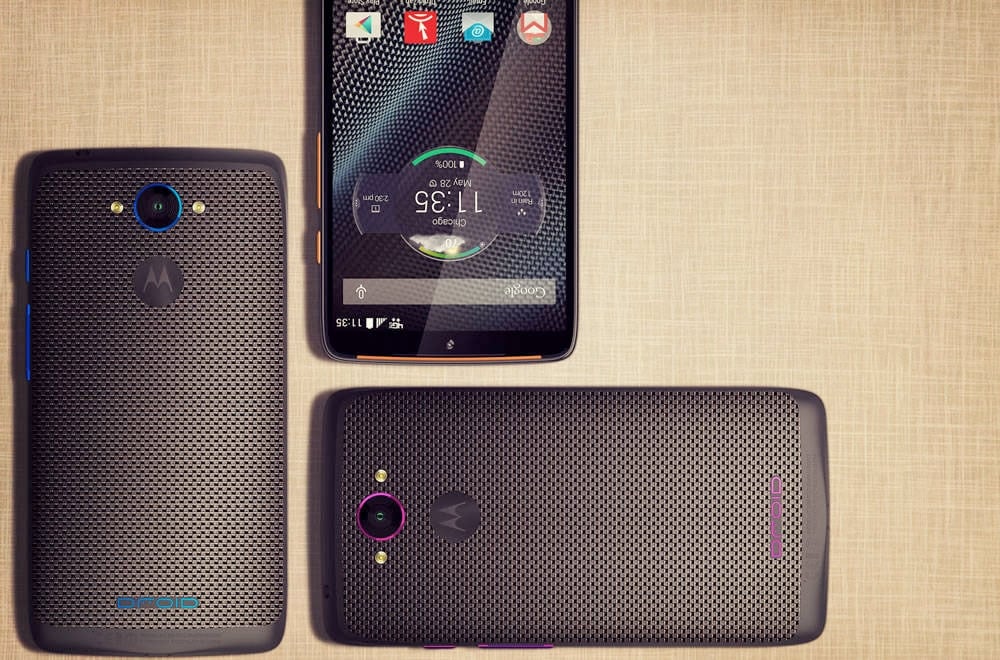 Looking for the perfect gift for Dad this Father's Day? If your dad loves to travel like mine does, here are a few gift ideas I think he'll love:
Skits 'Geek' Tech Case
I've written about this cool case before but it's been a popular choice so I'm mentioning it again for those of you who haven't checked it out. The Skits 'Geek' Tech Case will help Dad keep all of his cables and chargers and tech accessories conveniently stored in one place so he doesn't need to be constantly rummaging around to find something. This case is perfect for travelers but it's also handy to use at home, just to keep everything organized and out of sight. Skits 'Geek' Tech Case available at Nordstrom, $69.99.

DROID Turbo by Motorola in Gray Ballistic Nylon
If Dad loves his tech toys, consider upgrading him to a DROID Turbo by Motorola. The latest models to join the popular line of DROID Turbos are now available in gray ballistic nylon with the choice of metallic orange, metallic violet or metallic blue accents. The ballistic nylon material ensures the phone's strength to endure wear and tear and features a scratch-resistant 5.2-inch HD screen. The best part: It's got a 48-hour battery life! Plus, it's got a waterproof coating to protect it from spills or if you get caught in the rain. With thousands of apps available in the Google Play store, Dad will be able to have all of his favorite books, songs and movies right at his fingertips! Droid Turbo by Motorola available at Verizon, $99.99 on a two-year contract.

Lipault Paris Foldable Two-Wheeled Carry on Trolly
Everyone needs a solid suitcase they can rely on and Lipault knows luggage. Their stylish cases offer travelers chic but understated options that are durable and easy to manage. This two-wheeled carry-on option is also easy to store. It folds flat in its own case for convenient storage. Designed to be lightweight, it's also made out of an easy-to-clean nylon twill fabric and features an integrated folding system inside. Lipault Paris Foldable 2 Wheeled Carry on Trolly available at Amazon, $182.
Scottevest Sterling Jacket
I'm a huge fan of Scottevest products because they really have helped to streamline the way I travel. I originally learned about the company after one of our writers got mugged in Barcelona. If she and her husband had only had their passports, money and other valuables in one of Scottevest's 20+ hidden jacket pockets, they would have only lost their luggage and (other) clothes that day. I recommend Scottevest jackets and vests because they'll help you hide your valuables and keep them on your person – it's just a practical way to travel. The jacket has so many hidden pockets, it basically serves as a piece of carry-on luggage. Pretty sure your dad will love it! Scottevest Sterling Jacket available at scottevest.com, $150.
Bellroy Travel Wallet
Looking for an elegant travel wallet that will hold everything you need? If so, then you need to check out the Bellroy Travel Wallet! It's labeled as unisex but it's definitely more masculine than feminine – it's a great gift idea for your dad. What I love about it—besides the beautiful, soft leathers (made in India)—is that it not only holds your money, credit cards and business cards, but your passport as well! It even comes with a mini pen. I love their slogan too: "Traditional in appearance, progressive in features." Bellroy Travel Wallet available at Amazon, $79.
Get your DROID Turbo by Motorola in Gray Ballistic Nylon with your choice of metallic orange, violet and blue accent colors at Verizon.com.
Motorola sponsored this blog post. The opinions and text are all mine.