There is something magical about autumn in the southern states. The lush hills are a blaze of auburn, and the crisp air feels cleansing after the hot, sticky dog days of summer. North Carolina has dozens of festive events happening over the next several months that celebrate fall
Here are just a handful of events happening from now until the end of the season.
Pisgah Mountain Bike Stage Race
Sept. 17-22
Pisgah Mountain
Rugged trails with 28,000 feet of climbing challenge riders amid the waterfalls, creek crossings, rhododendron tunnels, and vibrant foliage of Pisgah National Forest near Brevard. The $20,000 cash purse attracts top racers.
Mountains to Coast Fall Ride
Sept. 29-Oct. 6
Brevard to Carolina Beach
Hundreds of participants cover the state's geographic and cultural spectrum on Cycle North Carolina's mountains-to-the-coast ride. Host cities include Lake Lure, Shelby, Matthews, Rockingham, Lumberton, and White Lake. Riders can opt for the full run or shorter legs.
Flock to the Rock
Sept. 29-30
Chimney Rock
At prime time during the fall migration, as many as 500 Broadwing hawks might be seen at this iconic site on the North Carolina Birding Trail. Flock to the Rock features guided walks, workshops, photography and other activities and also showcases the park's newly refurbished trails and modernized elevator.
Autumn at Oz
Oct. 6-7
Beech Mountain
The highest ski resort east of the Rockies once was home to the Land of Oz theme park. Autumn at Oz returns Dorothy and friends to the Yellow Brick Road for a weekend celebration with music, children's activities and fun on Uncle Henry and Aunt Em's farm.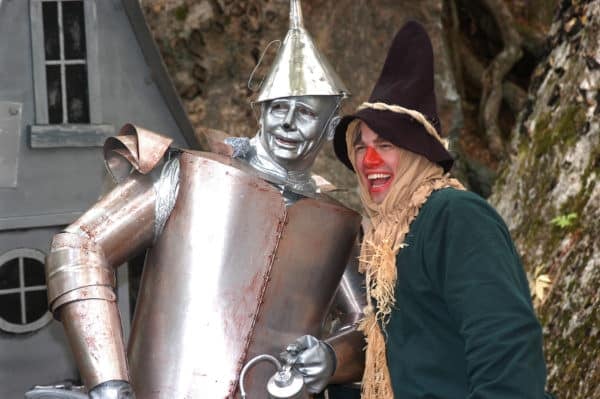 Solomon Cup
Oct. 9-13
Bald Head Island
Croquet balls add pops of color on the Bald Head Island Club greens, where fierce U.S.-British rivals compete for honors. Nature one-ups the display with the golden shimmer of cordgrass in nearby marshes and brilliant sunsets across the autumn sky.
MUMFest 2012
Oct. 13-14
New Bern
Thousands of chrysanthemums in the Tryon Palace gardens delight the eye during New Bern's lively festival, which fills the waterfront and restored downtown with music, art and roving entertainers. New this year is the triple-deck SeaFair, a 288-foot yacht full of original art, outdoor life exhibits and more.
Carolina BalloonFest
Oct. 19-21
Statesville
The Piedmont's rolling woodlands extend the scenery skyward with 50 hot-air balloons. Events include mass ascensions, an evening balloon glow, competitions, balloon rides, and an artisan village. North Carolina's wines and craft brews can also be sampled.
Bootanical
Oct. 27-28
Belmont
Daniel Stowe Botanical Garden, transformed by fall blooms and textured plantings, showcases Halloween specialties such as eyeball plants and bat-faced cuphea. Added treats await in the Orchid Conservatory, which features a 16-foot orchid and waterfall wall.
Barbecue Festival
Oct. 27
Lexington
Lexington's famous barbecue is the draw at the festival, which features music and other activities plus the unveiling of Childress Vineyards' 2012 Fine Swine Wine.
Wilson Whirligig Festival
Nov. 3- 4
Wilson
Nonagenarian artist Vollis Simpson sets color in motion with his wind-powered whirligigs, the centerpiece of this street festival in Wilson. In 2013, the town will officially open the Vollis Simpson Whirligig Park, which will feature 29 of these kinetic collector's items.
Wings Over Water Wildlife Festival
Nov. 6-11
Outer Banks and Inner Coast
Wondrously varied coastal environments create a kaleidoscope of vivid sights and memorable sounds with migrating birds, howling wolves, and changing flora. Festival excursions take visitors to one-of-a-kind sites to explore it all.