Cobá is less than two hours from Playa del Carmen, and is different from the other major Maya sites in the Yucatán for three reasons. One, it is not as fully excavated as sites like Chichén Itzá  and Tulum, and excavation is still in progress on parts of the site. Two, it is located near four natural lakes, which are believed to have given the city its name – "waters stirred by wind". And three, it has one of the few Maya pyramids that you can still climb.
As a lesser-known site, it doesn't have nearly as many visitors as Chichén Itzá and if you get there early enough, you might be lucky and have the jungle and ruins all to yourself. However, tour busses are now coming to the area in drones, so by midday, you may get stuck behind a group which is an unfortunate way to experience this mystical site.
The ruins are unique in that they are surrounded by tropical hardwood, vines, and jungle vegetation. Look up as you explore the site to see a variety of birds and big fluorescent blue morpho butterflies that inhabit the canopy. A number of elaborately carved stelae (vertical stone tablets) have been found on the site, and are located near the Grupo Macanxob, a little more than half a mile from the entrance.
Cobá dates back to 600 to 900 AD, after which it was abandoned for unknown reasons. Archaeologists believe it may have had up to 45,000 inhabitants during its prime, thought to have been an important trading post and link between the cities on the coast and those inland.
Cobá has at least two ball courts that are mostly excavated. The sides of the ball court are slanted, which makes it possible to get close to the hoop, unlike the court at Chichén Itzá where the hoops are high up on vertical walls, seemingly making it more difficult to score.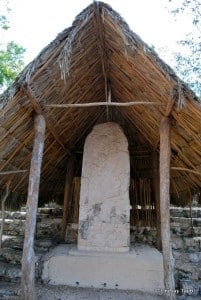 Nohoch Mul, which means "big mound" is the main attraction at Cobá, and is perhaps the single best reason to visit. The 138-foot high pyramid rises even higher than the more famous El Castillo at Chichén Itzá and is one of the few Maya pyramids that can still be climbed. It's no easy climb however. Proper footwear is needed, and although there is a rope running along the center of the steps for balance, it's a steep climb! When you get to the top you're rewarded with a stunning view of the jungle and lakes, quite a rare sight in the Yucatán.
One of the more fascinating features of Cobá is the many "sacbe" that have been found on the site. Translating to "white road," this is exactly what they are – stone-paved roads. From this, archeologists have good evidence to support that the Maya built an extensive network of roads that connected major cities.
These roads are another mind-boggling example of Maya engineering – the roads are not only very wide with walled sides, but they also go through dense jungle in perfectly straight lines. How the Maya could build these perfectly straight roads, with hardly any elevation points to make it possible to get your bearings, is one of many so-called "Mayan mysteries."
Getting there and getting around
Cobá is easy to navigate with various signs pointing you in the right direction. You can easily see the entire site in about 2 hours. There are bikes for rent for those who don't want to walk for about USD $2 for the day or for USD $6, you can get a chaffeured tricycle for two.
The site is open between 7 am and 6 pm every day. The entrance fee is 38 pesos (about $3).  To get there, many tour companies in Playa del Carmen offer day trips to Cobá. Perhaps the best way, however, is to rent a car and go on your own. It's an easy drive just over 60 miles from Playa del Carmen.
About the Author: Lindsay Taub is an award-winning journalist with over a decade of experience as a writer/editor/photographer covering travel, lifestyle, culture, arts, food, health, and all facets that make life a journey. Follow her on twitter @lindsaytaub58.