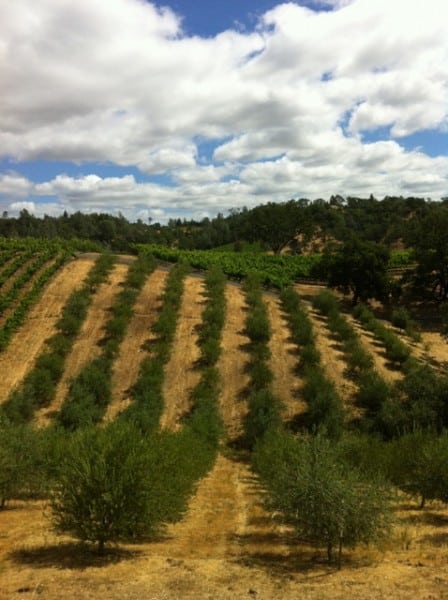 Getting there: The flight into Santa Rosa from Los Angeles had us on the ground in two-hours and heading for the town of Healdsburg. We were on a two-day tasting tour through Dry Creek Valley in Northern Sonoma. My husband and I were told each passenger was allowed to check-in a case of wine on his or her returning Alaska Airlines flight, free of charge. Good to know, as we were about to taste some wine that we'd surely want to bring home.
Where to stay: There are plenty of places to stay in the Healdsburg area. We were lucky to get Pasterick Winery's Private Guest House in the heart of Dry Creek Valley. Not only was our room spacious, with comfortable amenities, a new kitchen, and views to die for, but also present were proprietors Gerry and Diane Pasterick. Since 2004 they have renovated their beautiful home and developed the land they are so grateful for. Their 10 acres of grapes have yielded award winning Syrah and Viognier. After Gerry taught us how to really smell wine, from the top of the glass rim to the bottom, we sipped away. I really enjoyed the Rose' as well as the Syrah and Viognier. Wine tastings are available upon appointment, with wines ranging in price from $25 to $75 per bottle. Along with the 3,000 square foot wine cave, the 17 acre ranch has a lush forest, fruit and vegetable garden, farm house and barn along with a Petanque court (form of Bocce' ball). The Pasterick's were the perfect hosts and made our trip so memorable, that we are planning another one soon! (707-433-4655,3491 West Dry Creek Road)
Swirl, Sniff and Sip: There are around 70 wineries that stretch along the narrow valley of Dry Creek. Mostly family owned, the wineries are small and homey, such as Lambert Bridge Winery. The two resident dogs Gus and Bernie, greeted us as we entered the tasting room. Behind the bar, were veteran winemakers Jennifer Higgins and Jill Davis. They've created Bordeaux blends that have become the real specialties in a region known for its Zinfandels. Altogether 14 different wines ranging in price from $48 to $110 a bottle are produced annually here. Outside were stunning culinary gardens with picnic tables and a gazebo equipped with two Mugnaini wood-fired ovens. Resident Chef Andrea Mugnaini held a pizza making class for us. Known for her food and wine pairing events, guests should make reservations to take advantage of this opportunity. (800-975-0555,4085 West Dry Creek Road)
Martorana Family Winery: 38-year old Gio Martorana runs this small production certified organic winery. Martorana says Dry Creek Valley is one of the greenest wine regions there is. He produced his first homemade wine in 2002, which sparked his love of winemaking. For 25-years Martorana's Italian family has grown grapes. As owner and winemaker, Martorana is known for his cabernet and chardonnay. Martorana also makes extra virgin olive oil. A unique feature here was climbing on top of the wine tasting room and standing on the "living roof". The brightly colored plants keep the building naturally cool, which cuts-down on electricity use. Martorana wines range in price from $35 to $45 a bottle. (707-433-1909,5956 West Dry Creek Road)
Bella Winery: We pulled up to a chic looking barn with guests hula hooping on the lawn. This winery exuded energy right from the start. I enjoyed the Lily Hill Estate Zinfandel, the wineries most notable wine, named after their daughter. We jumped in the Pinzgauer(all-terrain Austrian vehicle) and toured some of the Zin vines that have been there since 1915. It was a nice way to see the property, and reservations are suggested. The wine cave is another draw, with good music playing and funky décor; it makes you want to host a dinner party in the beautifully adorned dining room. Bella wines range from $22 to $38 a bottle. (866-572-3552,9711 West Dry Creek Road)
Timber Crest Farms and Family Wineries: A collection of wineries and tasting rooms set-up shop at this old ranch that was founded in 1957 by Ruth and Ronald Waltenspiel. With more than 10 wineries and other small farm businesses, it's a nice way to taste some outstanding wines, all in one place. Also home to Dry Creek Olive Oil Company, visitors can view one of the only commercial olive oil presses in the U.S. When we visited we had dinner in the picnic area, as the sun was setting on the mountains. Local catering company, Relish Culinary Adventures whipped up superb dishes with farm fresh ingredients. The perfectly paired wines were from Peterson, Kokomo, Amphora, Papapietro Perry and Collier Falls Wineries. (4791 Dry Creek Road)
Trattore: Right when you walk into Trattore you notice the tractors, very expensive collectible tractors. It is owner and winemaker Tim Bucher's addiction. Bucher grew up on a dairy farm, but decided on a different path involving grapes and olives. He's not only becoming known for his wine, but for Dry Creek Olive Oil. Both getting high honors, Bucher said the Trattore Grenache Rose' was named wine of the year in a New York national competition last month and editor's pick in July's Wine Enthusiast. All grapes and olives are grown on the site that Bucher built from the ground up, 14 years ago. Trattore's tasting room is under construction, with completion set for spring. Bucher says he makes high quality wines at a value, $16-$35 a bottle. (707-431-7200,4791 Dry Creek Road)
Ferrari-Carano: The size of this estate winery took my breath away. At the center of the 70-acre property looms Villa Fiore, a spectacular Italian estate that houses different wine tasting areas, a gift shop and a massive underground barrel cellar. The sprawling grounds were perfectly manicured, with five-acres of gardens to stroll through and sculptures to enjoy. This is not the ma and pa winery where the wine maker is meeting guests behind the tasting bar. However, it's definitely worth a trip to experience the views outside and sample some well-known wines. Bottles range in price from $15 to $85. (707-433-6700,8761 Dry Creek Road)
Dry Creek Vineyard: As the first winery to open it's doors after prohibition in the 1930's, it's Sauvignon Blanc has remained Dry Creek Vineyards most notable wine. It's described as "brisk and racy" by President Kim Stare-Wallace, who's father built the winery 40 years ago. Stare-Wallace explains how Dry Creek Valley is a unique wine tour region because all the wineries are family owned.  One of the most interesting experiences of the trip was taking a winemaking class called Meritage: The Art of the Blend. ($45 per person) With the help of Winemaker Tim Bell, we experienced the art of creating our own wine. To top off the visit, the historic Dry Creek General Store catered lunch on the lush picnic grounds that are open daily to the public. Most bottles range in price from $12-$60. (800-864-9463,3770 Lambert Bridge Road)
Dry Creek General Store: A must-see for visitors. Established in 1881, The Dry Creek General Store is not only a deli, but a gift store and bar as well. A favorite among residents, and out-of- towners alike, the food is made with fresh local ingredients. The sandwiches, salads and cookies tasted as good as they looked! (707-433-4171,3495 Dry Creek Road)
Non-alcoholic activities: Believe it or not, people visit Healdsburg for more than just the wine. The charming downtown area is built around a beautiful park, with many nearby boutiques and restaurants to enjoy. Cyclists love heading a little north to Dry Creek Valley, where they can loop the entire valley that's 2 miles wide and 16 miles long. It's a scenic ride over backcountry roads and farmland. Nearby Lake Sonoma is also a draw for water lovers. There you can boat, water ski, fish, hike or just lay along the vast shoreline. But no doubt, the biggest attraction is the wine. With warm hospitality and reasonable wine room tastings($5-$15), it's becoming a popular destination with an interesting past. Back in the late 1800's, immigrant Italian farmers figured out the hot valley climate in the day and a considerate cool-down at night were ideal for growing the Zinfandel grape. The rest is history for Healdsburg, a city many refer to as "Heavensburg".
Trip sponsored by Winegrowers of Dry Creek Valley