Rum, the spirit of the Caribbean. Almost every island makes its own rum, including St. Kitts, and every bar will tell you their rum punch is best.  For the uninitiated, rum punch most often has a combination of dark or amber rum, passion fruit, pineapple, orange and fresh lime juices, angostura bitters and fresh nutmeg.  In St. Kitts, the rum most likely to be used is locally produced Britney Gold spiced rum (www.britneygoldrum.com). Surprisingly, I found Britney Gold at my local Bristol Farms grocery in Hollywood, so I've been experimenting with rum punch this summer.
While I enjoyed my share of rum punches and pina coladas during my visit to St. Kitts, the rum highlight of my trip was the banana daiquiri I drank at Nirvana Restaurant. (Actually, it was two daiquiris since I wasn't driving that evening.)  Just the right amount of fruit, ice and rum with a sprinkling of fresh nutmeg on top.  Best. Banana. Daiquiri. Ever.  Sorry, Trader Vic's, you've been supplanted.
Carib Beer signs are ubiquitous throughout St. Kitts, but in addition to this Trinidadian lager, beer drinkers will find an assortment of Canadian and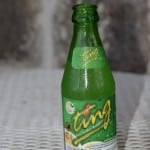 British brands as well as Heineken. Most people put a slice of lime in their Carib.
Being from LA, I was not used to the humidity of the West Indies. Truly nothing quenched my thirst quite like Ting, a Jamaican carbonated grapefruit soda. Depending on whom you ask, Ting with a Sting is either Ting with local rum or Ting with a splash of angostura bitters. I'm told that Ting with citrus flavored vodka creates a Ving. Me, I will stick with unadulterated Ting. I haven't found it in LA yet, but I'm searching. No other grapefruit soda has quite the pop.
Related Posts:
Historic St. Kitts | Surprising St. Kitts | Five Picture-Worthy Sites in St. Kitts |  Five Memorable Meals on St. Kitts | Five Hotel Choices in St. Kitts