By: Georgette Diamandis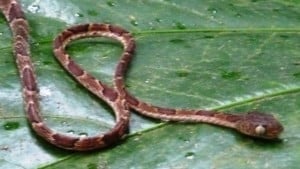 A week at the Lost Iguana Resort, tucked away in the rainforest at the base of the Arenal Volcano, was like a trek back into the primordial jungle. The view of the volcano, with a ring of clouds resting on its peak and framed by the large-leafed plants and flowers from my patio, was like a scene from the movie Jurassic Park, which makes sense because Costa Rica is the youngest land on the North American continent, being only three million years old. I am told that on a clear night, you can see the hot red lava of this active volcano!
From my private balcony the huffing sounds of howler monkeys high in the canopy, the squawking of green macaws as they performed aerial maneuvers, and the beating of a hummingbird's wings as it pollinated the colossal pink flowers, were the lulling jungle tunes I heard. The absence of any man-made sounds — cars, lawnmowers or leaf-blowers — made it a sweet respite from my suburban life. The patios and verandas are so private in fact, that you can relax unseen in a Jacuzzi outside while viewing the volcano. It really is an exceptional place.
Set on over 100 acres of rainforest with hiking trails and a maze of hibiscus trees, there's truly no reason to leave the grounds. A heated pool with swim-up bar seats surrounds the cabana-style palapa bar. A larger cool pool is right below. Whether traveling alone, with your best friend or your family, this natural and unique place is a very accommodating getaway. And right now through November, the Lost Iguana is offering a six-night special for a family of four, which includes rooms, meals for children under 12, three activities for each person (listed below), $500 in spa credits and 10 hours of baby-sitting! My favorite block of rooms was Los Tucanes (The Toucans) nestled up and back, and very quiet. I also stayed in Orquidia (Orchid), which had a great view and was the most convenient for the restaurant. Dos Vistas (Two Views) had great views but I could hear a humming sound coming from the restaurant. The Celebrity Villas are extremely quiet and private. Traveling alone, I felt safe at Lost Iguana as the security guards walk around all night with walkie-talkies. One night I heard voices outside of my room and being a little nervous, I poked my head out to see the security guard on his walkie-talkie. I told him in my best Spanish that I appreciated the special attention but really needed to sleep!
A HOME IN THE JUNGLE
The suites are decorated a la Banana Republic — large comfy king bed, some with decorated mosquito canopies, jungle-themed batik artwork and large terracotta tiled floors. The bathrooms on the ground floors of the suites all have volcanic outdoor/indoor screened showers with two showerheads. Most rooms have Apple TVS with free movies. The standard rooms have two queen beds and similar decor. Every morning, after lounging in my lovely room and drinking a pot of rich dark Costa Rican coffee (10 pounds came home in my suitcase!), I made my way to the open-air restaurant. I did this by walking the trails or calling the golf carts, which were there in an instant, operated by handsome young Costa Rican men ready to transport me. What a way to start the day!
BLUE HIBISCUS RESTAURANT
The Blue Hibiscus Restaurant is open on three sides and operates all day until 9:30pm. For breakfast there is typical American fare or Costa Rican gallo pinto — rice and beans with tortillas and eggs. Every morning I would have a fresh papaya smoothie, just papaya and ice, and sometimes an egg burrito. The chefs and wait staff were incredibly friendly and accommodating and after staying there a week, they began to feel like family. Dinners are also wonderful. I was hooked on the Ranchero soup, a spicy chicken tomato veggie soup with an egg on top, the hearts of palm soup, tropical salads, and chicken Arenal – chicken and eggplant in a wine sauce. More casual fare like nachos and chicken and avocado sandwiches are available at the Palapa bar.
NATURE AND TECHNOLOGY
The girls and guys in the reception lobby are welcoming and pleasant. The building has a cathedral ceiling and is also open-air. There is always fresh Costa Rican coffee and an Internet connection as well as computers that are free to use. The reception area overlooks the rainforest and is surrounded by massive leafed plants. All kinds of bird sounds, including the shrill shriek of the banana-beaked toucan, can be heard while checking your e-mail. Beautiful yellow Monarchs and blue Morph butterflies abound. Interesting and harmless insects like the giant Palo Verde horned beetle and stick insects can be seen.
A VISIT TO PARADISE
The gift shop is a short walk down the hill and has treasures from Costa Rica as well as Bali and other exotic islands. Keep walking and you'll reach the idyllic Golden Gecko Spa — a slice of heaven and a place where you'll want to spend time, if not having a spa treatment, then reading a book in this tranquil atmosphere. This open-air building is full of the natural music of birds. A high rattan-covered ceiling hangs with parasols and a rain wall enhances your relaxation. The changing rooms have volcanic rock showers and large saunas, as well as hand carved doors with lizard motifs in accord with the gecko/iguana theme. Just waiting in the reception of the spa, drinking herbal tea and being enchanted by jungle sounds while wearing a batik robe, was divine. Once lead down the stairs, across a boardwalk and through the garden to a private bungalow with an open fireplace, you will sink into a deep state of repose. Doors open in the back, allowing for the music and greenery of the rainforest to enter. There are special treatments depending on the season. I had a treatment that included a steam cocoon, a volcanic mud and honey wrap and finally a one-hour massage with mango butter (the things I have to do for Johnny Jet!) The entire process (called the Rainy Day Special for $170) took over two hours. Most prices in all of Costa Rica are in American dollars.
HANGING BRIDGES AND OTHER ADVENTURES
Within a quick van ride or hike up the steep hill are The Hanging Bridges. The entire hike takes about two hours and includes fifteen bridges; seven are suspension bridges over the rainforest canopy. I hiked with Johnny Paloma, the nature guide from Flow Adventures, and available through Lost Iguana. I heard the bizarre huffing of howler monkeys and saw red poison dart frogs and a rare brown lizard. The view of the waterfall is spectacular. It was raining buckets, but my cheap plastic poncho kept me and my camera dry. When I got back to the resort, the girls in housekeeping put my hiking shoes in the dryer and returned them that night, ready for the Volcano Hike with Johnny the next day. Lost Iguana sells discount tickets for all activities including the Hanging Bridges, which was about $18 or $35 with the guide. Hiking with Johnny was a comfort. He knows all the animals and insects of the jungle and is a really nice guy!
UP CLOSE TO WITH A REAL VOLCANO
I also did the Volcano Hike with him, which is in a national park and costs $10 per person. The hike is really a flat walk through more jungle loaded with wildlife. You can do it alone or hire Johnny to help you spot the animals. I saw scary white-faced monkeys, like the flying ones in The Wizard of Oz, and a hermit billed hummingbird that literally posed for me while I took his photo through Johnny's telescope. We also saw a mama turkey and her young and heard the calls of numerous birds. You can only walk to the base of the volcano since four years ago, there was a slight eruption and some hikers who were too close inhaled the gases and didn't survive. I was assured that our distance was safe. From the base there is a spectacular view of Lake Arenal, which has world-class wind surfing and kayaking.
Since I was there during the transitional season in May, it did rain a lot. Despite this, I really enjoyed the resort and it didn't hamper my activities. One of the best things I did was go to Ecotermales on the road to La Fortuna. The Lost Iguana resort offers van service if you don't have a rental car, but if you need one, they'll get it for you and have it delivered to the resort. Ecotermales is a family-run natural hot mineral spa with five pools varying in temperature from warm to very warm! I was there alone and met a family from Wales. The rain cooled me off while I swam in the pools. As I was taking an outdoor shower, I noticed the most awesome iguana that was almost turquoise and quite dragon-like. He waited for me to get my camera from the locker room, and like the hummingbird, was very happy posing for me! Later, I found out from Jose in the Lost Iguana dining room, that he was a special lizard called the Jesus Christ lizard by the locals because he walks on water! It seems like all the employees at Lost Iguana are naturalists of some type, or maybe everyone in Costa Rica is since their natural resources are their greatest asset — something everyone here seems to appreciate. Also, 80% of tourism is based on eco-tourism here. Entrance to Ecotermales is $30 and discount tickets are available at Lost Iguana. You can have cocktails while you bathe and tell the cashier on the way out what you drank and then pay. Nice country!
HOT RIVER, COOL PEOPLE
I met resort owner Elaine and went to Tabacon, one of the eight wonders of the world I was told, because of the raging hot water from the volcano. You pay a steep entrance fee of $85 to bathe in the river and pools and the cocktails are also quite expensive. Tabacon is mentioned in the guidebooks so it is quite popular and even the fashionable locals like to wear their bikinis and surf shorts and take the plunge while sipping exotic alcoholic concoctions.
LA FORTUNA
We had dinner that night in the "city" of La Fortuna, (15 minutes from Lost Iguana), a small bustling town with lively locals, restaurants and shops. We headed straight to American-owned Lava Lounge and ate fajitas and drank mojitos with other trendy tourists. A cool spot to hang out and maybe the best thing in La Fortuna.
I MUST BE CRAZY TO SWING ACROSS THE JUNGLE!
On my last full day in Costa Rica, the sun came out. I was very happy because I was booked to do the Sky Trek. In all my travels, I had yet to do a zip-line, and to be honest, I wasn't looking forward to it. I have a mild fear of heights and don't trust hooks. So I decided to commit to the tram ride only and think about the rest later. For $66, it seemed worth it to me to see the jungle from high above on the tram, which is really like a caged gondola for four. The two young fit Costa Rican guides were funny and full of innuendos about hanging from a wire on a hook as they entertained our two groups from their middle gondola. We were lucky to have only a total of eight people in the group, an advantage of the early morning booking and it being off-season. After the 20-minute ride, we arrived at the top where we were instructed to do a test zip-line, which was only 20 feet long and seven feet above the ground. Fully harnessed and helmeted, I gave it a try and enjoyed it. Then there was another one, which was slightly longer and slightly higher. The energy of the group of 30- to 50-somethings and the guides kept me going.
Finally, we had to decide whether to take the "chicken tram" ride back and be ridiculed (by my brother!), or go on with the next seven zip-lines. Of course, I couldn't do the chicken tram so I opted to go through with it. My adrenaline was pumping as I tried to listen for instructions. Suddenly, I was double hooked onto the line, given a big push and soaring above hundreds of feet of jungle canopy below! I screamed wildly as I crossed the gap, which was over 600 meters long and over in an instant! I prepared my legs as instructed and came in for a smooth landing. I was hooked in more ways than one, which was a good thing since the only way down was by zip-line or helicopter. Check out my videos (1 & 2 (taken by Jeff Rey)), which were done with the assistance of my guide Ramon.
BACK AT MY HOME AWAY FROM HOME
I had my last meal in the Blue Hibiscus Restaurant with my new doctor friend from California and Carlos Bogarin, the man who had driven me from the airport. He is available for other trips; email him at encantados@ice.co.cr or he can be booked through Lost Iguana. The chef prepared a special meal for us and I started to feel sad about leaving. I felt secure knowing Carlos would be driving me to the airport in the morning, with a stop to buy more coffee on the way. I was told the lines can be long on the return trip, so give yourself a couple of hours and have the $26 in cash (they didn't accept credit cards) ready for the tax you must pay in order to leave. I flew Continental with a connection in Houston because the ticket was under $400. Houston is a nice large airport, and Pappadeux Restaurant has some of the best airport food I have ever had. The ride to and from Lost Iguana was almost three hours from the airport of San Jose. I highly recommend staying at The Lost Iguana Resort for a week of relaxation and excitement. Save the Pacific beaches of Manuel Antonio and Tamarindo for your next visit to Costa Rica. You will be back … I know I will! Costa Rican charm and adventure await you, so hurry and enjoy the natural journey of a lifetime.
ABOUT THE AUTHOR
Hi, I am Georgette, a writer and artist (here's my website) based in Connecticut. I am also Johnny Jet's older sister, who quite possibly ignited his first spark of interest in traveling to exotic places, when at the impressionable age of 14, he saw my trip to Australia last three years! Whether skiing in the mountains, snorkeling in the tropics, or exploring faraway cities, I am always game for traveling and the privilege of writing for my baby brother's website JohnnyJet.com. Of course, coming home to my husband Cam, our dog Baci, and three cats – Ace, Arrow and Wizard – is great, too! 
WEB RESOURCES
NOTE: This trip was sponsored by the Lost Iguana Resort.