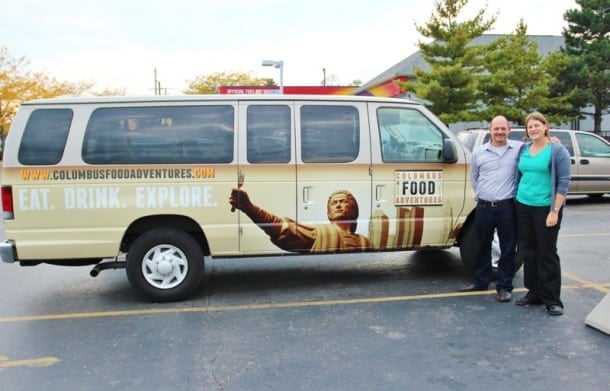 by Dave Zuchowski
British transplant, Bethia Woolf, an avid eater and foodie, has a background in teaching geography, which may explain why she loves to travel. In her wanderings, she's never hesitated to try different ethnic foods and has put her knowledge to good use in the creation of food tours of Columbus.
After spending many hours writing about the Columbus food scene on several blogs, she and her husband, Andy Dehus, launched Columbus Food Adventures nearly three years ago. The enterprise began with a walking tour of Columbus Short North district and driving tours to some of the city's 40 mobile taco trucks and to Northeast Columbus, where a constellation of ethic restaurants are clustered on and around Cleveland Avenue.
Since then, a walking tour of German Village and driving coffee, meat lovers and dessert tours have been added. This summer, the enterprising couple hopes to add a food truck tour.
Billed as a cross between a guided tour and a progressive dinner, the tours range in price between $50 and $60 per person. Recently, I boarded a 14-person van and tagged along on the Alt Eats tour, which took us to four ethnic restaurants and a Mexican bakery in an area where Columbus' ethnic residents eat, live and play.
"When we were organizing our taco truck program, we came across these small immigrant kitchens overlooked by the media that were putting out some interesting, tasty food," Woolf said.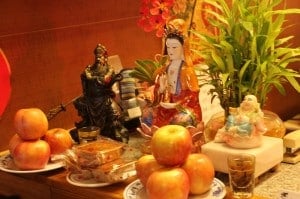 Our first stop, Mi Li Café, is tucked away in a strip mall and specializes in Vietnamese food. The dish we were offered there came as a surprise in the form of banh mi, a Vietnamese sub sandwich that represents the country's French colonial heritage.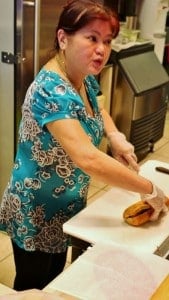 The owner, Tat Nga, is the only one in the eatery allowed to make the subs, which come with her home made pate and house mayonnaise, pork, jalapeno, cilantro, daikon radish, julienne carrots and cukes. Move over Subway and Quizno's.
"People usually expect to get rice and noodles here, but the banh mi comes as a pleasant surprise," Woolf said "Our goal is to convey to our patrons what is unique about each restaurant. Our focus is good food served along with interesting stories that tell about the cuisine, the owner's background and a bit of history."
We got another taste of the exotic at Intercontinental Restaurant, where Esther, the owner, put down a large sampler plate that included jollof rice (a mix of vegetables and spices), plantains, goat stew, egusi soup (spinach soup with ground melon seeds, shrimp paste and chiles) and moi moi (a pudding made of black-eyed peas).
"During our tours, patrons get a generous amount of food, but we decided that it was better to offer too much than too little," Woolf said.
If you can believe the host of the Udipi Restaurant, our next stop, most Indian restaurants in the U.S. serve an Americanized version of northern Indian cuisine, served with creamy sauces, toned down spices and heavy with tandoori-style cooking. Udipi, named for a south Indian city, serves food from the region such as Iddly (steamed rice and lentil patties) and thin crepe dosai. The dish that got our attention the most, a batura, is a large puffy bread, the size of a pumpkin that deflates when punctured.
Our appetites nearly slaked, our stop at Panaderia Guadalupana gave us a look at tray after tray of Mexican baked goodies. Thankfully, we were able to pick our choices (empenadas and churros for me) and have them bagged up for later consumption.
"The owner hails from Hildago where his grandfather operated a bakery," Woolf said. "He tries to authenticate the original recipes he learned there in Columbus."
Our last stop at Solay Bistro gave me my first ever taste of Somali cuisine. Run by Nadira Abdirahman, a woman who ran a health food store at Ohio State University, the restaurant serves a hybrid mix of Indian, Middle Eastern, Ethiopian, and Italian flavors.
Somalia was once an Italian colony, and many dishes feature what the natives call a federation, a mix of rice and pasta dishes on the same plate. The flavors I experienced were very accessible and fragrant, similar to Indian, but not as hot.
Commonly used Somali spices include fenugreek, cinnamon, cardamom and turmeric which enlivened our tasty serving of sabayat bread with hummus, hilib ari (goat), Somali rice, and a deliciously creamy mango and date lassi.
"Now you see that going on our ethnic food tour is like having a rich travel experience without leaving the country," Woolf said at the end of our food adventures
For more information, phone 614-440-3177 or click here.