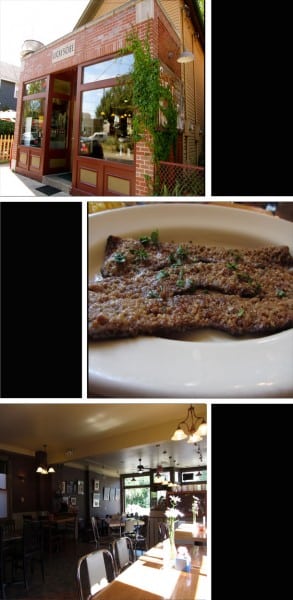 Lucky's cafe is a small diner tucked way in the heart of Tremont, one of the oldest neighborhoods in Cleveland. It's a spot locals frequent in addition to "outta-towners," privy to insider information. Named Cleveland's best brunch in 2010, I liken the experience to gaining " foodie street cred."
It's hard to believe head chef and owner, Heather Haviland, began by renting space at Lucky's (originally a coffee house) for her pastry company and started baking out of a storage closet. In 2006, she bought into the business and expanded the menu.
I ordered the Shipwreck and suggest you do the same. A glorious hodge podge of hash browns, vegetables, eggs, and cheddar cheese with a side of pecan-covered bacon. Yes, pecan-covered. Indulge and enjoy!
Insider Tip: When you're done perusing the whoopi cushions at Big Fun, stop next door at Tommy's Conventry to experience what Rolling Stone calls the "The Best Milkshake East of the Mississippi".
The menu offers a tasty, health conscious variety with many vegan, vegetarian, and meat-lovers options.
Heads up: Consider splitting a meal and saving room for one of their renowned shakes.