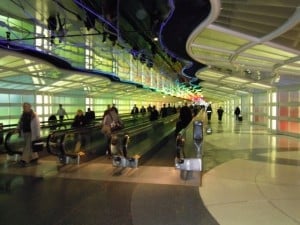 When I landed I bought a pasta salad ($3.99) from Ciao Gourmet Market since the yogurt parfait hadn't filled me up. While downing it and checking emails by the Starbucks, I got a phone call from one of the conference organizers saying my flight to Columbus was canceled due to a big snowstorm inOhio. After looking at the forecast (snow all night), I decided not to play the airport waiting game and immediately called United to get my flight switched to the following morning. A representative in thePhilippines picked right up; she was able to help but was kind of slow. I could've gone to the counter, but there was a line. FYI: I did receive a flight notification and voicemail from United stating the flight was canceled, but it wasn't immediate.
SHUTTLE TO HYATT
The conference organizers (CVB of Columbus) were great and booked me a room at the Hyatt Regency O'Hare. I walked across the street to the Hilton–it was freezing out–because all the hotel shuttle buses depart from there. Next time, I'll take the underground passageway. To my dismay the Hyatt bus driver took off as I was running to reach him. He wouldn't stop, so I had to wait for the next shuttle (they operate every 15 minutes). Ooh, was it frustrating that he wouldn't stop, but I was able to wait inside the Hilton.
HYATT REGENCY O'HARE
The Hyatt Regency O'Hare (9300 Bryn Mawr Avenue, Rosemont, IL 60018; Tel.: 847-696-1234) is a solid hotel. It has a 1969 John Portman structure that has been transformed into a modern and sophisticated site. The hotel has 1,096 newly renovated guestrooms with plush Grand Beds, ergonomically correct work spaces, and deluxe Portico toiletries (they also left a tube of toothpaste).
DINNER IN THE CITY
Instead of eating dinner in the hotel restaurant, I called up my cousins who live in the city. I took the 'L' train to reach them. The 'L' costs $2.25 each way, and you need exact change for the ticket machines. The hotel receptionist said the Rosemont station was just a couple blocks away from the Hyatt, but it was more like a quarter of a mile, and when it's 14 degrees out it feels like five miles. Seriously, on the way home I couldn't even feel my legs. I guess California is making me soft. Or I need to go buy long underwear.
O'HARE SECURITY
In the morning, I ate breakfast in the hotel–banana multi-grain pancakes ($13)–and then jumped on the 9:30 free shuttle to the airport. There was no security line in O'Hare, and because I checked in online (I used Mobile Boarding) and had only a carry-on, I made it from the hotel to the gate in 14 minutes. Literally, it took me a minute to go through security.
PRESIDENT OF CHINA'S PLANE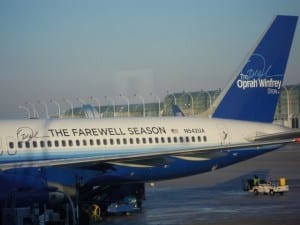 While in the airport I spotted the plane that Hu Jintao (the president of the People's Republic of China) uses. It was an Air China 747 and it was parked away from the gates. It was neat to see all the security surrounding it; I think I was the only person to spot it–or at least care about it. I also spotted Oprah's plane – well kind of.
WEB RESOURCES: