"Lights on the left!", Ivar, our guide for the evening, shouts. We're on a Northern Lights chase bus and Ivar has one mission: to find us a clear spot where we'll have the best chance to spot the lights.
Our evening starts with Ivar explaining he will do everything possible to find us a clear patch of sky, even if he has to drive us all the way to the Finnish border.
Tromsø is situated at 69 north right in the middle of the Aurora belt, which stretches from 65 to 72 degrees. Tromsø boasts some of the highest levels of Northern Lights activity on Earth, making it the destination to spot the Aurora Borealis. This year the sun is reaching the peak of its eleven year cycle and a solar storm just a few days earlier left the Aurora forecast predicting level 6 activity, a high Tromsø hadn't seen in six years.
Ivar pulls over to the side of the road and we all excitedly pile out of the minibus hurrying to set up tripods. Despite all the research and studies on the Aurora Borealis, the fact is that the lights are unpredictable. They may appear for just a few minutes or dance across the sky for hours. Only two things are certain: it must be dark and clear in order to observe the Northern Lights.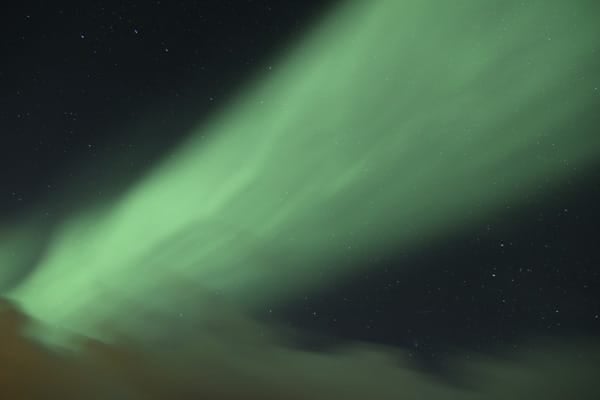 Clouds are in the sky and it is my first time seeing the Norther Lights. At first, I think my eyes are playing tricks on me! Slowly the Aurora begins its dance, arching across the sky. Wisps grow into billowing curtains swaying against the starry sky. It only lasted about an hour, but it was an experience we won't ever forget.
As we watched most of the others on our bus chase struggle with taking pictures, here are a few tips for capturing the Aurora:
1. First, you will need a tripod. The Aurora is constantly in motion and the tripod will avoid blurring.
2. Digital cameras will need to have manually adjustable ISO and zoom settings. Set your camera on manual focus with an ISO of 800 or higher. Set the aperture to the lowest setting. Use your self timer to avoid touching the camera or purchase a remote. We used a Canon Rebel T2i with a Manfrotto MKC3-H01 tripod.
3. Turn your flash off!
4. Don't be afraid to experiment! Photography is all about experimenting, so don't hesitate to try different settings and snap away!
Northern Lights Chase Bus 7pm nightly pick-up at Rica Ishavshotel; 700 NOK per person (min 2 passengers)
About The Author
Jennifer Dombrowski is a training specialist and social media strategist in the field of higher education. Based in Italy with her husband, Tim, they have a passion for travel and love discovering the world. Follow her on twitter @jdomb or on Facebook.
NOTE: This trip was sponsored in part by Visit Tromsø and Visit Norway USA.