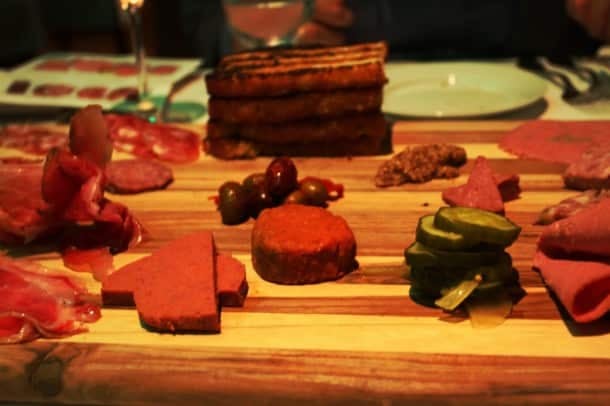 This is Part 2 in Dave Zuchowski's three-part series on Charleston, South Carolina—voted the best city in the U.S. and Canada in Travel + Leisure's World's Best Awards for the second year in a row. Check out Part 1 here, and tune in for Part 3 next Friday.
For all its tourist-worthy attractions, gas-lit, cobblestone streets and handsome architecture, Charleston is a relative newcomer to the collection of American cities worthy of a food lover's visit.
Traditionally, its Lowcountry cooking took advantage of its seacoast location with dishes such as oyster stew, she-crab soup, Lowcountry boil, and soft shell crab. And let's not forget the iconic shrimp and grits. Add Caribbean and African flavors to the classic ingredients of Southern cooking and you get the Lowcountry mix.
As an inveterate foodie, I decided early on that one of my main objectives during my Charleston visit was to explore Charleston's current culinary scene. Following a grueling ten-hour drive from my home in southwestern Pennsylvania, I stoked my appetite with a visit to Cypress, a trendy restaurant on bustling East Bay Street headed by two-time James Beard nominee for "Best Chef: Southeast" Craig Deihl.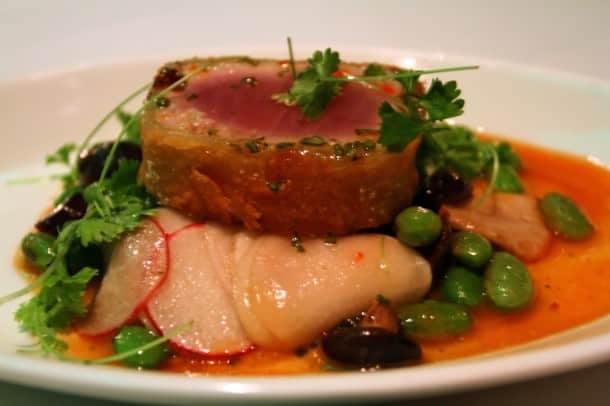 With smart decor and a wine list presented at table via iPad, Cypress boasts an open kitchen and wine wall, where 4,500 bottles from vineyards around the world line the length of the restaurant.
Deihl taps into the South's love affair with pork in an innovative way. He crafts his own 80 types of charcuterie in-house, lovingly smoked, cured, cooked, and made from artisanal, locally sourced pork and served with house made pickles, mustard and pickled vegetables. Those who might want to go whole hog can order the Motherboard, a platter laden with an assortment of treats that will set you back $42 but includes a bit of everything—with enough left over to share with friends.
As for an entree, Chef Deihl is high on praise for Cypress' signature dish, wasabi tuna, but I went for the soft shell crab, in season for only a three-week window in mid-spring along the South Carolina coast.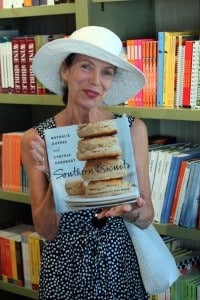 By a stroke of good fortune, I met up with Dani Manilla the following morning. A licensed guide with the city and a world traveler with a passion for food, Dani led me through one of the most interesting culinary tours (operated by Bulldog) I could ever imagine. Our first stop, the Trip Advisor 4.5-star Dixie Supply Bakery & Cafe, was once featured on Diners, Drive-Ins and Dives. All the stops on Dani's tour included food sampling—plus tons of culinary and Charleston history. At Dixie Supply, it was stone-ground grits, sweet potato corn bread and sweet tea, "the wine of the South."
"Corn was a staple of the Indians," began Dani with her gritty story. "Picked up by the settlers, corn was soaked in lye to remove the outer husk, then ground to make grits…"
From that Southern staple, she moved on to the sweet potato, explaining that it's native to South and Central America and a member of the morning glory family. It differs from a yam, which is from Africa and a member of the lily family. Yum to both.
"The Charleston area, actually Wadmalaw Island, is home to the nation's only tea plantation," Dani said of our third food topic. "Its product is marketed under the brand American Classic Tea, the official tea of the White House since 1987."
Our next stop, Charleston Cooks, a kitchen retail shop with cooking classes, gave us a first taste of benne wafers, unique to the Lowcountry since colonial times and made from sesame seeds. Brought over from Africa, but traced back to ancient Babylon, sesame (benne in the Bantu language) is high in antioxidants and the world's oldest cooking oil. We also learned that golden rice, not cotton or tobacco, is what made the South Carolina plantation owners wealthy. "The rice gets its name from its stalk, not from the color of the rice grains," explained Dani.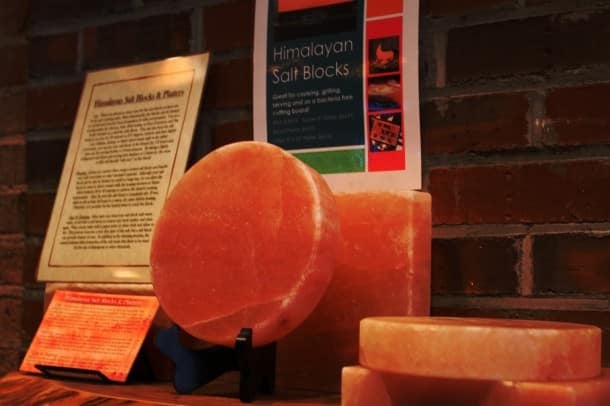 At the Spice & Tea Exchange, we managed to catch whiffs of an array of spices including true cinnamon, not the facsimile produced from the cassia tree, then saw an amazing array of gourmet salts, including the pricey fleur de sel, Cyprus black lava sea salt and 200-million-year-old Himalayan salt.
"Because Charleston is a seaport, it has always been able to get spices from around the world, a factor that's flavored its cuisine," Dani said.
At AW Shucks, we learned about three kinds of shrimp—brown, white and pink (the rarest)—then segued into the subject of oysters (their shells were used to pave the city streets in the early days) and she-crab soup, a cross between a bisque and a chowder. According to local legend, at a dinner attended by President Taft and hosted by Charleston's mayor, the latter asked his butler to dress up the usual pale crab soup normally served. The servant added orange-hued crab eggs, giving rise to another Charleston delicacy: she-crab soup.
A stop at River Street Sweets gave us a chance to watch a deft worker make pecan pralines in a hot tub heated to 278 degrees, then spread the hot molten goo on to a buttered marble slab for cutting. Free samples were had by all on the way out.
Nick's BBQ, our last stop, offered its own hearty samples: 13-hour, slow-cooked pork butt with Charleston BBQ sauce (vinegar, pepper and mustard are the major ingredients) along with some tasty collards flavored with vinegar, sugar and bacon drippings.
"South Carolina is too hot to grow lettuce, so collards became a convenient substitute," said Dani, at the close of our tour.
I capped off my day at Fish, where chef Nico Romo showcases off-the-boat seafood and locally harvested produce to reimagine classic French dishes with Asian touches in a restored 1837 Charleston single on King Street. I particularly liked the dim sum option that lets you try any four of the nine listings. Tempura Fried Escargot with Ginger Aioli, Duck Confit Steam Bun, Frog Leg Rangoon and Crab Spring Roll were my choices.
My dinner companion swore that the homemade Panko Fried Mozzerella with Heirloom Tomatoes, Basil and Sweet Soy Vinaigrette was one of the best salads anywhere. I found Fish's entrees to be even more innovative and interesting.
For a place to stay…
that includes a wonderful breakfast, the c. 1853 Cannonboro Inn (800-235-8039) is located in the residential historic district at 184 Ashley Avenue. Innkeeper Barry Carroll is quite the historian and offers concierge service as well. Amenities include free off-street parking, afternoon tea, wine, homemade treats, and complimentary touring bicycles.
For more information on Charleston, phone 800-774-0006 or visit explorecharleston.com.