The Blue Diamond Resort in Riviera Maya is located 40 minutes south of Cancun international airport and just 10 minutes north of Playa del Carmen.  The property (formerly the Mandarin Oriental) is stunning. All of the resorts along the main stretch of highway have impressive gates and walls to identify them, then a security gate, so only guests and people who have reservations can get in. I liked that concept a lot – no lookie loos, no random tourists checking out the property; it allowed total privacy, security, and added an element of exclusivity that is always enjoyable.
As you drive up to the main reception area, you find a grandiose open-air check in and lounge. Something about the magnitude of the space and island-style décor exudes luxury. From there, golf carts take you to your room or suite. The property has 128 luxurious junior suites and oceanfront suites that overlook no detail or amenity. A chilled bottle of champagne awaits you in your room, not just upon arrival, but every day when you return from your day of exploring or relaxing. Water and snacks are complimentary, as is everything in the room, the dining areas, and bars, as the resort is all-inclusive.
I explored my junior suite, located along a peaceful lagoon, having "wow" moments along the way as I found I had a private outdoor limestone tub big enough for a party of four, a balcony deck overlooking the lagoon, and a private upstairs sundeck with outdoor shower. It was the kind of "wow" that makes you feel like a kid, wanting to jump up and down on the bed and do a happy dance. The beds are worth noting – super comfortable, perfect pillows (and plenty of them), 500-thread count Egyptian cotton sheets, and the romantic lighting scheme with dimmers was heavenly.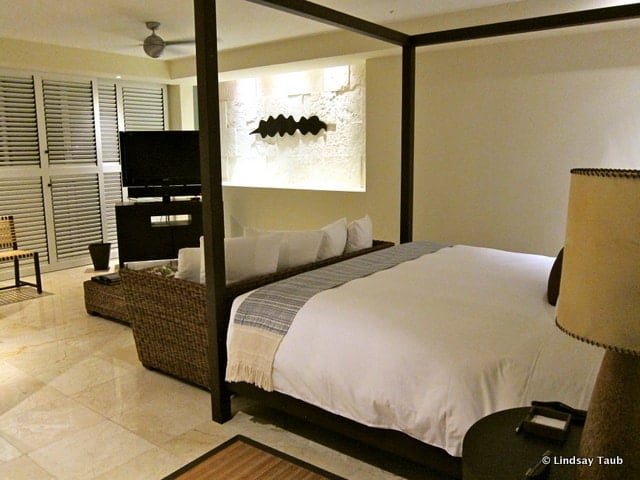 The only thing that wasn't absolutely perfect was that it took quite a long time (two to three minutes) for the shower water to get hot. The resort is new and they are still working out a few kinks, one of which is the water. In fact, one morning there was NO water in all of the lagoon suites while they worked out an issue. However, hotel staff was perfectly accommodating during the inconvenience and allowed guests to use available ocean suites to shower or use the facilities.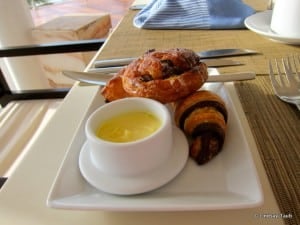 All of the expected amenities were in the room, from bathrobes and slippers to bath products, free WiFi, and even bug repellent, which fortunately I didn't need to use as the bugs hadn't yet come out! The infinity pool overlooks the beach and can get quite windy at times, but it adds to the tropical flair. Each night in the restaurant a different menu is offered. It's not necessarily local-inspired, but all of the meals were terrific. Breakfast was by far the best with a menu of freshly squeezed juices and smoothies that got the day started right!
One of my favorite parts of the property is that it is adults only. My apologies in advance to families that like to travel with children, but this kind of luxury is just not meant for kids. It's for couples (or singles) that want to relax and enjoy the peaceful surroundings…in peace. I had never noticed how different an experience can be at such a resort when you don't have kids splashing in the pools and running around all over the place, but it really made a difference. In my humble opinion, a phenomenal difference! When you don't have children (or are away from your children), the last thing you want on your vacation is other peoples' crazy kids interrupting the soundtrack of the crashing waves and chirping birds and wind whistling through the palm trees!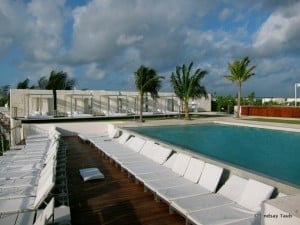 The resort offers three pools in different atmospheres, two free 18-hole golf courses, conference facilities to accommodate up to 150 guests, and a library. The hotel provides complimentary Spanish and yoga classes, temascal purifying rituals (one per stay; a native steam bath type of treatment), wine tasting, and interactive cooking classes. Complimentary non-motorized water sports are also available within the hotel including windsurfing, sailing, and kayaking. There is also a beautiful new fitness center, beauty salon and spa that merges the Mayan philosophy with healing rituals from ancient Asia.
About the Author: Lindsay Taub is an award-winning journalist with over a decade of experience as a writer/editor/photographer covering travel, lifestyle, culture, arts, food, health, and all facets that make life a journey. Follow her on twitter @lindsaytaub58.