I spend my days sharing great travel deals, travel tips and travel news. Well, this touches on all three of those things: Today, Apple AirPods are at their lowest price ever. Regularly $159, they're on sale for $70. That's more than 50% off! NOTE: All prices reflect the correct prices at the time of publication. Prices may change. RELATED: Why Frequent Fliers Use Apple AirTags or Samsung SmartTags When They Travel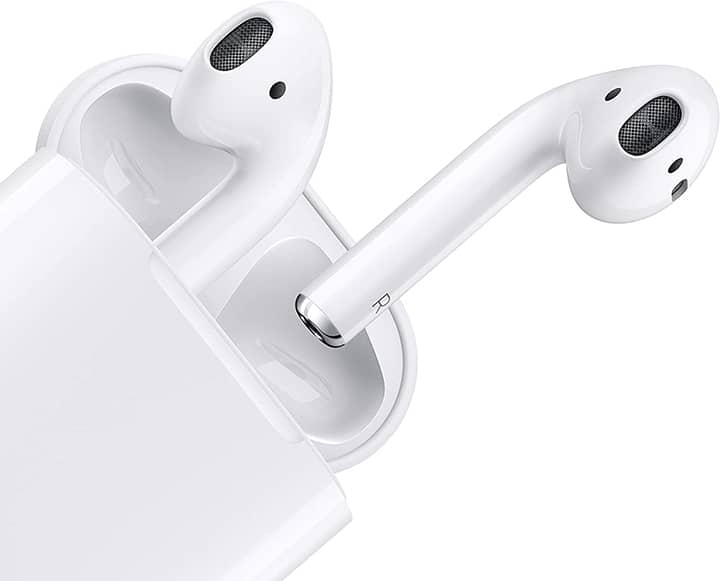 This post contains references to products from one or more of our advertisers. We may receive compensation when you click on links to those products. For an explanation of our Advertising Disclosure, visit this page.
I'm a big fan of Apple AirPods. They're cool and easy to use, they're small but deliver big sound and of course, they're wireless, meaning you don't have to fuss with those annoying earphone cords that take 17 minutes to untangle.
RELATED: The Tech Organizer All Travelers Need
The Apple AirPods give you an immersive experience. Just pop them into your ears and they'll connect immediately. You'll hear high-quality, crystal clear sound. They use a simple one-tap set-up meaning once they're in your ears, they're on and connected. Take them out and what you're watching or listening to will automatically pause. You can also use your AirPods to connect to Siri and have her read you your messages or ask her to share a song between two sets of AirPods.
The Apple AirPods are not the latest generation. You can find the Apple AirPods Pro 2 version here, also at their lowest price (at the time of publication), which are also on sale for $199.99, regularly $249 but the earlier version is clearly a popular choice with over 547,000 customer reviews. And, you'll get more than 24 hours of battery life with the charging case and up to 5 hours of listening time on one charge with the Apple AirPods versus just 4.5 hours with the Pro version.
RELATED: What Are the Best Credit Cards for Apple Purchases?
Apple AirPod are a great device for travelers to always have on hand. If you've read my article about my top 10 air travel pet peeves, then you know that people who talk on the phone or watch videos in public without using headphones or earphones is at the top of the list. But with a pair of Apple AirPods, there's no reason to do this.
Currently 50% off the original price, this sale on Apple AirPods is the best price we've ever seen so they're going to go fast. If you're looking to buy a pair for yourself or a loved one, upgrade the pair you have, or just get a jump-start on your holiday shopping, now is the time to do it because who knows how long this incredible deal will last. KEEP READING: Why Frequent Fliers Use Apple AirTags When They Travel
Buy Apple AirPods on Amazon here. If you prefer the Apple AirPods Pro version, you can buy them on Amazon here.
KEEP READING
Want more travel news, tips and deals? Sign up here for Johnny Jet's Daily Travel Tip newsletter! Just fill in your email address and check the Daily Travel Tip box—and you'll have Johnny's best tips, straight to your inbox each day!