Are self-driving cars the future? What about commercial space travel?
It sure looks like both are edging closer, but Americans may not be ready for them just yet, according to the results of a new survey conducted by Allianz Global Assistance. Asked about their interest levels in five categories of potential travel innovations if they were avaliable today, fewer than 30% of Americans declared themselves "Very Interested" in self-driving cars, space travel, supersonic travel, flying cars, and the hyperloop. Of the five, the hyperloop drew the most "Very Interested" people, with just 27%. The hyperloop also drew the fewest responses of "Not Interested" with 39%—with the other innovations drawing disinterest in nearly half (or more) of all people surveyed.
Safety appears to be the biggest concern, particularly in the future fields of self-driving cars and flying cars. Notably, more Americans said they were worried about the safety of these two in-atmosphere travel options than those worried about commercial space travel. Of course, these responses reflect attitudes surrounding these technologies today, and so may change in the near future.
Here are the full results of the survey: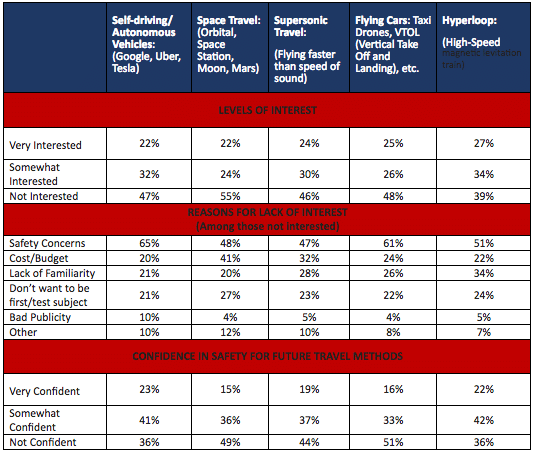 "While transportation technology is poised to change the way Americans travel, safety has emerged as a top concern," said Daniel Durazo, director of communications at Allianz Global Assistance USA. "We expect consumers to be more hesitant in adopting new technologies like the artificial intelligence steering self-driving vehicles, than they might be with existing technologies such as space and supersonic travel that have been developed but are not yet available to the masses."
Disclaimer: Johnny Jet works as an ambassador for Allianz Global Assistance (AGA Service Company) and receives financial compensation.
---
For more information about Allianz Global, visit AllianzTravelInsurance.com.