United Airlines has increased service between its hub at Newark Liberty International Airport and Denver and Seattle for the big game. Newark Liberty is the airport most convenient to MetLife Stadium, where the Denver Broncos take on the Seattle Seahawks on Feb. 2, 2014. For those traveling to the title game, United has added two flights each from Denver and Seattle to Newark Liberty on both Jan. 30 and Jan. 31, 2014. For fans returning home, the airline has added four additional flights back to Denver and three additional flights back to Seattle on Feb. 3, 2014: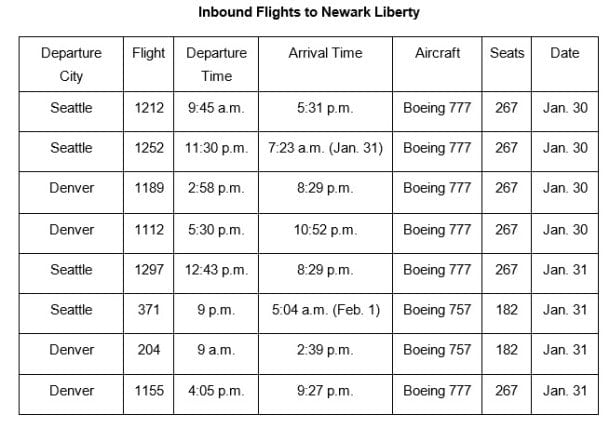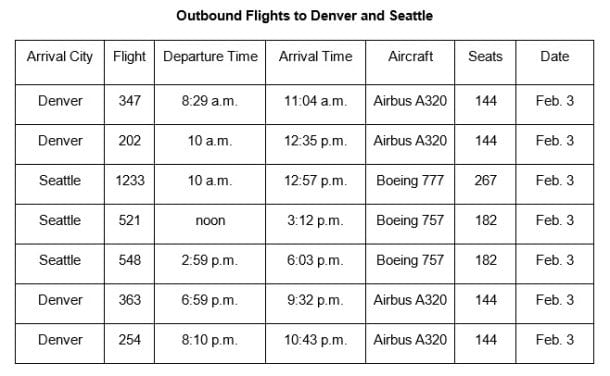 United offers these flights in addition to the carrier's regularly scheduled New York-Denver and New York-Seattle service. The airline regularly operates five daily flights each way between its Denver hub and both Newark Liberty and La Guardia airports, and two daily flights each way between Seattle and Newark Liberty.
JetBlue has also added extra flights to New York: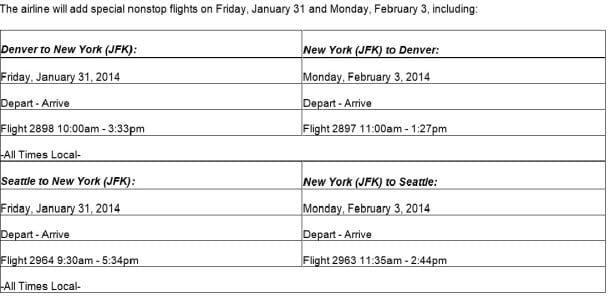 And for those sports fans traveling domestically on JetBlue on the day of the big game will be able to watch it live at 30,000 feet on personal seatback screens and  snack on free Snyder's hot buffalo wing flavor pretzels and get a beer, wine or cocktail for Just $1 (starting at 6 p.m. ET).
UPDATE
US Airways (soon to be American Airlines) will be adding five additional Super Bowl flights between Seattle and Newark according to USA Today. The carrier will fly two flights from Seattle to Newark on Jan. 31 and three in the return direction on Feb. 3. All will be on Airbus A319 aircraft.
Delta will also be adding two extra flights to its schedule and will use larger planes on their six existing New York City flights around the Super Bowl. According to USA Today the additional flights will operate on Jan. 31 (Denver to New York JFK) and on Feb. 3 (New York LaGuardia to Denver). "Elsewhere, Delta will sub in bigger aircraft on the several routes. Flights 884 and 2495 from LaGuardia to Denver will switch from Airbus A319 aircraft to A320 jets on Feb. 3. And Flight 407 from JFK to Denver will switch from a Boeing 737-800 to a Boeing 757. And three of Delta's Feb. 3 flights from JFK to Seattle (Flights 419, 440 and 442) will switch from Boeing 757 aircraft to Boeing 767s."