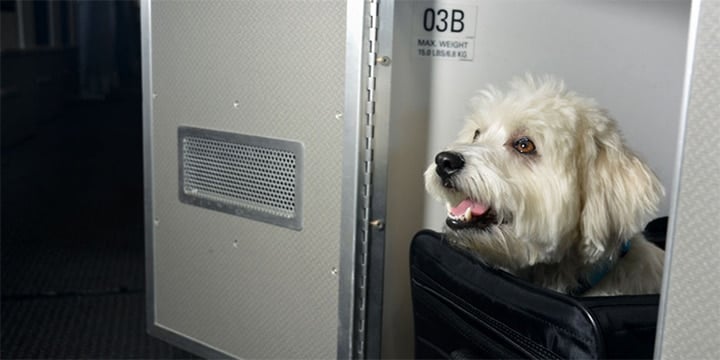 For many travelers, the thought of leaving their furry friends at home and taking a vacation is enough to give them anxiety. And it's no surprise! For many pet-owners, their animals are family. So why should you have to leave them at home when you take a trip?
Luckily, airlines make it possible to transport your pet with you, either in the cabin for small breeds or in the belly of the airplane for larger pets. And if your pet isn't a service animal (a service some airline customers have been abusing lately), here are a few airline policies for flying with pets.
Southwest Airlines
Southwest Airlines allows pets to be carried in the cabin of their aircraft only, and not in the aircraft's belly. This means if Fido is a large breed, he can't ride Southwest without being a service animal. Additionally, cabin pets are only allowed on domestic flights. As with nearly all other domestic US airlines, Southwest can refuse carriage to animals who appear to be aggressive. Nonetheless, Southwest's in-cabin pet policy is pretty straightforward. Passengers simply make a reservation for their pet over the phone. When you and your furry friend arrive at the airport, proceed to the ticket counter with an approved carrier, pay your $95 Pet Fare and away you go! The airline does count your pet in its kennel as a carry-on, so pack accordingly. For more information on Southwest Airlines' pet policies, click here.
American Airlines
American Airlines allows for passengers' pets to either travel in-cabin, as checked baggage or shipped as cargo. This allows customers with large breeds to ship their animals in the cargo compartment of the airline's flights. However, the airline lists certain snub-nosed breeds that are prohibited from being carried in the belly of the airplane. Additionally, American Airlines doesn't allow pets to be loaded in the cargo compartments of its A319, A320, A321 and flights operated by partner airline Air Wisconsin. Pets can ride on American throughout most destinations in their domestic network and even destinations in Mexico and Central America. Pets checked in the belly of the airplane cost $200 each way and in-cabin pets are $125. Fees are paid upon arrival at the airport. For more information on American Airlines pet policies, click here.
Alaska Airlines
Alaska Airlines has partnered with Banfield Pet Hospital to provide pet owners a free office visit for their furry friends and $10 off a health certificate, which the airline requires for pets to fly. The airline also allows pets to ride either in-cabin or be checked. Due to the somewhat extreme temperatures encountered in Alaska, the airline may not accept animals in the belly of the aircraft in the interest of the animal's welfare. Alaska Airlines is also unique in that pets riding in the cabin or in belly of the plane incur the same cost: $100 each way (up to 150 pounds in the cargo compartment). Passengers are allowed to bring pets on international flights too, just ensure you check the local requirements for vaccinations and documentation. For more information on Alaska Airlines' pet policies, click here.
Delta Air Lines
Atlanta-based Delta Air Lines gives pet parents the option of carrying their companion in the cabin or shipping them as cargo. The company does not accept pets checked as baggage. Instead, large breeds can be transported as cargo through Delta Cargo's Variation Live program. Variation Live is an animal transportation program that ensures your pet has a comfortable journey, with specially trained ground handlers and a fleet of temperature controlled vans and holding areas. Additionally, when a pet is shipped in the belly, or on flights where you may not accompany your furry friend, Delta offers a GPS On-Demand option in select cities. This way, you can track the progress of your pet in real time on deltacargo.com. Fees for carrying-on a pet vary, but domestically the airline charges $125 each way. Additionally, fees for large pets carried as cargo are based on weight and vary. The airline prohibits pets from being carried in the bellies of their A330-200 aircraft and Boeing 767 jets and recently began restricting pets on flights longer that 12 hours. For more information on Delta Air Lines' pet policies, click here.
United Airlines
United Airlines will allow domesticated dogs, cats, rabbits and household birds (cockatoos not included) to travel with their owner in the aircraft on most flights within the US and can be carried in addition to a carry-on bag. There's a $125 service charge each way as well as an additional $125 charge for each stopover more than four hours within the US or more than 24 hours outside. In-cabin travel is based on a space available basis so be sure to find out in advance. Also good to know: Pets are not allowed on flights to, from our through Australia, Hawaii or Micronesia and are not allowed to travel with unaccompanied minors. Pets must travel on the same flight as the person who is responsible for them and pets younger than eight weeks are not permitted. For more information about United Airlines' pet policy, including information on vaccination requirements and service animals, click here.
So rather than leaving Fido at home this year, bring your pet along for the journey. While they can be restrictive at times, airlines have options for bringing the whole family along. No matter if they have two legs or four.
Related: